Senior Spotlight: Graham 'loved to be around his team'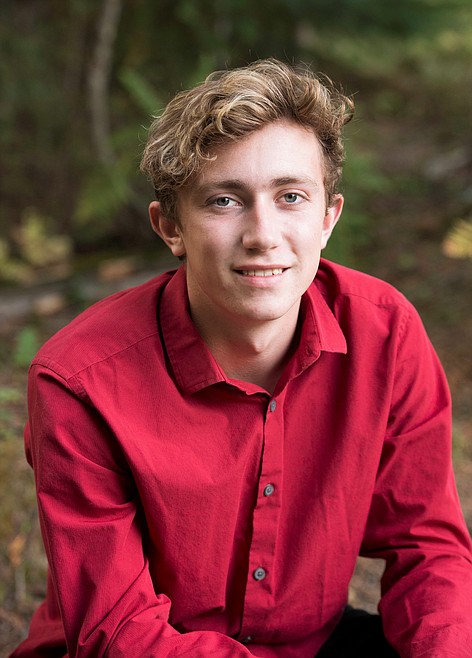 Seth Graham will never forget his time on the Sandpoint track and cross country teams. He created memories that will last a lifetime and bonds with teammates that will be strong well beyond high school. The senior will be heading to the University of Idaho this fall.
(Courtesy photo)
by
DYLAN GREENE
Sports Editor
|
May 21, 2020 1:00 AM
Editor's note: This article is part of a recurring series on local high school athletes who had their seasons cut short or canceled due to the coronavirus pandemic.
SANDPOINT — When Seth Graham was about 3 years old he started playing soccer. He stuck with the sport through his freshman year of high school until another sport in the fall took its place — cross country.
Graham's older brother, Jacob, competed on the track and cross country teams throughout his high school career. Graham followed in his footsteps when it came to track, but not cross country. Although, all it took was one season with the distance crew on the track team to convince him that cross country was the right fit for him.
The reason he switched was pretty simple: Matt and Angie Brass.
The culture the pair built on the cross country team is what drew him in.
"The team was so close," Graham said. "There was a lot of outside activities that weren't really related to the sport that we would do."
Matt, the boys cross country and track head coach, and Angie, the girls cross country and track distance coach, met Graham about four years before he reached high school due to their relationship with his older brother, so they knew what he was capable of athletically.
But Matt said they didn't try to convince Graham to come out for cross country in the fall. He just came up to Matt one day following his freshman year of track and told him he wanted to give it a shot his sophomore year. And Matt couldn't have been happier.
"I was thrilled," Matt said. "He was an excellent addition to the team."
It wasn't a hard decision for Graham to make because he realized the impact the experience would have on him on and off the field of competition.
"Matt and Angie have been important to everyone's life on the team," Graham said.
When Graham was playing soccer, he noticed he was always the first one that finished endurance training, so naturally he gravitated toward distance running when he joined the track team.
Graham also liked that distance running wasn't all about talent and he didn't have to be the most gifted athlete to shine.
"When you get to competing, it's basically who put in the most work to get where they are," he said.
Throughout his time on the track team, Graham competed in the 1600 and on the 4x400 and 4x800 relay teams, but his bread and butter was the 800. Angie said the event was the perfect fit for him due to his foot speed and endurance.
Graham showed how good he was in the event last year taking fifth at state. He said he'll hold on to that experience for the rest of his life due to how much fun he had on the bus ride down to Boise and in the hotel with his teammates.
"I'll never forget that," he said. "It's just a unique feeling that's hard to explain."
One of the biggest things that drove Graham during his time on the track and cross country teams was being better than his older brother.
"Every season that he was with us," Matt said, "he would always ask me, 'what did Jacob run?'"
Graham constantly compared his times in cross country and track to his brother. Angie called it the "Jacob factor" and she joked that Jacob was probably the first person Graham called every time he bested him.
A little sibling rivalry never hurt anybody and that certainly was the case for Graham. This fall on the cross country team, Graham passed his brother on the school's 5K top-25 all-time list with a time of 16:16, which is good for seventh best in SHS history. Jacob checks in at 11th with a 16:26.
Graham ran 300 miles this winter in preparation for this track season and given how much he has progressed throughout his career, the school record in the 800 and a top-three finish in the event at state were easily his for the taking.
"It would've been a really great last season but I know he has lots of really incredible things ahead of him," Angie said.
But at least Graham can always say he was a part of the boys 4x800 relay team that broke the school record in 2019.
Over the past two months, Graham has come to appreciate his high school experience and he is really missing that special feeling you get when you realize the end is near.
Graham is graduating fifth in his class with a 4.46 GPA, according to Matt. He will head to the University of Idaho this fall and he is currently undecided on his major. Graham said he will most likely pursue a degree in either biology, software engineering or computer science. He also has a passion for producing music but right now it's just a hobby.
Matt has enjoyed watching Graham grow as a person over the past four years and was impressed by the example he set for others.
"He's been a joy to coach," Matt said. "When I think about what it was like to coach Seth, it was always fun and rewarding."
Angie said Graham had this uncanny ability to balance having fun and being serious. And he had an extra gear when he neared the finish line.
"He just had a really keen awareness of what the group needed and could deliver it," she said. "Nerves are high before races and he just always seemed to know what his teammates needed ... Seth's just an amazing young man."
Graham said that athletics taught him how important it is to surround yourself with people that support you.
Matt said that Graham is unselfish, witty and has a great personality. He also added that a lot of what he did while competing was for his teammates.
"He is incredibly humble," Matt said. "He loved to be around his team. Those relationships really kept him motivated and driving and pushing because he didn't want to let them down. He wanted to do his part to make sure that they would be as successful as they possibly could."
In his own words: Seth Graham
"Through the dark winter runs and blazing hot summer runs to the hours of anxiety leading up to races, my time as a distance runner at Sandpoint High School made for some very memorable experiences. The cross country and track teams are special to me. They have something I never found among any other sports team, and that is a complete unified bond amongst each other. Under the mentoring of Matt and Angie Brass, I learned not just the importance of hard work, but the value of discipline. I am so grateful for them, and the program they built has given me lifelong relationships with the brothers I ran for until I couldn't stand. I am also very appreciative of my supportive parents, for my mom making sure I was always prepared and my dad making it to every meet he possibly could. I also want to thank Sloan Woodward, because his work ethic and the memories we made had a big impact on my life. For most of my high school running career, I chased the 800m school record. Despite the disappointment with my senior track season and the realization of not achieving this record, I can look back on my time in high school and cherish the memories of ice baths, pasta feeds, team summer camps, regional titles, state championships, and school records. Now I can look forward to the countless more memories I will make as a result of the bonds I created through this team."
---