Recent rain, snow melt swelling local creeks
by
KEITH KINNAIRD
News editor
|
May 22, 2020 1:00 AM
SANDPOINT — Rain and snow melt are combining up to cause some local creeks and rivers to swell.
A brigade of volunteers formed on Thursday to install sandbag fortifications to keep part of Trestle Creek from flooding a home on Freeman Lane near Hope.
Lightning Creek is also spilling onto Spring Creek Road near Clark Fork, although the route remains passable, according to Bob Howard, director of Bonner County Emergency Management. A mudslide on Grouse Creek Road, however, has reportedly severed that route approximately two miles beyond the endpoint of the county-maintained portion of the road.
"Everything's coming off the mountains. It's coming off fast and hard," said Bob Howard, director of Bonner County Emergency Management.
Bonner County commissioners, meanwhile, declared a state of emergency on Thursday in order act swiftly if the flood threat grows. It will also enable the county to obtain flood mitigation assistance.
The National Weather Service in Spokane said the Kootenai and Moyie rivers in Boundary County are also on the rise due to the heavy rains and snow melt
The Clark Fork River in Montana is exceeding flood stage, as is the St. Joe River, according to the U.S. Army Corps of Engineers, which deployed flood responders at the request of the state of Idaho and Montana.
"High river flows are forecasted for the remainder of this week," the corps said in a news release.
There were no specific flood watches or warnings in effect for streams or rivers in Bonner County on Thursday afternoon, according to the National Weather Service.
The corps is directing the public to contact their local governments if they are in need of sandbags or other flood assistance.
Howard said Road & Bridge deposited sand at the Sam Owen Fire District station on Trestle Creek Road. Sand will be delivered to other fire stations in Bonner County if flooding proliferates.
Keith Kinnaird can be reached by email at kkinnaird@bonnercountydailybee.com and follow him on Twitter @KeithDailyBee.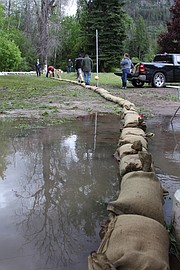 ---