Senior Spotlight: Kiebert cements legacy at Clark Fork, looks toward future playing volleyball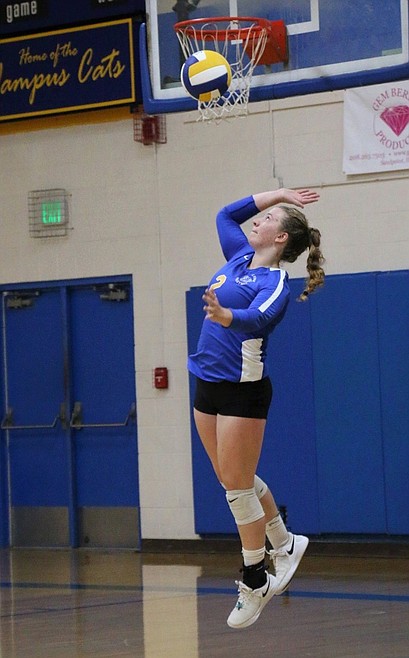 Ellie Kiebert was a star on the volleyball and basketball court for Clark Fork throughout her high school career. Last second the senior decided to accept an offer from Spokane Falls to continue playing volleyball there this fall.
(Photo courtesy of LESLIE KIEBERT)
by
Dylan Greene
Sports Editor
|
May 23, 2020 1:00 AM
Editor's note: This article is part of a recurring series on local high school athletes who had their seasons cut short or canceled due to the coronavirus pandemic.
CLARK FORK — After Ellie Kiebert wrapped up her junior year of high school, she had her mind set on attending the University of Idaho.
But about a month ago on the Saturday before Easter, Ellie got forwarded an email from former long-time Clark Fork volleyball coach Cindy Derr. The email was from the new Community Colleges of Spokane head volleyball coach Taylor Stewart. Stewart was looking for players to fill out her roster for the upcoming season.
Derr had connections to Stewart because she was a three-sport athlete at Priest River and two of Derr's nieces and her nephew attended the school.
At that point, Ellie had all her classes for her first semester at Idaho picked out and already had her UI student identification card. Ellie's mom convinced her to at least see if CCS was interested in having her join their team so she emailed the coach her film and a short bio.
After a conversation with Stewart, Ellie received a call just over a week ago offering her the opportunity to play volleyball for the Sasquatch this fall and she accepted.
"It was kind of just a spur of the moment thing," Ellie said. "Life gave me an opportunity and I ran with it, and now I'm doing something that I love to do in a place that's close to home."
And it wasn't a difficult decision for Ellie because in her heart she felt it was right.
"My gut was just like, 'you need to go try and play volleyball in college to see what it's like,'" she said.
Derr has known Ellie all of her life and she is happy Ellie chose to continue playing volleyball so she didn't have to look back in the future and wonder what could've been.
​"I think Ellie has what it takes to play at a higher level," Derr said. "She certainly has the skills and the heart for the game."
Ellie is the latest in a long line of Kiebert's to leave a legacy at Clark Fork High. Ellie's dad and all three of her older sisters went to Clark Fork and the family has a deep connection with sports in the community.
Ellie started playing sports recreationally in about third grade but she was introduced to them much earlier thanks to her siblings. Ellie's sisters played tennis, basketball and volleyball growing up and Ellie followed right in their footsteps.
Ellie even took up soccer and did ballet from kindergarten to sixth grade but her two main sports were volleyball and basketball, just like her sisters.
But this past year, Ellie decided to join the Clark Fork tennis team. She started playing the sport with her best friend, Sophie McMahon, in the summer of 2018 and figured why not give it a shot. Head tennis coach Jeff Emmer had also been encouraging Ellie to join the team for several years prior because he knew she would make an immediate impact. So finally Ellie gave into Emmer's pleas and saw plenty of success.
Ellie made it to state last year alongside doubles partner Lily Simko and she was looking to create one last high school memory this spring on the tennis court.
Ellie said she was disappointed when she learned the season was canceled, but she didn't let the news keep her down.
"You kind of just got to go with the flow with what circumstances you're given," she said, "and just learn to accept that things happen and you can't really change them."
During this break, Ellie has binge watched a handful of Netflix shows and has been doing her best to stay in shape as she prepares to compete collegiately.
Despite only getting one full season on the tennis team, Ellie said she created lifelong friendships with her teammates.
Ellie said she really started to fall in love with volleyball during her freshman year and the following season she began thinking about playing the sport at the next level, but it wasn't a dream of hers, it was just something she thought about shooting for.
Ellie's youngest older sister played club volleyball at Idaho so the sport has always come naturally to her. Ellie enjoys the pace of the sport and the brief moment she gets between each point to reflect on what she just did.
Derr coached all of Ellie's sisters; Leslie, Lyndsie and Cassie, in high school and she said the knowledge she gained while watching her sisters play the sport was amazing to see.
Ellie said she has always looked to her sisters as role models and never felt like she was playing in their shadows at Clark Fork. Growing up, Ellie said coaches and those around her told her she could make a name for herself and that provided her with a lot of confidence.
"It was kind of just an opportunity to look at someone older than me and be like I want to be better than them," Ellie said about her three sisters.
As a Wampus Cat, Ellie made the all-league volleyball team as a sophomore and junior and was named the North Star League MVP this year.
Derr said Ellie's versatility on the volleyball court is what made her so special.
"​​She knows all of the positions," Derr said. "That comes from playing setter and right side hitter until her senior year where she switched out to outside hitting."
Ellie had just as many accolades on the basketball court though, earning a spot on the all-league team twice and MVP this season.
Clark Fork girls basketball head coach Jordan Adams took over the team when Ellie was a sophomore and she said her attitude and personality stood out right away.
"There are not many people that age that are that confident," Adams said. "She just deals with pressure way better than a lot of kids."
Even when Ellie was a underclassmen, Adams said she had the respect of the older players on the team. On the court, Adams said Ellie was intense and never afraid to get down low in the post and trade elbows with players on the opposing team.
"She's the most easy going leader I have ever seen in my life and its so natural," she said.
Adams feels blessed to have had an opportunity to coach Ellie because of how driven and self-motivated she was.
"I can push her all day long but she pushes herself more than anybody else," Adams said. "She is her biggest critic."
Ellie plans on getting an associate degree in something related to natural resources or environmental science and then transferring to UI.
Ellie said playing sports has basically become part of her lifestyle. She grew up sitting in the bleachers and watching her sisters compete and she wouldn't have wanted it any other way.
Ellie enjoys being a part of teams because they feel like family and she can't wait to get to Spokane, meet new people and fully dive into a new environment. But she won't forget her time at Clark Fork and her daily school diet of pizza and an AriZona tea.
"That doesn't sound like a student-athlete diet but it definitely was," Ellie joked.
She also added that its bittersweet to be the final Kiebert sister to walk through the doors at Clark Fork.
Derr said Ellie will not only be remembered as a great athlete, but an amazing student that went the extra mile to help others whenever she could.
Adams believes Ellie will have a profound effect on the volleyball program in Spokane.
"When she walks into a room, she is the vibe of the room ... she just has that essence about her," Adams said.
In her own words: Ellie Kiebert
"I would like to thank my family, my coaches, and my community. My mom and dad have traveled countless hours over the past 10 years to watch my sisters and I play sports. All of their love and support can never truly be appreciated enough, but I love you both so much I cannot put it into words. Thank you to my sisters for being the three best role models a girl could ask for. You three showed me what it means to be a dedicated student-athlete. Thank you to all of the coaches I've had since the third grade. You all saw something in me and knew I could go far. Coach Derr, thank you for sharing with me the opportunity to play at the next level, and for being hard on me when you knew I could do better. Lastly, thank you to my community. We may be small, but the support given is mighty. I cannot wait to come back and watch the younger athletes grow through the years. When a golden opportunity is given to you, don't pass up on it! You could end up doing what you love. Roll Squatch!"
---