Show goes on at Ponderay theater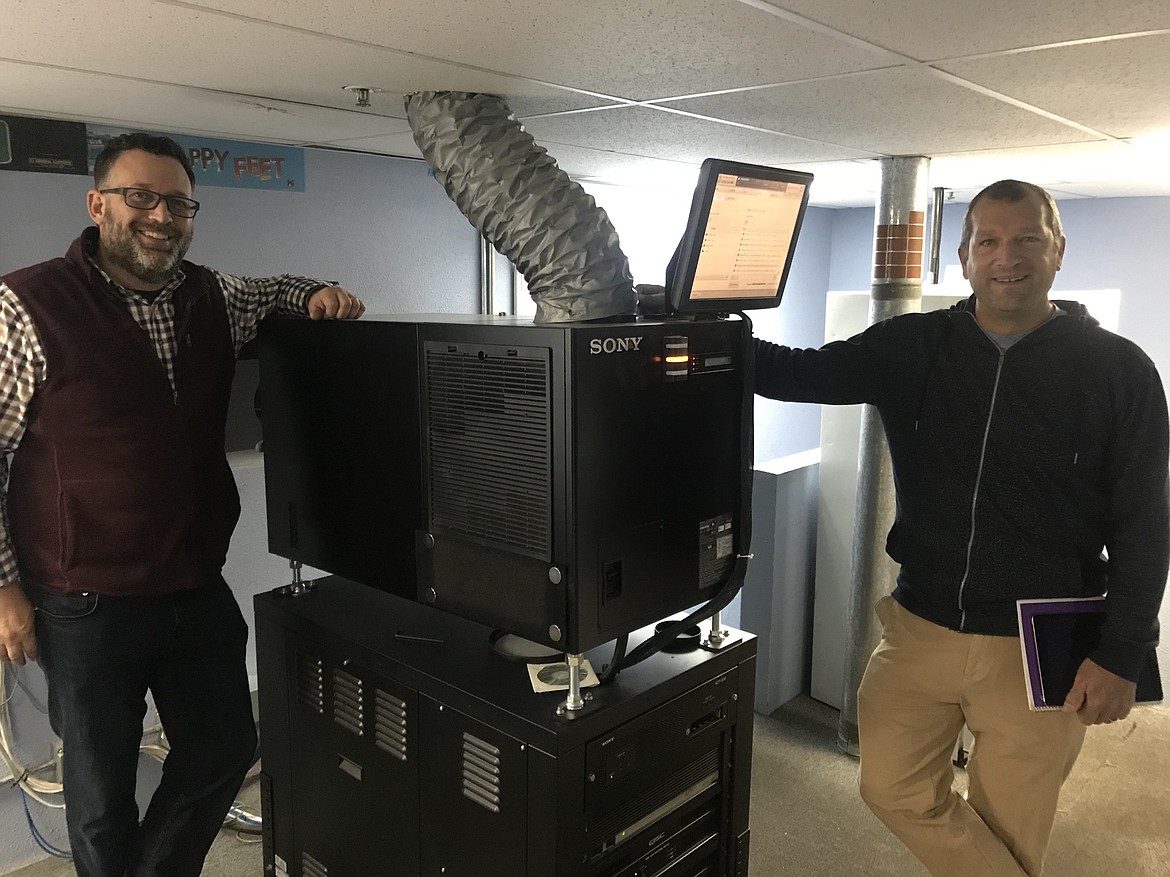 Mike Lehosit (left) and Eric Plummer are the new operators of Bonner Mall Cinemas, which is being renamed Sandpoint Cinemas.
(Photo by KEITH KINNAIRD)
by
KEITH KINNAIRD
News editor
|
November 4, 2020 1:00 AM
PONDERAY — The show will go on at a Ponderay movie theater.
North Idaho cinophiles Mike Lehosit and Eric Plummer are taking over the lease at Bonner Mall Cinemas to make sure that punches to the gut and catches in the throat are felt in front of a big screen with cushy seating.
"We're just gambling on the fact of the movie experience," Plummer said of the decision to keep the six-room theater up and running during the novel coronavirus pandemic.
The theater is slated to reopen on Friday and intends to keep up its track record of running first-run motion pictures. The theater will be renamed Sandpoint Cinemas.
The theater will begin its new lease on life with the Kevin Costner picture "Let Him Go," in addition to the horror-comedy "Freaky" and the children's film "The Croods: A New Age."
Plummer is taking the helm of theater with Mike Lehosit, who has been operating the theater on U.S. Highway 95 in Hayden for the past six years. Plummer and Lehosit attended junior high school together and graduated high school in the same class.
Neither Plummer nor Lehosit wanted to see Bonner Mall Cinemas get tanked by COVID-19.
"Somebody needed to open it," said Lehosit.
"I simply love movies," said Plummer, a former sports editor at the Daily Bee. "I love the movie-going experience."
Dale Reese, who has operated the Garland Theater in Spokane, said the passing of the baton is bittersweet. He said he will miss the business he built from the ground up in Bonner County.
"I built it from nothing," said Reese, who strived to provide a good movie-going experience with top-notch sound quality.
A professional film buyer helped curate the theater's slate of films. Horror films and racially-specific films didn't do the greatest, but films geared toward children tended to fill the seats.
"We did really well with kids movies," said Reese, adding that religious-themed films also played well at Bonner Mall Cinemas.
Sandpoint Cinemas will remain dialed into the studio system, but once the leases are up on the six Sony projectors used to screen films, Lehosit and Plummer hope to add local content, such as a Sandpoint High School football games.
"We'll still play the classics," said Plummer.
Plummer and Lehosit also plan on reducing ticket prices slightly and are grateful for Reese's efforts to establish a theater here.
"I definitely want to acknowledge the theater that Dale built," said Plummer.
---