LPOSD students, staff find new ways to celebrate Veterans Day
by
RACHEL SUN
Staff Writer
|
November 10, 2020 1:00 AM
Like so many others in 2020, students and teachers in the Lake Pend Oreille School District had to rethink their celebration of Veterans Day this year amidst surging COVID-19 cases.
In the past few weeks, K-12 students all over the district have worked to create alternative celebrations to the usual school assemblies and other celebrations held most years.
At Sandpoint High School, students worked to collect photos from area veterans, which they made into a tribute video, said Mary Imaz, a student leadership adviser at SHS.
Many of the veterans featured were family members of students, Imaz said. The students also reached out to local veteran groups to include photos of, and the school took out a one-page advertisement for Wednesday in honor of veterans in the Bee.
Sigi Ribeiro, a music teacher at Southside Elementary, said her class of about 20 second-graders learned to sing and sign in American Sign Language, "America the Beautiful" for Veterans Day.
"We worked in it for probably about a month or a month and a half," she said. "I see them once a week."
At Washington Elementary, students are getting class lessons on Veterans Day instead of a school-wide assembly, said principal Natassia Hamer.
Terri Caldwell, a music teacher at Washington organized the events, Hamer said. The school also has an "honor wall" where students can bring in photos of family members who have served, which will remain up for the week.
Students at Washington and other elementary schools also wrote letters to veterans.
Joy Jansen, director of special services for LPOSD, said as the educational representative on the Kaniksu Health Services board, she worked with the veteran representative to organize a veteran service wall featuring notes from elementary school students to veterans at the Kaniksu Health Services VA Clinic.
Veterans will also receive letters delivered directly to them from high school students in the district, Jansen said.
KC MacDonald, a history and government leadership teacher at Clark Fork High School, said usually the schools has a big celebration, thank you cards and speakers. Instead, this year he and his students have been working on a fence art that includes wampus heads and big lettering that says "Thank you veterans."
One of the school's seniors, Reba Decker, also made a tribute video to veterans, he said. Her father is one of the veterans who usually come to speak to students.
Students didn't have school on Tuesday, but two still stopped by when he was working on the fence that day and volunteered to help, MacDonald said. Now, the decorations are almost complete.
"We go out there a few times a day," he said. "We almost got 'veterans' clipped in. We got 'veteran' right now."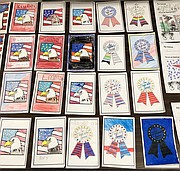 ---