Worth the weight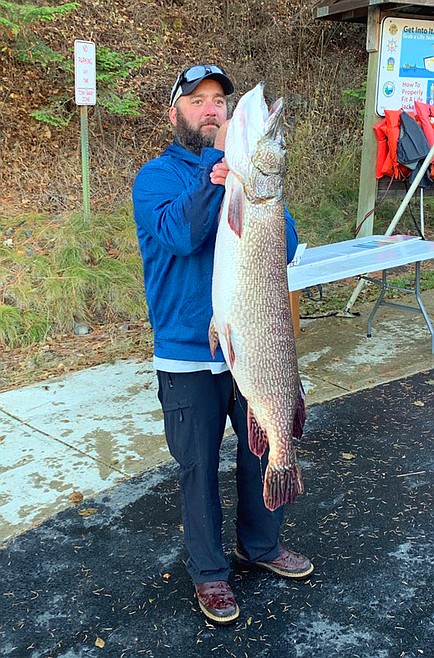 Photo by Phil Biggerstaff Joshua Davis holds up the pike he pulled from Lake Coeur d'Alene on Sunday in the North Idaho Pike Association tournament.
by
BILL BULEY
Hagadone News Network
|
November 10, 2020 1:01 AM
So close.
So very, very close.
The pike that Joshua Davis pulled from Lake Coeur d'Alene Sunday, Nov. 1, weighed in, officially, at 38.51 pounds.
That was about six hours after he caught it during the North Idaho Pike Association's tournament.
Earlier, though — when he reeled it in and it was weighed shortly after, it tipped the unofficial scale at 40.08 pounds.
Yes, that's big. And if that had been the official weight, it would have nearly topped the state record of the 40.13-pound pike Kim Fleming pulled from Lower Twin Lake on Aug.6, 2010.
Still, it was a helluva fish, the kind you could catch and call it a day.
Let's see, he took first place in The Classic tourney, set a club record and was the association's season champ with son Cole.
Not bad.
"Let us all Congratulate a great club member and friend to all of us, Joshua Davis on an epic day," said a post on the association's Facebook page. "He fished alone today and took 1st place with Big Fish that is now the Club Record 40.08# destroying the previous record of 27.34#- Today's win and Monster Fish also completed his quest of our 2020 season champion!!"
Davis, a longtime angler, had been out a few hours since about 6:30 a.m. when the fish hit his line. It was such a tremendous tug, he thought he had snared a stump.
For the next five minutes, there was a bit of give and take between Davis and the monster beneath. There was some pushing and pulling before the fish finally showed itself as it rolled on the surface, then disappeared into the deep blue.
"I knew it was big," the Rathdrum man said.
More than he could handle alone.
Help wasn't far off.
"I hollered to some buddies down the way fishing," he said.
That would be Rob Strobel and son Paul, who "being the good people they are," quickly reeled in their lines and raced to the scene. They were there within minutes.
The pike was back on the surface.
"You could see how big it was," Davis said.
The 48 1/2-inch-long fish turned its head just enough for Paul, who had hopped on Davis' boat, to net it.
"I don't think I could have done it myself," Davis said. "It would have been a real struggle."
The 10-12 minute fight was "unbelievable."
It was followed by a lot of hooting, hollering, screaming and high-fiving.
The celebration was overdue.
"I never felt the dead weight of a fish like that before on the end of my line. It was just solid," Davis said.
It weighed in at 38.17 pounds on Davis' boat, then 40.08 at the club weigh-in about 2:30 p.m. By the time he got it to a certified scale at Super 1 Foods in Coeur d'Alene, it was 38.51.
Davis didn't want to give too many details about his record catch, or what he was using as bait, but he did say he was using a spoon when he hooked the pike.
He tried several methods to keep it alive, with plans to release it, but it died.
It was a personal best for Davis, who usually fishes with son Cole. They were partners for the tournament, but he was alone that day. They were already in first place for the association's 2020 season and finished there.
Davis, who plans to become a fishing guide, recalls fishing with parents on summer weekends when he was a boy.
"Ever since I could cast, I could fish," he said.
He gave shoutouts to the Wirth brothers, Mike and Chad, who taught him a lot, and said Brock Morrow, president of the NIPA, has been a good friend, an 
"all-around great guy," who shares his passion for fishing. He praised the NIPA, too.
The pike, just south of 40 pounds, was one he won't forget. If he could have gotten to the certified scale sooner, who knows.
"It would have been heavier, but I don't know how much," he said.
No matter.
"Definitely the fish of a lifetime," he said.
---