Bonner County reducing staffing amid COVID-19 surge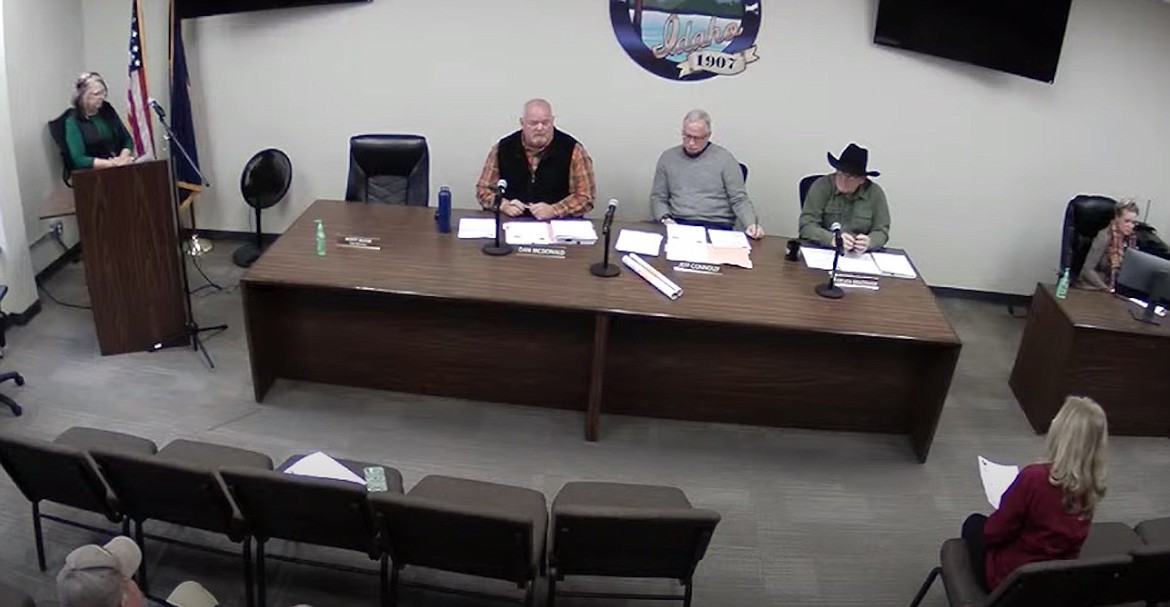 Bonner County commissioners voted unanimously on Tuesday to reduce staffing for two weeks to curb the spread of the novel coronavirus.
(Image via YOUTUBE)
by
KEITH KINNAIRD
News editor
|
November 18, 2020 1:00 AM
SANDPOINT — Bonner County commissioners voted unanimously on Tuesday to reduce staffing levels at county offices for two weeks as cases of novel coronavirus surge throughout the Panhandle.
Department heads and other elected officials were tasked Tuesday with developing individual plans for reduced staffing. The goal is to reduce interactions with the public, determine who needs to remain in the office and who can work from home, according to commission Chairman Dan McDonald.
McDonald said employees pay is baked into the budget, so no layoffs or furloughs are expected.
Details on each department's staffing reductions are expected to be released today.
"This is similar to what we did back in the spring and it's really done out an abundance of caution to protect our employees. We've had some cases in the building now and we're concerned. We don't want to see it spread quickly," McDonald said during the board's business meeting.
The staffing reduction began on Tuesday and extends through Sunday, Dec. 1.
The county's move to reduce staff comes five days after Gov. Brad Little announced the state was moving back into a modified Stage 2 of the Idaho Rebounds plan.
The modified Stage 2 allows business and governmental entities to stay open provided they adhere to social distancing, facial covering and sanitation guidelines meant to curb the spread of virus which causes COVID-19.
The governor's order prohibits public or private gatherings of 10 or more people and requires patrons of bars and restaurants to be seated. The restriction on gatherings does not apply to religious or political events.
The rollback to Stage 2 was prompted by a sharp increase in coronavirus cases statewide.
The Idaho Department of Health & Welfare reported 1,781 new confirmed or probable cases of the virus. There have been 85,125 cases in Idaho during the pandemic. The virus is blamed for 798 deaths in Idaho, according to Health & Welfare.
The Panhandle Health District reported 11 new cases in Bonner County on Tuesday, bringing the total number of cases here to 784 over the course of the pandemic. The district said 241 of the cases are active.
McDonald said the county's interim COVID-19 policy is expected to apply to every office in the Bonner County Administration Building.
"We've got a quite a bit of public interaction and we just don't want to see our employees end up going home sick and (have) it spread throughout the building," McDonald said.
McDonald noted that the county has grown adept at conducting operations remotely during the coronavirus pandemic.
"We were still able to get work done," he said.
Commissioner Jeff Connolly agreed.
"We've learned a lot from the first go-around. We are a lot better prepared to work from home," said Connolly, explaining that the county has more laptop computers to work with and improved access to its systems and databases.
"There's a lot of people that can actually work from home and be just as effective as they can be in the office," Connolly added. "It only makes sense use that as a precautionary measure to reduce the chances for spread."
Bonner County Undersheriff Ror Lakewold said on Tuesday the sheriff's office does not anticipate scaling back staffing or reducing services.
Keith Kinnaird can be reached at kkinnaird@bonnercountydailybee.com or followed on Twitter @KeithDailyBee
---