Post Falls passes mask recommendation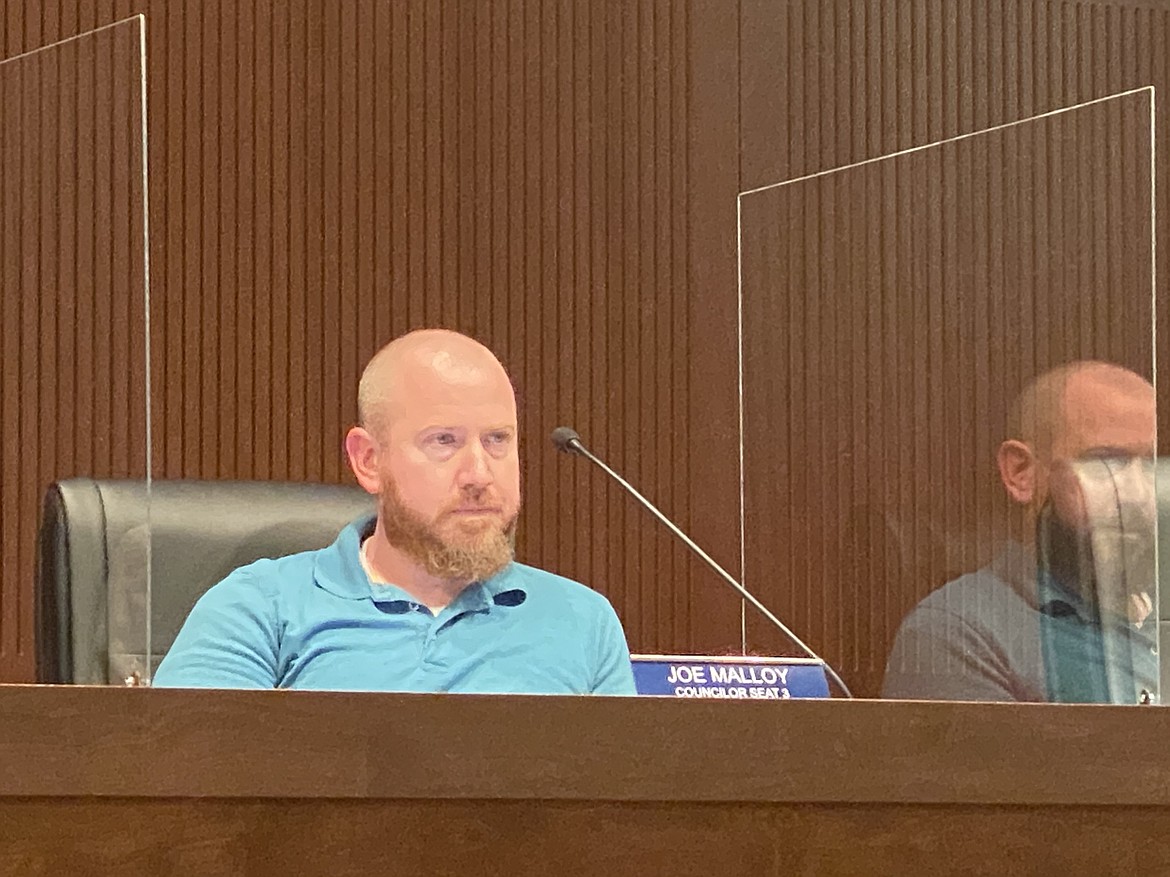 Post Falls city council member Joe Malloy was the only vote in opposition of the mask recommendation that passed Tuesday night. (MADISON HARDY/Press)
by
MADISON HARDY
Hagadone News Network
|
November 19, 2020 1:00 AM
After voting against a mandate last week, the Post Falls City Council passed a city-wide recommendation and city property mask requirement at its Tuesday evening meeting.
Councilman Joe Malloy was the only vote opposing the recommendation. While Malloy said he supported the resolution, he didn't want to enforce a policy that would be difficult to undo in the future.
The 90-day resolution recommends that when within Post Falls city limits, "every person should, when in any indoor or outdoor public place, wear a cloth or surgical face covering that completely covers the nose and mouth." According to the resolution, public places are any place open to the public, including but not limited to retail businesses, government offices, medical, arts, and recreational institutes, and public transportation.
Much like the city of Coeur d'Alene's mask mandate, the Post Falls recommendation exempts children younger than 10, those with medical restrictions, the hearing impaired, on-duty first responders, persons obtaining a service involving the nose, face or head, indoor recreational facilities, and patrons of a food or beverage establishment.
Section two of the resolution requires face coverings when a person is "on or in any city-owned property public place" when social distancing cannot be maintained. Those who refuse to wear a mask or covering could be cited for trespassing by the city administrator, any city department heads, or the Post Falls Police Department.
"We do have a current city policy that requires staff and visitors to wear a mask when at City Hall, and you cannot socially distance," Post Falls legal services director Warren Wilson said. "That policy is not a ton different than what you see here. The only difference is that this is the council essentially agreeing that this is a good policy to have."
To better align with Gov. Brad Little's decision to move Idaho back into Stage 2 of reopening, city staff has also begun working on reduced capacity guidelines in Post Falls facilities. Notable, particularly in City Council chambers, as council members will now be splitting three on Zoom and three — with the addition of Mayor Ron Jacobson — physically present at City Hall. Depending on the number of city staff and council in attendance, there will be limited public access to the chambers, and overflow seating will be available.
In a unanimous decision, the City Council also approved the annexation of 4.7 acres of property into Post Falls under the Residential Mixed zoning designation. Located at the intersection of Britton Road and North Greensferry, the applicant Gordon Dobler of Dobler Engineering said the land would become a single-family attached and detached housing community.
"It's basically to get smaller lots and meet that middle-market demand which is really growing," Dobler said.
The city of Post Falls created the new zone earlier this year. The Colwell & McCarthy Annexation is the first development to fall under the Residential Mixed category.
During Tuesday night's council meeting, the board also unanimously approved:
The Creative Homes Zone Change Reasoned Decision and Ordinance: designating 3.5 acres of land at the southwest corner of Seltice and Creative Way from Industrial to Medium Density Multi-Family Residential.
The Quiet Ridge Subdivision Plat Application: confirming the final plat for the Quiet Ridge Subdivision for remaining improvements.
The Green Meadows 1st Addition Subdivision Plat Application: also confirming the final plat for remaining Green Meadows Subdivision improvements.
The allocation of $51,875 in Park Impact Fees to create a contract with MT-LA, a landscape design consultant, for the Tullamore Sports Complex Mass Grading Plan.
An engineering services contract with Welch Comer Engineers for designing a new gravity sewer lift station that would connect to the Montrose lift station service basin. The project would be paid through the Wastewater Collection System Capital Improvements budget with a total fiscal impact of $49,403.
---