Slow start bites Bulldogs in loss to defending 3A state champs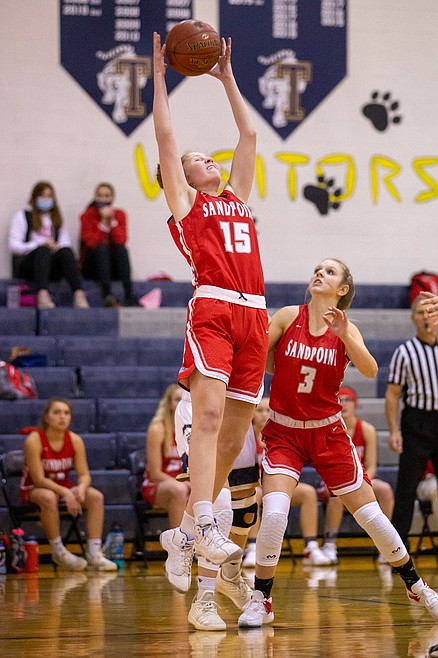 Sophomore Karlie Banks elevates to grab a rebound during Thursday's game at Timberlake.
(Photo courtesy of JASON DUCHOW PHOTOGRAPHY)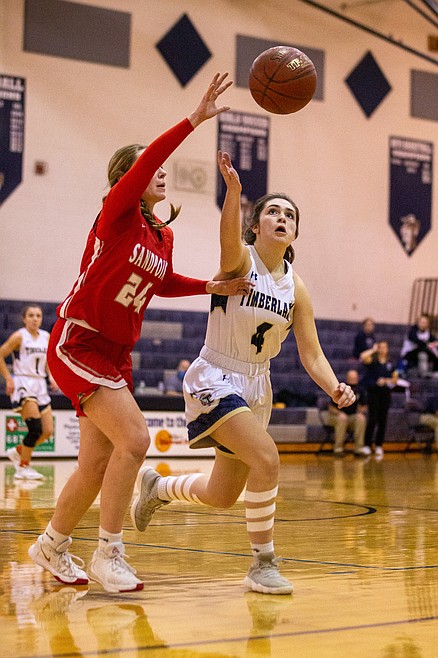 Kaylee Banks (left) fights Timberlake's McKennah Kronenberg for possession of the ball on Thursday.
(Photo courtesy of JASON DUCHOW PHOTOGRAPHY)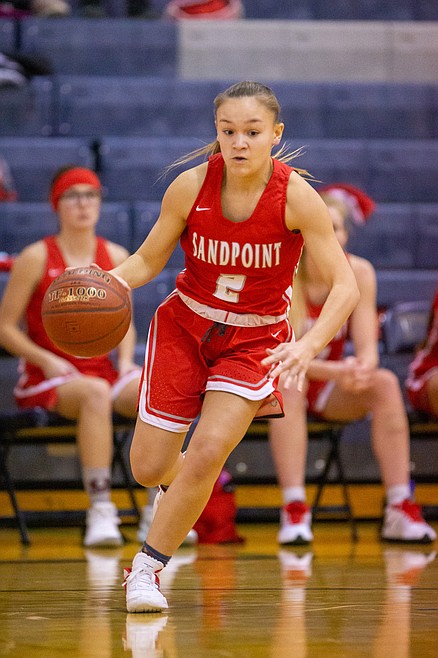 Senior Lily Gammon drives toward the hoop on Thursday.
(Photo courtesy of JASON DUCHOW PHOTOGRAPHY)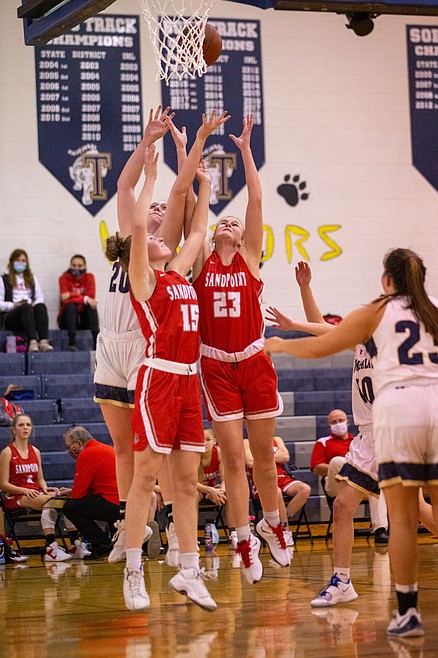 Karlie Banks (left) and Sofia Platte fight for a rebound on Thursday.
(Photo courtesy of JASON DUCHOW PHOTOGRAPHY)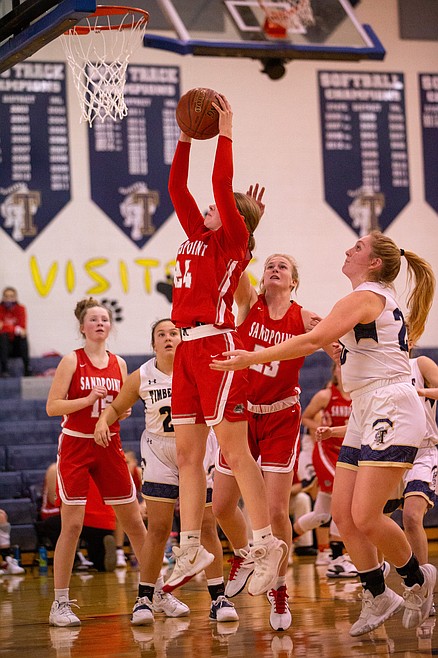 Senior Kaylee Banks goes up for a rebound on Thursday against Timberlake.
(Photo courtesy of JASON DUCHOW PHOTOGRAPHY)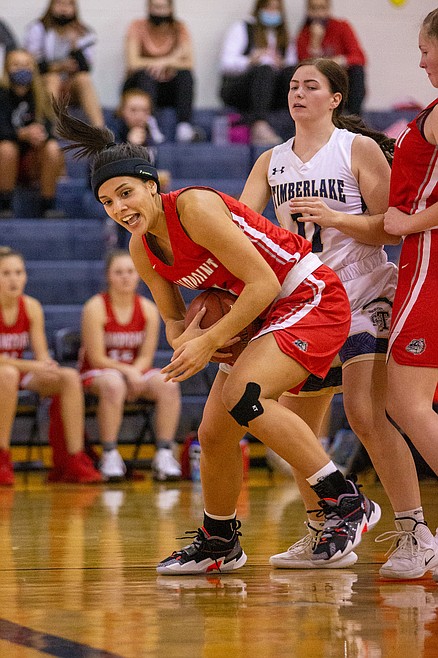 Senior Bella Phillips fights for a rebound in the paint on Thursday night.
(Photo courtesy of JASON DUCHOW PHOTOGRAPHY)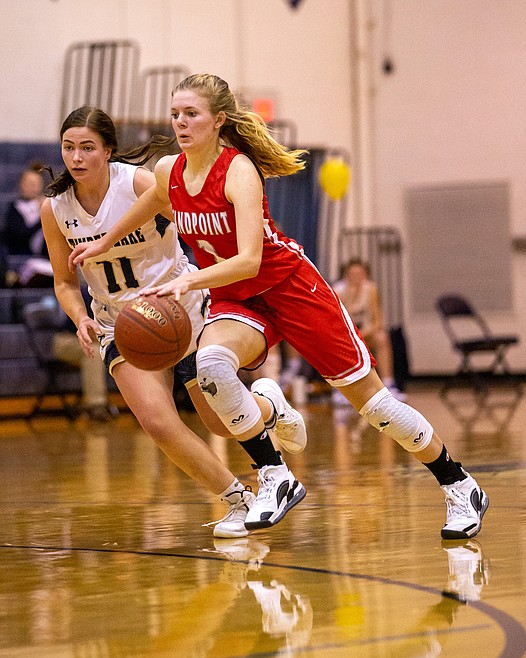 Sophomore Kelsey Cessna drives to the basket during Thursday's game.
(Photo courtesy of JASON DUCHOW PHOTOGRAPHY)
Previous
Next
by
DYLAN GREENE
Sports Editor
|
November 19, 2020 10:50 PM
SPIRIT LAKE — A 14-0 hole was too much for Sandpoint girls basketball to overcome in a 40-25 loss to Timberlake on Thursday night.
Despite the loss, head coach Will Love was pleased with the defensive effort. Last season, Timberlake won the 3A state championship and they were held under 41 points just once all year.
"As good as [Timberlake] can be offensively, for us to hold them to 40 points, that is just awesome," he said. "I'm really proud of the girls because that kept us in the game."
With senior Hattie Larson out for a second straight game, sophomore Karlie Banks stepped into the starting lineup again and had an impressive night.
Karlie led the team with 10 points and six rebounds. Love said Karlie has a lot of potential.
"She has been working really, really hard," he said, "and she is going to be a very good basketball player. This is just a great opportunity for her to get these minutes and to develop. We definitely miss Hattie, but on the other hand, this is going to make us stronger down the road."
The Bulldogs couldn't get anything going offensively in the opening quarter and it looked like the Tigers were going to hold SHS scoreless in the first. But with 18.3 seconds left, Karlie converted a 4-point play to get the Bulldogs on the board.
"We struggled to make some open shots there at the beginning and that made it kind of tough," Love said.
Timberlake continued to hold Sandpoint at bay in the second quarter and the Tigers took a 22-9 lead into the locker room.
The Tigers' lead swelled to 19 points late in the third quarter and they took a 37-21 advantage into the final frame.
Sandpoint held Timberlake to just 3 points in the final quarter, but couldn't find the bottom of the net down the stretch.
With the offense the Bulldogs employ, Love said it takes time to get in a rhythm and they just got to keep grinding away at it.
"The middle of the third quarter to the fourth quarter, I thought the girls did a great job," he said. "One of the things that we got to work on a little bit is stuff that's happening away from the basketball. I think we really need to set hard screens, and so that's what we're going to be working on."
Timberlake senior Brooke Jessen gave Sandpoint fits all night. She tallied 20 points and 15 rebounds.
Love said Jessen's size and physicality is what makes her so good.
"She's been tough to play all four years that she's been at Timberlake," he said, "and you got to be ready because at a moment's notice she's going to seal you hard and she's going to have an easy shot."
Senior Kaylee Banks had 6 points, four rebounds and two assists, and sophomore Kelsey Cessna added 5 points, five assists and two steals. Taryn Soumas tallied 11 points, six assists and five rebounds for Timberlake.
Through two games, Love said his players are quickly learning what it takes to compete at a high level.
"It was a nice progression to see," he said. "We knew that these first two games were going to be tough and what I told the girls is this gives us a good measuring stick on where we need to improve."
Sandpoint (0-2, 0-1 IEL) gets two weeks off before they get a shot at revenge against Timberlake. The Bulldogs host the Tigers at 7 p.m. on Thursday, Dec. 3.
Love has seen a lot of growth in these first two games and he said this break will benefit them greatly.
"As soon as things come together, we are going to be a very, very good basketball team," he said.
Sandpoint 4 5 12 4 — 25
Timberlake 14 8 15 3 — 40
Sandpoint — K. Cessna 5, Gammon 0, Driggs 0, Lyons 2, R. Cessna 0, Phillips 2, Karlie Banks 10, Platte 0, Kaylee Banks 6.
Timberlake — Soumas 11, Hammond 0, Kronenberg 2, Wall 0, Carhart 0, Jessen 20, Bain 7.
---