Ignite your holiday spirit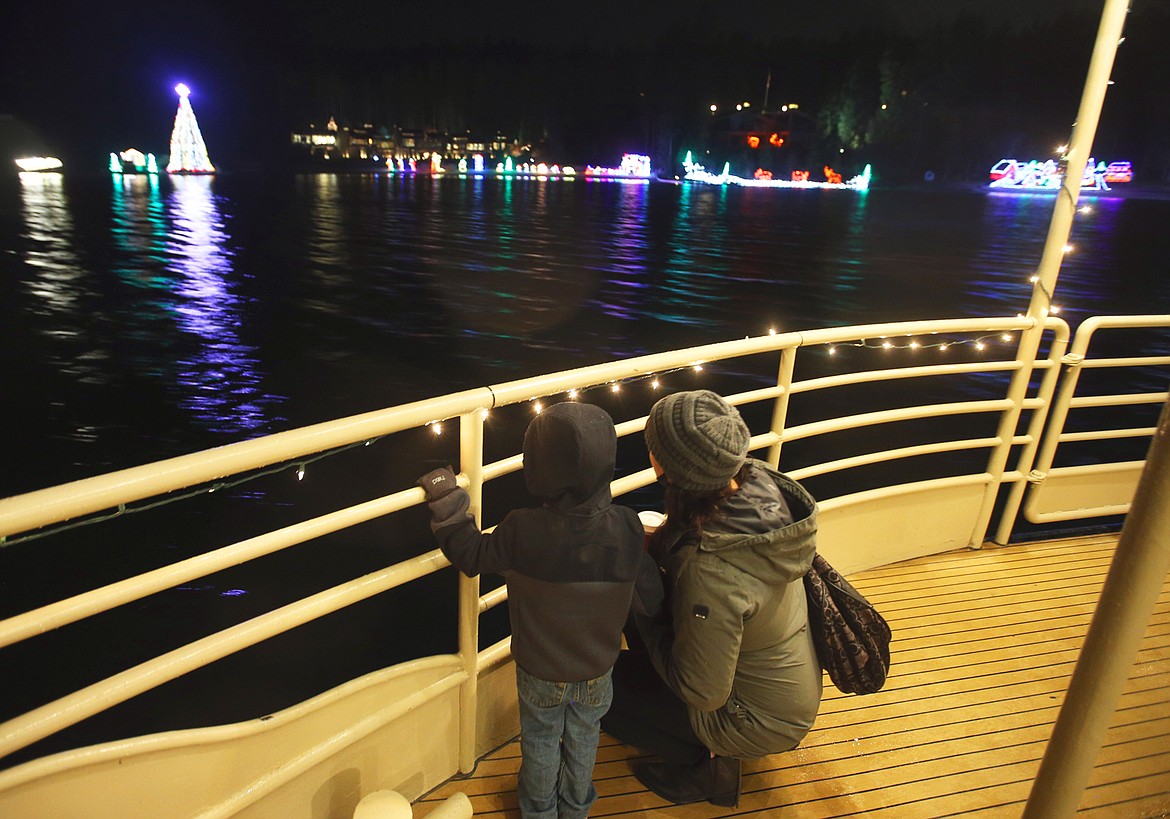 Nicole Kahler checks out the holiday lights with her son during Tuesday's night Journey to the North Pole, a boat cruise across Lake Coeur d'Alene.
BILL BULEY/Press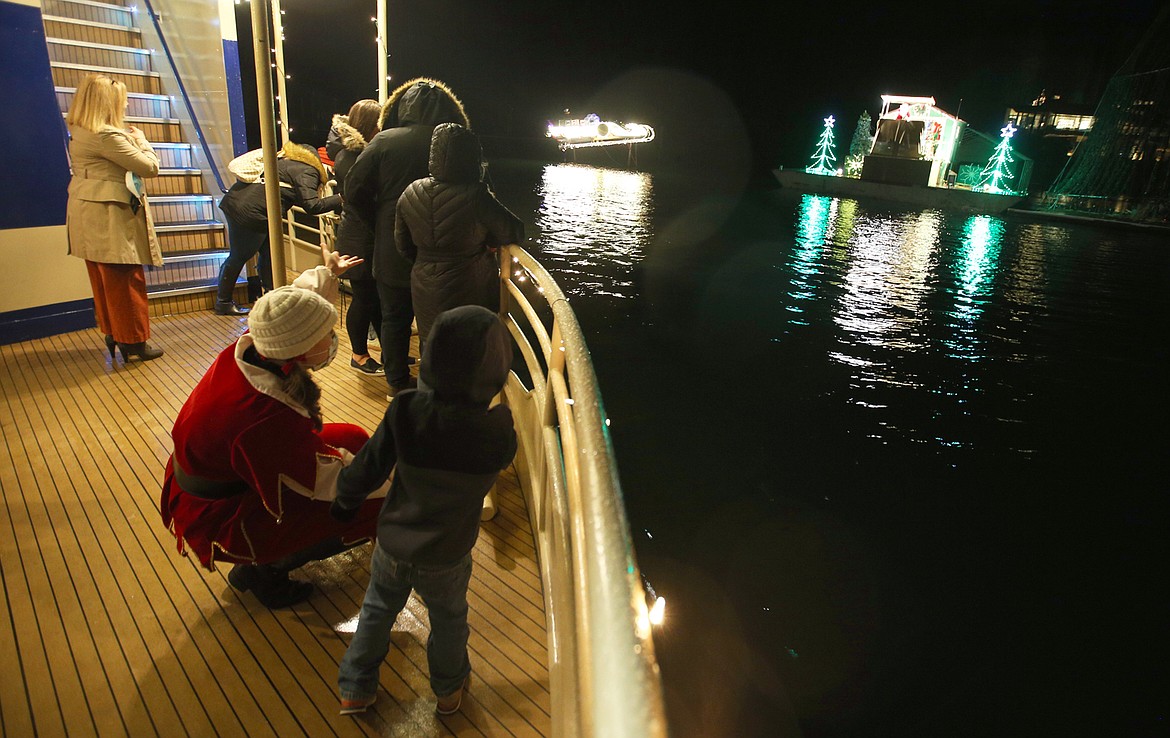 Jingle the elf talks with a child at Santa's workshop after they reached the North Pole during a boat cruise across Lake Coeur d'Alene Tuesday night.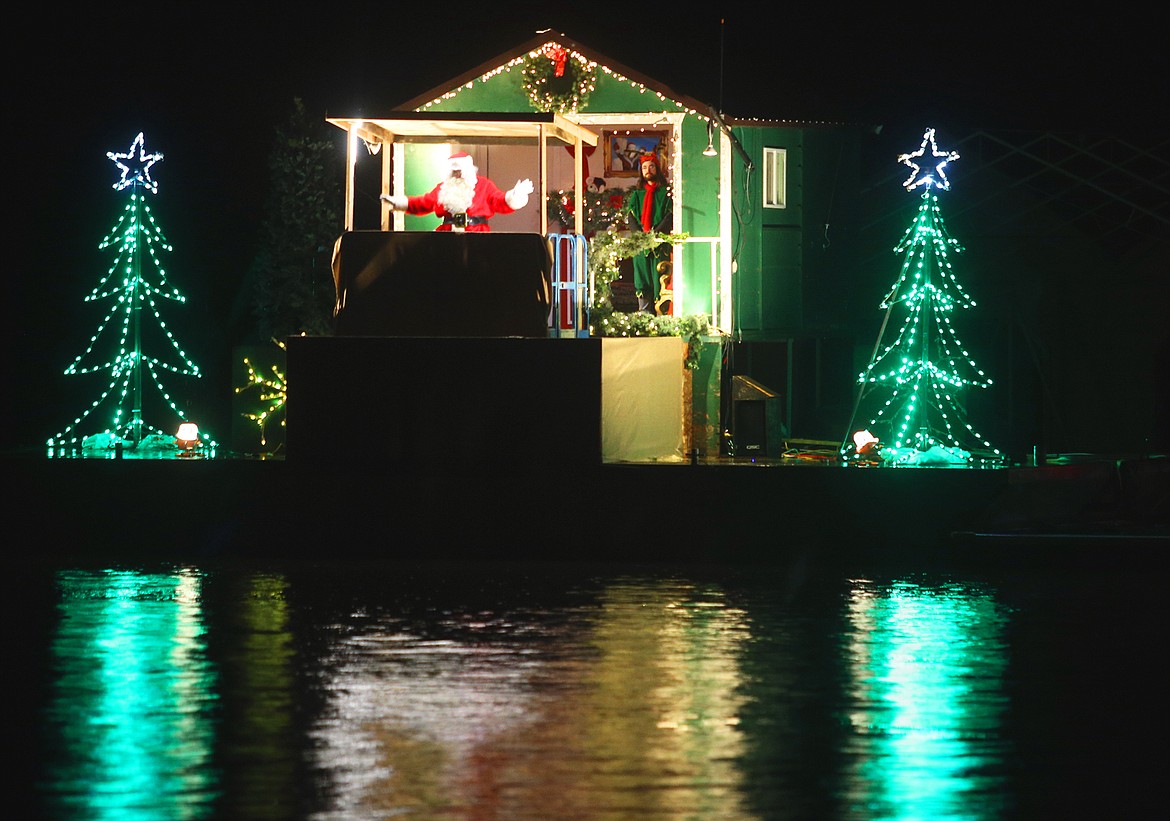 Santa Claus greets guests during their Journey to the North Pole Tuesday night aboard a cruise boat that crossed Lake Coeur d'Alene.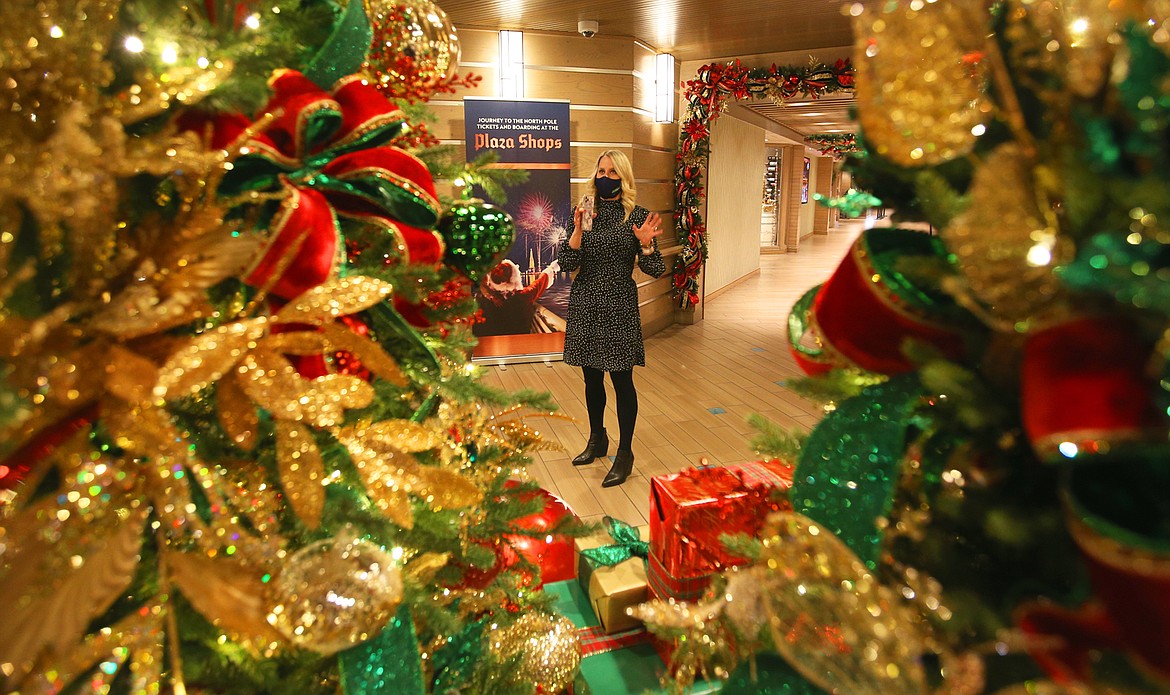 Amy VanSickle, director of marketing at The Coeur d'Alene Resort, chats with guests in the resort lobby before Tuesday's night boat cruise to the North Pole.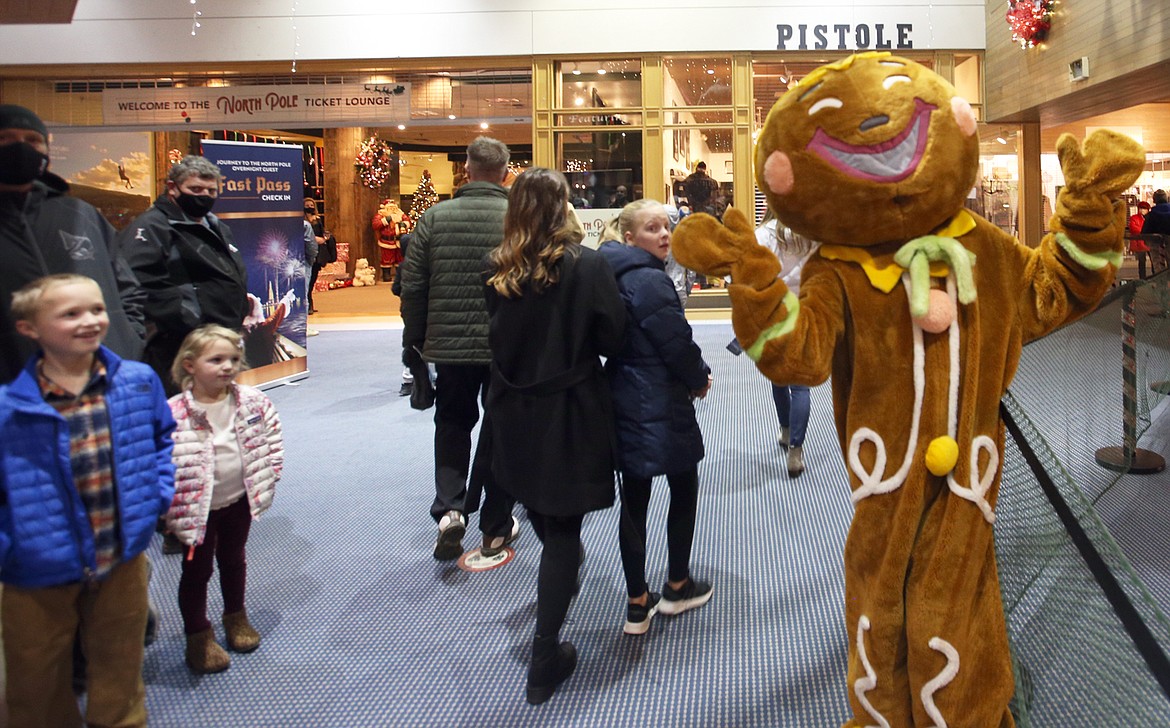 Parks and Seeley Vandewerker visit with a colorful character at The Resort Plaza Shops Tuesday before the boat cruise to the North Pole.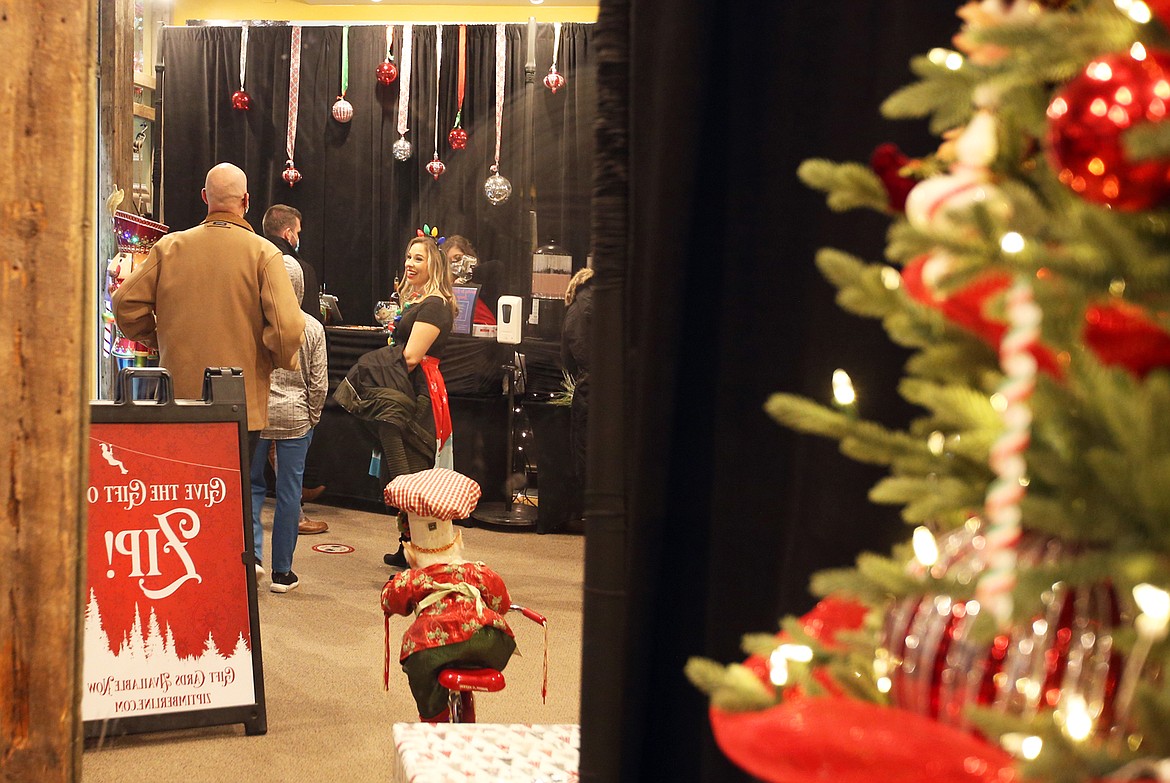 Majestic Storm smiles before heading out on the Journey to the North Pole on the boat cruise Tuesday night.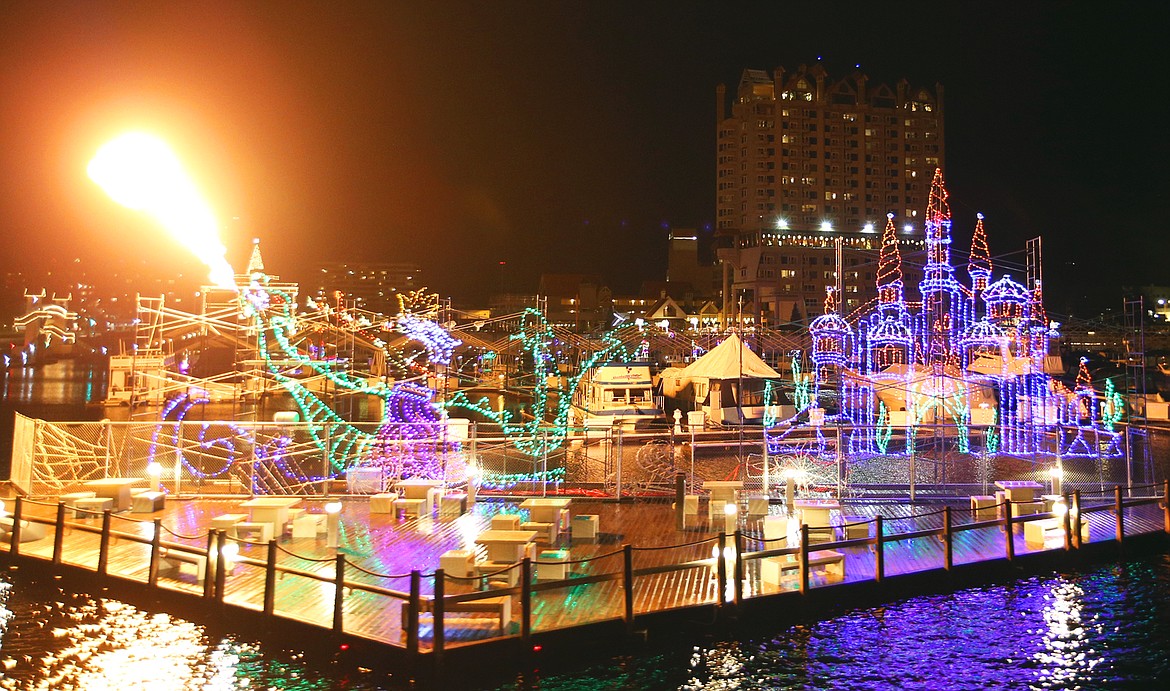 Holiday lights glow at The Coeur d'Alene Resort Boardwalk Tuesday night.
Previous
Next
by
BILL BULEY
Hagadone News Network
|
November 21, 2020 1:00 AM
COEUR d'ALENE — "We're going to the North Pole."
That shout from a child aboard Lake Coeur d'Alene Cruises set the tone for a spirited journey on a starry Tuesday night to see Santa Claus just a 20-minute ride away
With "Jingle Bells" playing, an elf dancing and lights twinkling, kids laughed and grinned in amazement as the Christmas season started with a boat ride to a land of reindeer, candy canes and one of the world's largest floating Christmas trees with lights animated to holiday music.
"I loved the cruise. I think it's always magical to be on this," said Nicole Kahler, who was joined by two young sons. "It's such a great experience for us in North Idaho to get this kind of experience."
Easton Kahler, 5, was thrilled with the fireworks at the North Pole and the flames from the dragon at the Boardwalk.
"That was cool," he said.
It was Santa who was the star of the show when the boat splashed through the last of waves to arrive at the North Pole.
Adults and children rushed top side to hear from the jolly old elf as he welcomed them with a quick lesson about his 40-foot supercharged sleigh.
"If we need to get to Norway in a hurry, we can put it into turbo drive," he said as flames roared out.
"If we need to dash over the Himalayas, we throw on the afterburners," Santa said as more flames erupted with his shout of "ho ho ho."
"We're pretty high-tech up here at the North Pole," he said.
Before heading out from The Coeur d'Alene Resort, guests were treated to an inside tour, decorated throughout with an amazing array of ornaments, ribbons, gift-wrapped presents, smiling Santas, swirling lollipops and rows of flocked, glowing trees.
This year, The Resort has more than 250 displays inside and out, featuring 1.5 million lights as it creates a real-life winter wonderland. The Resort's Holiday Light Show is ranked among the best in the nation.
The Grinch once again waved and shouted as the boat pull pulled away from the dock, much to the delight of boys and girls.
The highlight came when Santa called out the names of each child on board, as they were all on the good list — Major. Tyson. Hannah. Luke. Ethan. Seeley. Benjamin.
Each let out a squeal when they heard their name.
"What a wonderful night," said one parent.
Santa, needing to get back to his workshop and produce more toys before making his rounds Christmas Eve, called for a final song.
"Who here knows Jingle Bells?" he asked.
"I do," several children cried out.
"Excellent," Santa responded.
As the cruise boat began to roll away, more lights, hundreds of colors, burst to life.
An elf who went by the name Jingle jigged and frolicked with wide-eyed kids.
"I think it was so much fun," she said.
"The best part is seeing how much fun the kids have, and seeing their excitement when Santa says their name," Jingle said.
Santa, she added, got the list of nice kids back from the Grinch.
"You have to watch out for that Grinch," she said, smiling.
Brothers Major and Tyson Tschabold, wearing flashing lights, had a terrific time.
"It was really fun and great," said Tyson, who hopes for a PS5 for Christmas but hasn't told Santa just yet.
"It was pretty cool at the North Pole," he said.
Major, however, was not happy to see the Grinch.
"He's garbage in basketball," he said, laughing.
Majestic Storm, also wearing flashing lights, outfitted the kids for this special adventure to see St. Nick.
"I'm taking you to the North Pole," she said. "We gotta get our lights and get ready to go."
As the boat returned to the dock, where more holiday lights glowed, 5-year-old Seeley Vandewerker sat on her dad's shoulders and shouted at the waiting Grinch.
"Don't steal my list anymore," she yelled.
He didn't make any promises.
---