Longs celebrating 50th anniversary today
|
November 28, 2020 1:00 AM
Norm Long and Sharon Smith were married Nov. 28, 1970, in Coeur d'Alene, Idaho.
They have two children, daughter Charlotte Long (Dave Huber and his daughter Hannah) of Spokane, Washington, and son, Jack Long (Elisabeth) and granddaughter Harper Poppy Long of Olympia, Washington.
Norm and Sharon both retired from Litehouse, Inc. They are proud to have worked for Doug and Edward Hawkins, mainly in the company transportation department — Norm for 33 years and Sharon for 17 years.
The couple are enjoying retirement by going to Mopar car shows, camping and traveling in their fifth-wheel trailer.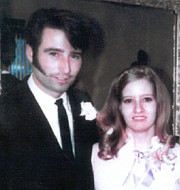 ---