Wonderful winter soups warm the cockles of your family's hearts
by
VALLE NOVAK Contributing Writer
|
November 29, 2020 1:00 AM
Cold and fitful wintry weather can be faced more easily when fragrant hot soup's on the table. Today, I've put on the chef's toque and dug out some old and new tummy warmers that will perhaps ease the chores of shoveling and tossing out the Ice-Melt. Enjoy!
Curried Butternut Soup
(Serves 8)
1 pound butternut* squash, peeled, seeded, cut into 2-inch cubes
1 tablespoon olive oil
1 tablespoon butter
3/4 teaspoon salt, divided
1 cup finely chopped onion
2 cups water
1 cup half-and-half
1 tablespoon curry powder
1 1/2 tablespoons lime juice
1 13.5-ounce can coconut milk
1/4 cup cilantro leaves
1/4 cup grated coconut, lightly toasted
Preheat oven to 450 degrees.
Line a rimmed baking sheet with foil or parchment paper. Place cut-up squash in a bowl and toss with the olive oil. Sprinkle with 1/4 teaspoon salt and toss; spread onto the foil-lined pan and bake for 35 minutes or till golden and tender.
When squash is nearly done, melt the butter in a large saucepan over medium heat and add onion. Cook 5 minutes or so, stirring occasionally. Add squash, water and curry, sprinkle with remaining salt and bring to a boil. Reduce heat to a simmer and add half-and –half; simmer for 15 minutes, stirring occasionally.
Remove from heat and stir in lime juice and coconut milk. Let stand for 15 minutes. Place half of squash mixture in a blender and blend until smooth. Pour into a warm tureen or bowl and repeat with the other half if the soup; add to the tureen, sprinkle top of soup with cilantro leaves, grated coconut and hot chili slices as desired.
Serve into warm bowls.
You may substitute another sweet squash like sweet dumpling or acorn as you wish, making sure to adjust seasonings for best taste to the finished soup.
Carrots take to exotic spices very well. This elegant soup for a special occasion, is great served hot or cold!
Curried Carrot Soup
(Serves six)
6 large carrots, peeled, chopped
2 cups water
2 cups vegetable stock
1 cup heavy whipping cream
1 teaspoon curry
1 teaspoon salt
1/2 teaspoon ground black pepper
Garnish: Sour cream, minced basil, red pepper flakes (any or all) OR toasted coconut
Bring prepared carrots to a boil in water to cover in a large saucepan over high heat; reduce heat to medium-high and cook till tender, 15-20 minutes. Drain, cool completely. When cool, combine carrots with stock and place in a blender, or use hand-held blender in the saucepan. Combine until smooth. In the pan, add cream, curry, salt and pepper and stir in well. Cook over low heat – do NOT boil – till mixture is heated through. Pour into soup tureen and garnish as desired, according to what your main course is. This is delicious.
Curried Lentil Soup
(Four servings)
1 tablespoon oil
1 cup chopped onion
1 tablespoon minced fresh garlic
1 tablespoon minced peeled fresh ginger*
1 1/2 tablespoons curry powder
Pinch of ground red pepper
3 cups water
11/2 tablespoons balsamic vinegar
1 pound dry lentils, cooked, drained
2 cups fresh baby spinach leaves, de-stemmed, sliced into narrow strips
1 teaspoon salt
1/4 teaspoon black pepper
1/4 cup chopped fresh cilantro, divided
1/4 cup plain Greek yogurt
Heat a medium saucepan over medium heat. Add oil to pan; swirl to coat. Add onion, sauté about 3 minutes. Add garlic and ginger, sauté 1 minute; add curry powder and red pepper, cook only 30 seconds, stirring constantly. Add water, vinegar and cooked lentils. Increase heat to high; bring to a boil. Reduce heat and simmer 5 minutes. Place half of mixture into a blender and blend till smooth. Return blended mixture to saucepan and add spinach, salt and pepper. Stir over medium heat till spinach wilts, then stir in 2 tablespoons of the cilantro. Mix well and serve with yogurt and remaining cilantro as topping for individual bowls.
I often use finely grated candied or preserved ginger.
Our next soup is so versatile: Delicious as is, when chilled and pureed, it becomes Vichyssoise; with a handful of grated cheddar cheese, it becomes a rich main dish offering;!
Potato Leek Soup
5 cups vegetable broth or water
4 medium sized cooking potatoes (not bakers), peeled, cubed
2 medium yellow onions, very finely chopped
6 leeks, well washed, sliced thin up into the light green portion of stem, then slices finely chopped
1 cup whole milk OR half-and-half*
1 teaspoon minced basil leaves
Salt and pepper to taste
Minced parsley for garnish
Bring broth to boil in soup kettle. Add potatoes, onion and leeks. Cover, reduce to low and simmer for 10 minutes. Puree slightly in pot with hand blender or mixer. If using water instead of broth, add half and half, and basil. Simmer on low heat till thoroughly heated (do NOT let milk boil!), season with salt and pepper and garnish with parsley; serve.
Note: For cheesy soup, stir in 1 to 1 1/2 cups grated Cheddar cheese the last 10 minutes, or pass in a bowl for individual choices. Serve with garlic croutons.
Chick Pea Soup w/Garlic and Herbs
(Serves 8)
1 pound dried chick peas (Garbanzos)
5 tablespoons olive oil
1 large onion, finely chopped
5 sage leaves, crumbled or chopped
1 4-inch rosemary sprig or 1 teaspoon dried, crumbled leaves
1 large bay leaf
2 large garlic cloves, minced, separated
2 cups 1/2–inch cubes Italian bread
Additional olive oil
Place chick peas in large bowl covered with water and soak overnight.
Pour chickpeas and their soaking liquid into a large pot, adding enough water to cover by 2 inches. Bring to a simmer.
Meanwhile, heat 3 tablespoons of olive oil in a heavy large skillet over medium heat. Add onion, sage, rosemary and bay leaf; sauté till onion in golden, about 8 minutes. Stir in 1 chopped garlic clove and cook 1 minute, then add mixture to chick peas. Cover partially and simmer until tender, about 3 hours. Remove herbs from soup, season with salt and pepper.
Heat 2 tablespoons of olive oil in a heavy large skillet over medium heat. Add bread cubes and sauté until golden, tossing and turning about 4 minutes. Add second chopped garlic clove and stir into and with bread cubes about 1 minute. Ladle soup into bowls; top with croutons, serve. Pass additional oil separately.
Note: You may use drained, rinsed canned chickpeas in amount needed, simmered in water to cover.
You may also use ready-made croutons, prepared as per the recipe.
Valle Novak writes the Country Chef and Weekend Gardener columns for the Daily Bee. She can be reached at bcdailybee@bonnercountydailybee.com. or by phone at 208-265-4688 between the hours of 8 a.m. to 7 p.m.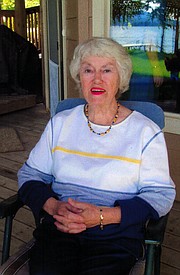 ---