Jordan, Soto stump in Sandpoint
by
KEITH KINNAIRD
News editor
|
October 6, 2020 1:00 AM
SANDPOINT — United States Senate candidate Paulette Jordan and U.S. House of Representatives candidate Rudy Soto brought their home-stretch pitches to Bonner County voters on Saturday.
Jordan — a Democrat who's challenging incumbent Republican Sen. Jim Risch for his senate seat in addition to Independent Natalie Fleming and Constitution Party candidate Ray Writz — made a special appeal to younger voters during her campaign stop at Matchwood Brewing. She contends their voices and views are not being represented by other candidates on the ballot.
"They're rising up, but they're disappointed and discouraged by what they see in terms of leadership," Jordan said to a crowd of fifty or so who had gathered outside the brewery to hear her and Soto speak.
Jordan said there is less than a month for voters to turn the tide on health care, slave wages and food insecurity in Idaho.
"I'm willing to sacrifice whatever it takes to get there for Idaho," said Jordan.
Jordan also made an appeal to women voters in Idaho following the death of Idaho Supreme Court Justice Ruth Bader Ginsberg, arguing that their rights to body sovereignty and equal pay are in jeopardy.
"Your vote matters. This is not the electoral college — this is a popular vote," Jordan said.
Jordan charged that Risch is trying to derail the Affordable Care Act and undo the expansion of Medicaid in Idaho without anything to take their place. She contends Idaho has been too red and backward for too long in one of her address's more pointed comments.
Jordan said women's rights in Idaho are the worst in the nation even though the state is more than 50-percent female.
"We are 50th in the country. Why is that? Because we sat silent," said Jordan.
Jordan was preceded on the makeshift stage by Soto, a Shoshone-Bannock tribal member who descends from Hispanic heritage.
Soto mourned the loss of his sister, Lisa, who died from spina bifida. Soto said his sister's reluctance to seek refuge in an assisted living facility due to concerns about the novel coronavirus pandemic and isolation helped hasten her demise.
"It was an indirect impact," Soto said, referring to COVID-19.
Soto recalled his early years living in public housing and a time when Idaho wasn't the coveted destination it is now.
"Idaho wasn't the place everybody was moving to," said Soto.
Soto said he developed a passion for advocacy in college and was moved to run when he saw Medicaid expansion being threatened.
"Someone needs to stand up for the people," said Soto.
Soto pledged to advocate for mental health funding, heeding the will of voters on Medicaid expansion and making sure Idahoans are not left in the lurch.
"I found a passion for advocacy," said Soto.
Keith Kinnaird can be reached at kkinnaird@bonnercountydailybee.com or followed on Twitter @KeithDailyBee.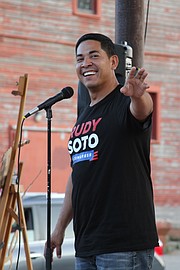 ---