'A big look ahead guy'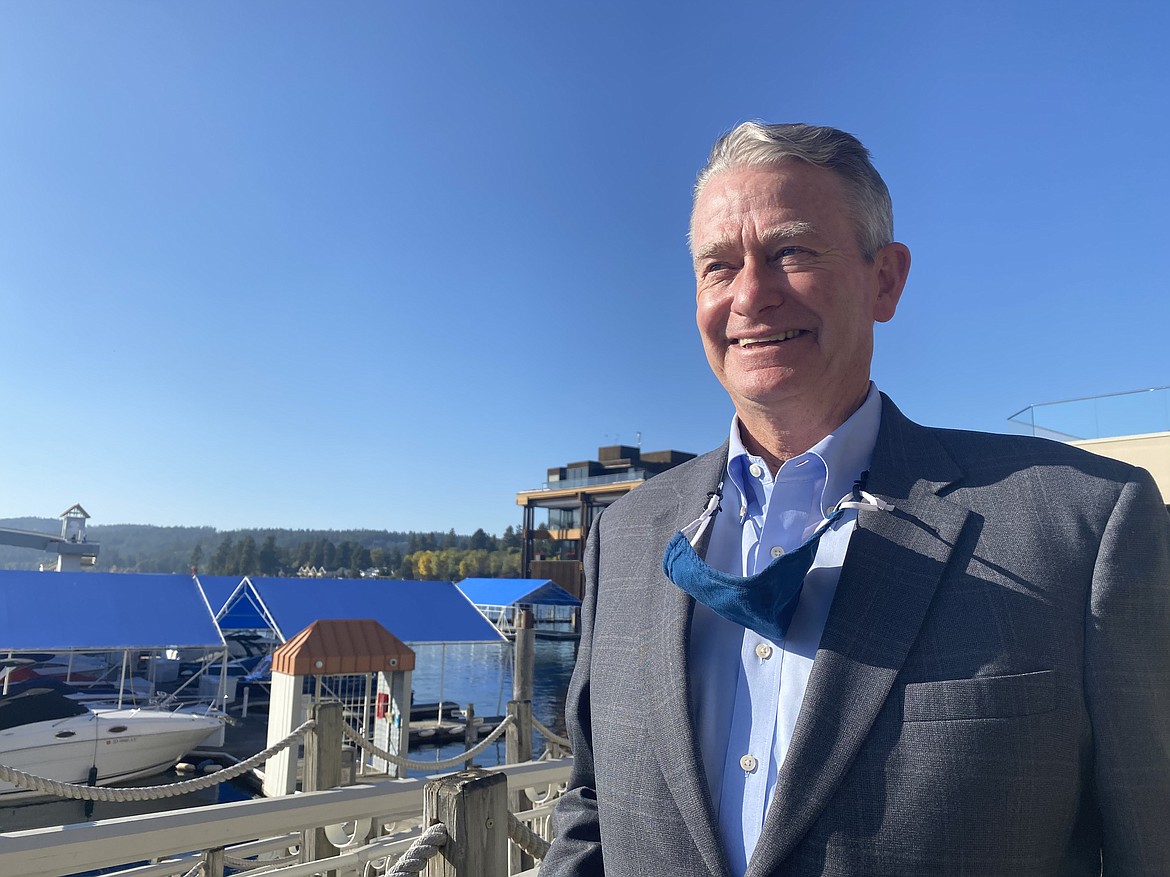 While visiting Kootenai County, Gov. Brad Little sat down to talk his plans for the future of Idaho. (MADISON HARDY/Press)
by
MADISON HARDY
Hagadone News Network
|
October 9, 2020 1:00 AM
Almost halfway through his four-year term, Idaho Gov. Brad Little is ready to exit the black cloud of COVID-19 and focus on improving education, broadband connectivity and transportation.
"From now until December, we have to see what's going to take place," Little said Tuesday. "I've got to continue to work on education, we have some broadband issues we need to address, and then for me, my cherry on top would be a big transportation deal."
In his visit to Coeur d'Alene, Little spoke with lumber, real estate, environmental and education facilities to gain a firmer understanding of the needs of North Idaho residents. He said he knows broadband services have been an area the state lacks, so he created the Idaho Broadband Task Force in 2019 to improve connectivity and services statewide.
"There was a gal who asked me a question from Lemhi County. She said that they have a charter school and a number of other things where access to broadband makes all the difference in the world to them," Little said.
Improving connectivity is just the right thing to do, Little said, especially considering the disparity between rural Idaho and cities like Boise, Nampa, Meridian, Twin Falls and the rest of the State. Not only does a lack of available services affect education, but accessible health care, businesses and the community at large.
"If you go to the Department of Commerce's broadband map, this is the doughnut, the area from north of Coeur d'Alene to the south of Benewah County needs to be served," Little said. "From a regional standpoint, what's good for the rural part of Kootenai, Shoshone, Bonner and Benewah County is good for the whole region."
Little has rolled out assistance through the COVID crisis, from helping small businesses stay open to getting kids back in school. The Idaho Broadband Grant Program is allocating almost $50 million in CARES dollar to advance broadband connectivity, $4.8 million of which is returning to Kootenai County.
"As we deploy these programs, we are going to have a better peek under the covers to where we have weak links," Little said. "What community is the speedway too slow, where do we need to add a bigger link, whether it be wireless or hardwire. We have to have good fiber to offer 5G service to our people."
Connecting Idahoans both digitally and physically, Little said he has plans to promote the maintenance of existing roads and bridges and tackle new issues created by Idaho's rapid growth. The State is coming to the end of former Gov. Dirk Kempthorn's multiyear $840 million "Connecting Idaho" highway building program that began in 2005, Little said, but more work needs to be done.
"Almost all the projects are in, but we are still paying about $60 million a year in dead service," Little said. "I think we ought to put a big bull plan together to do more connectivity around the state."
Kootenai County, home to many major roadways like the U.S. 95, I-90, Highway 41 and Highway 53, is mulling over a $50 vehicle registration fee intended to improve roads through 12 projects. Little said he's heard about the initiative and believes that if Idaho put in a state-level transportation program, areas that have done independent work should be rewarded.
"People want to get to work or play in the same amount of time they did before. It's simple math, you take and figure that people's time is worth $10, $20, $30 an hour, then you figure how much they're stuck in traffic," Little said. "If you take that into a net value analysis, then you'd say people should be more than willing to give more than $100 in fuel and registration tax to get that time back."
While Little said he'll leave picking the projects to the Idaho Transportation Department and local communities, there must be an emphasis on connecting already developed networks with rural areas.
"You have some areas of the state where there aren't many people, but they have a weak link in our interstate system that needs to be fixed," Little said. "Sandpoint, Coeur d'Alene, Moscow, Lewiston, Nampa, Caldwell, Meridian, Boise, Twin, Pocatello, Idaho Falls, rural Idaho, all of them need work."
Little's second year as governor has tested his leadership as he and the rest of the United States navigated COVID-19 abyss. Initially, he had planned to spend his summer touring schools around the state, working on his long-term literacy goals before returning to Boise for the 2021 legislative session. Instead, Little's been tackling pandemic curveballs since late March.
"It's a miracle that Idaho has a bigger surplus now than we forecast pre-COVID," Little said. "I think it's the confidence the people have in the state. We're one of the least aggressively shut down, and one of the most aggressive to open back up."
Idaho formally began its reopening process in May, and while it remains in Stage 4, Little is confident in his approach. Resistance to leaving the fourth and final stage of reopening is due to the state's inefficient quelling of positive case results and hospitalizations, which hit 45,082 total cases and 492 deaths as of Tuesday evening, according to the state website. Despite concerns about infection numbers, Little focuses on the same thing he has for the last seven months — flattening the curve to avoid overrunning health care capacity.
"Keeping people safe, getting kids back to school, and rebounding the economy. Those three things are literally all the same," Little said. "If people feel confident for their kids to go to school, for them to go to work, and to go out and buy things, then the economy will do well."
Little said he was thankful to have had his team to lean on. A self-described "not-a-big-look-back-guy," Little has been able to reflect on his past year to improve in the next.
"I'm a big look ahead guy," Little said. "Looking at the people and the businesses of Idaho, I think that the fact people are spending, people are investing, and people are growing is a pretty big vote of confidence."
Recent Headlines
---