BGH Emergency Department remodel to begin Monday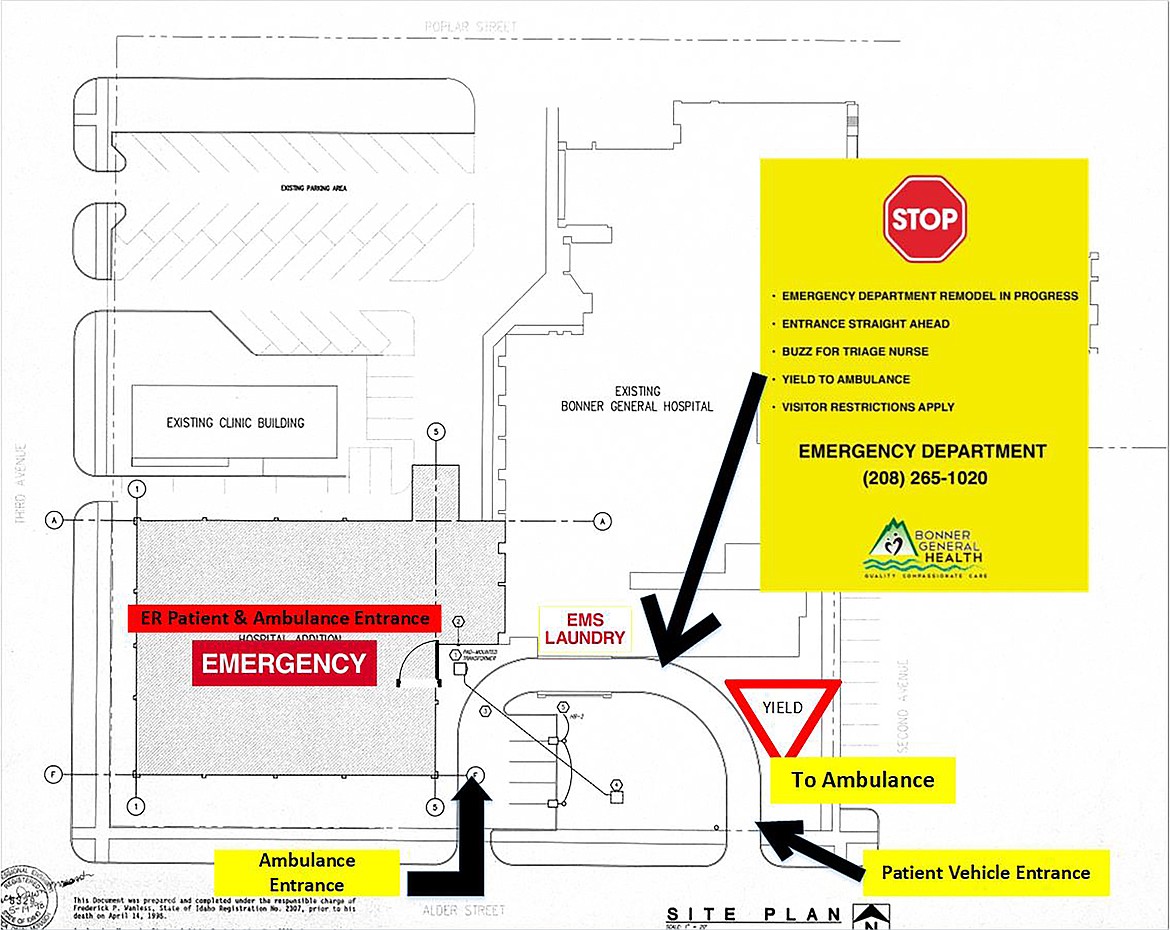 A map shared by Bonner General Health shows the temporary changes to the hospital's Emergency Department entrance due to a remodel project of the department, set to start Monday.
|
October 10, 2020 1:00 AM
SANDPOINT — Bonner General Health will begin an Emergency Department remodel on Monday, Oct. 12. The remodel will require a temporary move of the Emergency Department, which will take place on Monday morning and complete by 7 a.m., hospital officials said in a press release.
The remodel of the 25-bed critical access hospital is projected to take approximately three months to complete and is primarily funded by a $200,000 grant awarded by the Sunderland Foundation earlier this year. Bonner General Health applied for the grant after the funds allotted for the project were no longer available due to a revenue loss during the COVID-19 shutdown of specific services. Bonner General Health director of facilities, Curtis Johnson, will serve as the general contractor for the project, with his facilities team and various sub-contractors completing the work.
The entrance to the ED will be directly to the left of the existing entry. Patient vehicles will enter the same way, off of Alder Street, between Second and Third avenues. Drivers will be asked to yield to any incoming ambulance vehicles. Parking will remain the same, with designated patient parking spots, as well as street parking on Alder, officials said.
The protocols for entering the Emergency Department will remain the same. A doorbell will be clearly marked for calling a triage nurse, who will meet patients at the door to assess conditions and symptoms. Visitor restrictions will continue to apply, allowing one visitor per patient.
"We are excited to provide this updated service space to our community. While accommodating the work will be challenging, the result will improve the patient flow, experience, and protect our patients' privacy. We appreciate the support of our patients, their families, and our healthcare partners during this process," Marian Martin, Emergency Department manager, said.
The Emergency Department renovation will include work stations for doctors and nurses, expansion of the paramedic entryway, patient room improvements, updated windows, flooring, lighting, and ceiling tiles.
Information: www.bonnergeneral.org
---