Autumn fare features gifts of garden, tree and woodland
by
VALLE NOVAK Contributing Writer
|
October 11, 2020 1:00 AM
Autumn is my favorite time of the year and fall recipes add to the ambiance. Last week's Chef column presented some of my favorite seasonal fare, and today we wrap the remainder of the long list with a few more delectables. Enjoy.
What would we do without our spuds? The humble Idaho symbol is one of the most versatile of veggies – as witness this must-try recipe.
Curried Potato Salad
2 pounds yellow or white potatoes, peeled, cut into 1-inch pieces
¾ cup plain Greek yogurt
2 teaspoons curry powder
1 small pepperoncini pepper, finely minced*
¾ teaspoon salt
¾ cup shredded carrots
½ cup thinly sliced green onions w/tops, divided
1/3 cup thinly sliced celery
2 tablespoons chopped unsalted cashews
Place potatoes in a medium saucepan, cover with cold water, bring to a boil. Reduce heat and simmer until tender — about 10 minutes. Drain and cool.
Combine yogurt, curry, pepperoncini, and salt and whisk to blend. Place cooled potatoes in a large bowl, add carrots, 5 tablespoons of the green onions, celery and yogurt mixture; toss gently to combine. Sprinkle with remaining 3 tablespoons green onions and the cashews. Cover and chill before serving.
The hot summer and following adverse climate/weather events pretty much put paid to a decent mushroom season, If you were lucky enough to score some — good for you. Otherwise, watch the market shelves for chanterelles and use them with button mushrooms for this rich, savory, incomparable dish. Note — you add the pasta to the sauce, not the sauce to the pasta.
I mince pickled cut-up pepperoncini in a jar. Great tang.
Mixed Mushroom Pasta
(For 4)
12 ounces fettuccini
2 Tb. real butter
1 pound mixed fresh button and wild mushrooms, thinly sliced
1 large garlic clove, finely chopped
1 teaspoon dried tarragon, crumbled *
3/4 cup whipping cream
2 tablespoons rich red wine, Madeira or Sherry
Chopped fresh parsley
Cook pasta in large saucepan of boiling salted water till al dente or to your preference; drain well. Cover and set aside
Melt butter in heavy skillet over medium-low heat; add mushrooms and garlic. Saute, gently stirring until mushrooms begin to release some juices — 3 -5 minutes or so. Add whipping cream and wine; simmer just to blend, stirring in gently. Add pasta to the sauce, folding to coat. Season with salt and pepper. Divide between four plates, garnish with parsley and serve with a glass of the red wine.
I had (thankfully) dried tarragon leaves on hand, and really recommend you use it if possible since it provides the unique, exotic taste this dish calls for. (Note for next spring: Tarragon plants in the potagers.)
Next, cauliflower teamed with unlikely but incomparable companions.
Tahini Cauliflower With Pomegranate
1/3 cup packed fresh cilantro leaves, stemmed, lightly chopped
1/3 cup tahini paste
3 tablespoons lemon juice
2 garlic cloves, minced
6 tablespoons water
½ teaspoon salt, divided
1 tablespoon EACH fine olive oil and real butter
6 cups cauliflower florets
Fresh ground black pepper
1/3 cup pomegranate seeds (arils)
Preheat oven to 375 degrees. In mixer or processor or by hand, combine first four ingredients till smooth, adding water a tablespoon at a time till mixture has creamy consistency. Add salt, stir to combine.
Heat a large cast iron or nonstick skillet over medium heat. Add olive oil and butter, swirling to coat. Add cauliflower and cook stirring gently till lightly browned, about 10 minutes, then pour all onto a rimmed baking pan lined with foil and roast until tender, about 20 minutes or less, turning once or twice. Pour into a serving bowl and toss with pomegranate seeds, then tahini mixture. Salt and pepper to taste, serve. Outstanding.
Apples seem to be the symbol of autumn. This super supper salad is the perfect way to show them off.
Red Cabbage Apple Slaw
2-3 cups cored, peeled apples, cut into sticks
3 cups shredded red cabbage
½ cup raisins OR finely chopped dates
½ cup green onions, sliced with tops
1/3 cup minced parsley
2 tablespoons lime juice, separated
½ cup mayonnaise
1 teaspoon cane sugar
½ teaspoon ground ginger
½ teaspoon curry powder
Salt, pepper to taste
Prepare apples, toss in a small bowl with 1 tablespoon lime juice to keep from browning. Shred cabbage, place in large salad bowl. Toss with the raisins, green onions and parsley.
Make dressing: Mix remaining tablespoon of lime juice, mayo, sugar, ginger, curry. Add apples/lime juice to cabbage, tossing to combine ingredients. Pour dressing over salad and mix well, salt and pepper to taste. Cover and chill before serving. Serve with our following corn bread recipe. It's the perfect go-with for most any autumn supper.
Buttermilk Corn Bread
2 cups yellow cornmeal
1 cup sifted all-purpose flour
6 Tb. granulated cane sugar
1 Tb. baking powder
3/4 tsp. salt
1/2 cup (1 stick) chilled unsalted butter, diced
1 1/2 cups buttermilk
3 large eggs
Preheat oven to 400F. Butter bottom of 9x9x2-inch baking pan. Mix first 6 ingredients well together. Add butter and cut in with 2 knives (or food processor) till mixture resembles coarse meal. Beat buttermilk and eggs together in large bowl to blend. Add cornmeal mixture to egg mixture and blend well. Transfer to prepared pan. Bake cornbread till light golden-brown on top and tester inserted in center comes out clean, about 30 minutes. Cool in pan in rack.
Our illustration shows cornbread sticks – go for it if you have the pans, but watch carefully so as not to overbake or burn them.
Valle Novak writes the Country Chef and Weekend Gardener columns for the Daily Bee. She can be reached at bcdailybee@bonnercountydailybee.com. or by phone at 208-265-4688 between the hours of 8 a.m. to 7 p.m.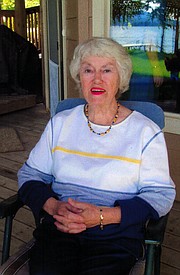 ---