Christmas in October
Bonner Community Food Bank executive director Debbie Love, left, and Post Falls Food Bank executive director Leslie Orth open envelopes with donation checks from Silverwood Theme Park on Thursday. Silverwood distributed more than $31,400 to area food banks, which have been experiencing increases in need because of COVID-19.
DEVIN WEEKS/Press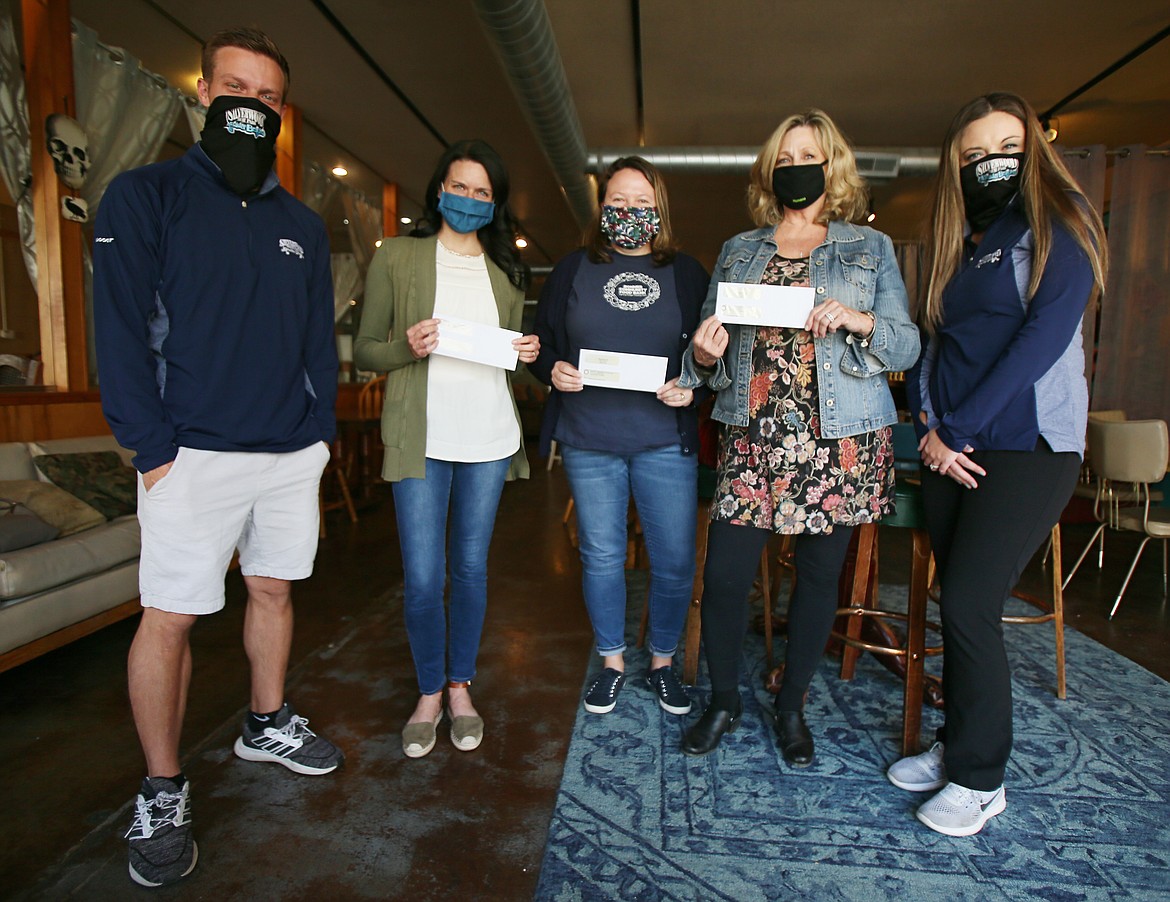 Silverwood Theme Park donated more than $31,400 to area food banks on Thursday. A funds distribution was held in Calypsos in downtown Coeur d'Alene. From left: Jordan Carter, Silverwood; Shannon Kinney, Second Harvest; Debbie Love, Bonner Community Food Bank; Leslie Orth, Post Falls Food Bank; and Stephanie Sampson, Silverwood.
Previous
Next
by
DEVIN WEEKS
Hagadone News Network
|
October 11, 2020 1:00 AM
Leave it to Silverwood Theme Park to make a windy day in October feel like Christmas morning.
Directors of area food banks gathered at Calypsos Coffee and Creamery in downtown Coeur d'Alene on Thursday to meet with Silverwood's communications and marketing director, Jordan Carter, and public relations manager, Stephanie Sampson, who had envelopes waiting for them.
The food bank representatives smiled as they opened the envelopes to reveal checks with funds to use as needed at their organizations.
"Wow!," "Oh my gosh!" and "This is amazing!" were a few of the joyful expressions that could be overheard as the excitement unfolded.
"Thank you for all you do," Carter told them.
In total, Silverwood gifted $31,410 to the Athol, Post Falls, Coeur d'Alene Community Action Partnership, Second Harvest and Bonner Community food banks. Athol received $2,000 while its counterparts received $7,352 each.
The amount is $3,150 more than Silverwood donated last year, even through a year bogged down by a pandemic.
"Because of the snow last year, we had to shut down the last weekend," Carter said. "In a pandemic and how this entire year has gone, to be able to help at all is incredible to be a part of something that stretches farther than ourselves, and that's what we're here for. We're not an island, we're here for the community, we're here for the region and any way we can help."
"We've had so many donors, civic groups, that have not held fundraisers, so they don't have the money," Post Falls Food Bank executive director Leslie Orth said. "I'm going to probably be 100% over my food budget this year, because we've lost major food drives, so I suspect this will probably go for food."
Second Harvest Food Bank philanthropy director Shannon Kinney said $1 is food for five meals. "We can definitely stretch the dollar," she said. "This is more than 35,000 meals."
Debbie Love, executive director of the Bonner Community Food bank, said she, too, will be using the funds for food purchases.
"We are ordering now food in pallet sizes, versus cases," she said. "From freight to getting it up to Bonner County has been an increased cost, so we're very grateful for Silverwood's support."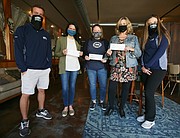 ---