Boys take first, girls secure third at William Johnson Sandpoint Invitational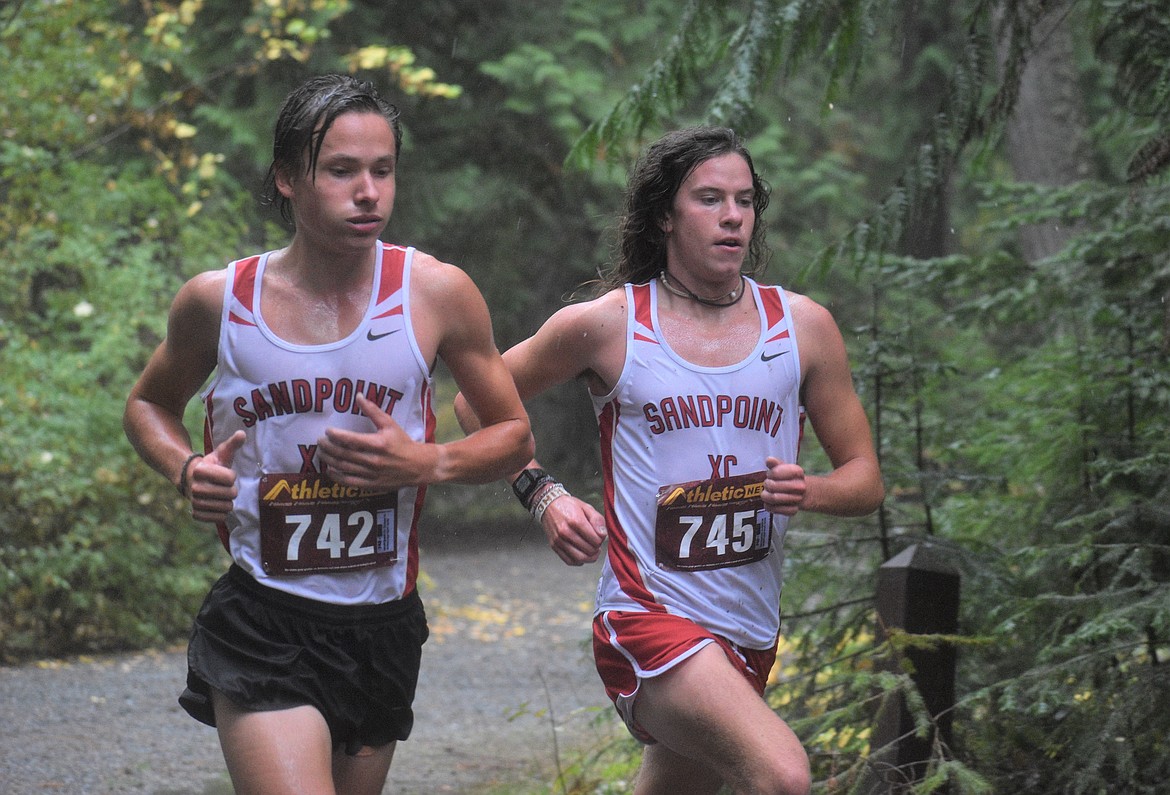 Seniors Nikolai Braedt (left) and Jett Lucas run side-by-side during Saturday's William Johnson Sandpoint Invitational.
(Photo by DYLAN GREENE)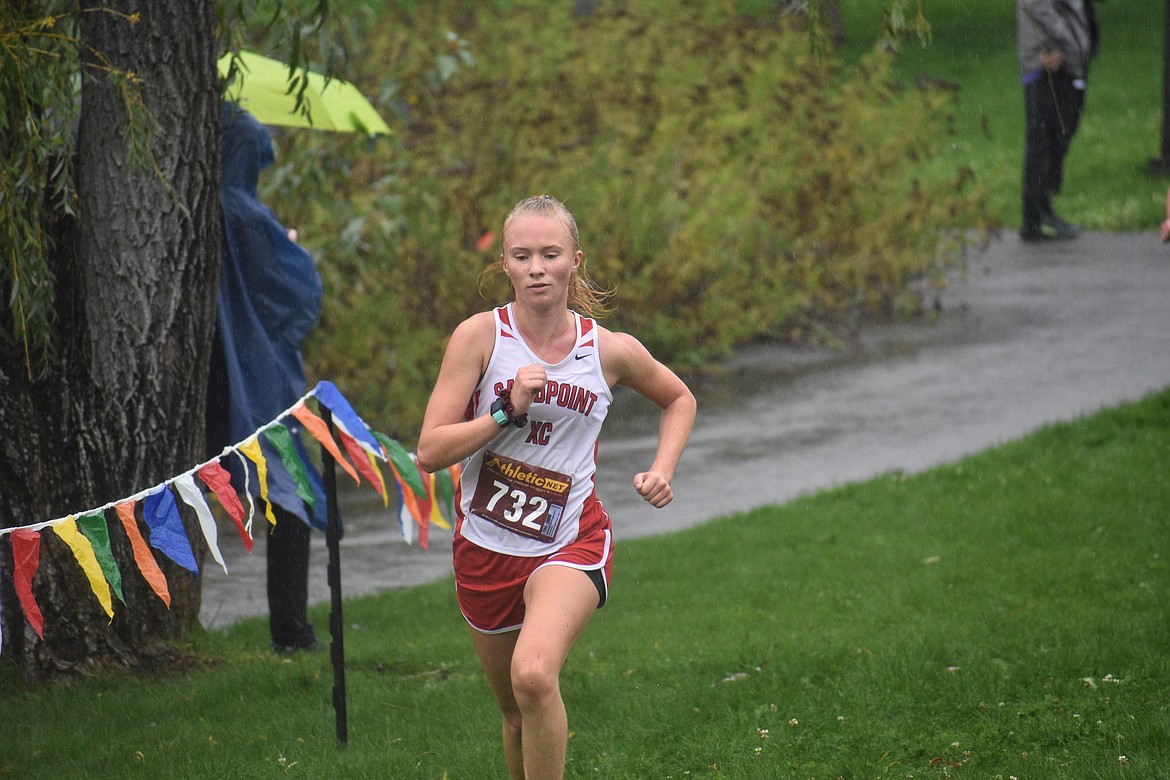 Junior Mackenzie Suhy-Gregoire runs in Saturday's William Johnson Sandpoint Invitational.
(Photo by DYLAN GREENE)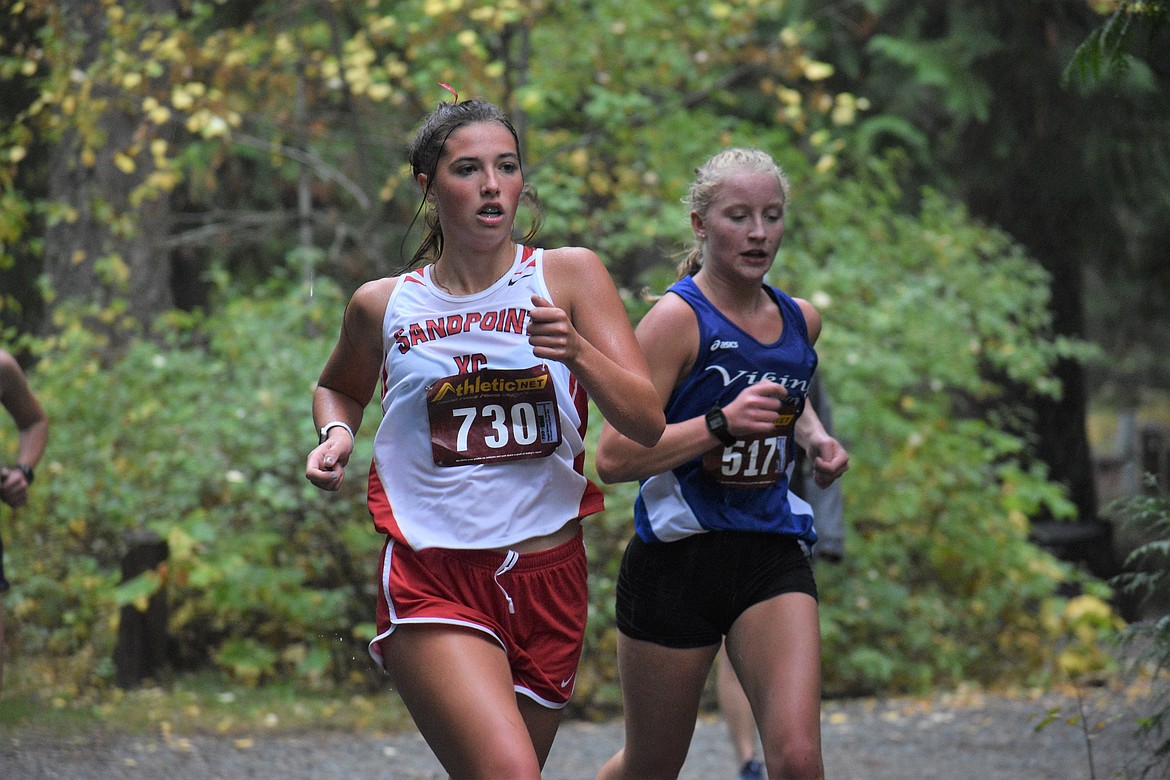 Junior Megan Oulman (left) passes a Coeur d'Alene runner during Saturday's William Johnson Sandpoint Invitational.
(Photo by DYLAN GREENE)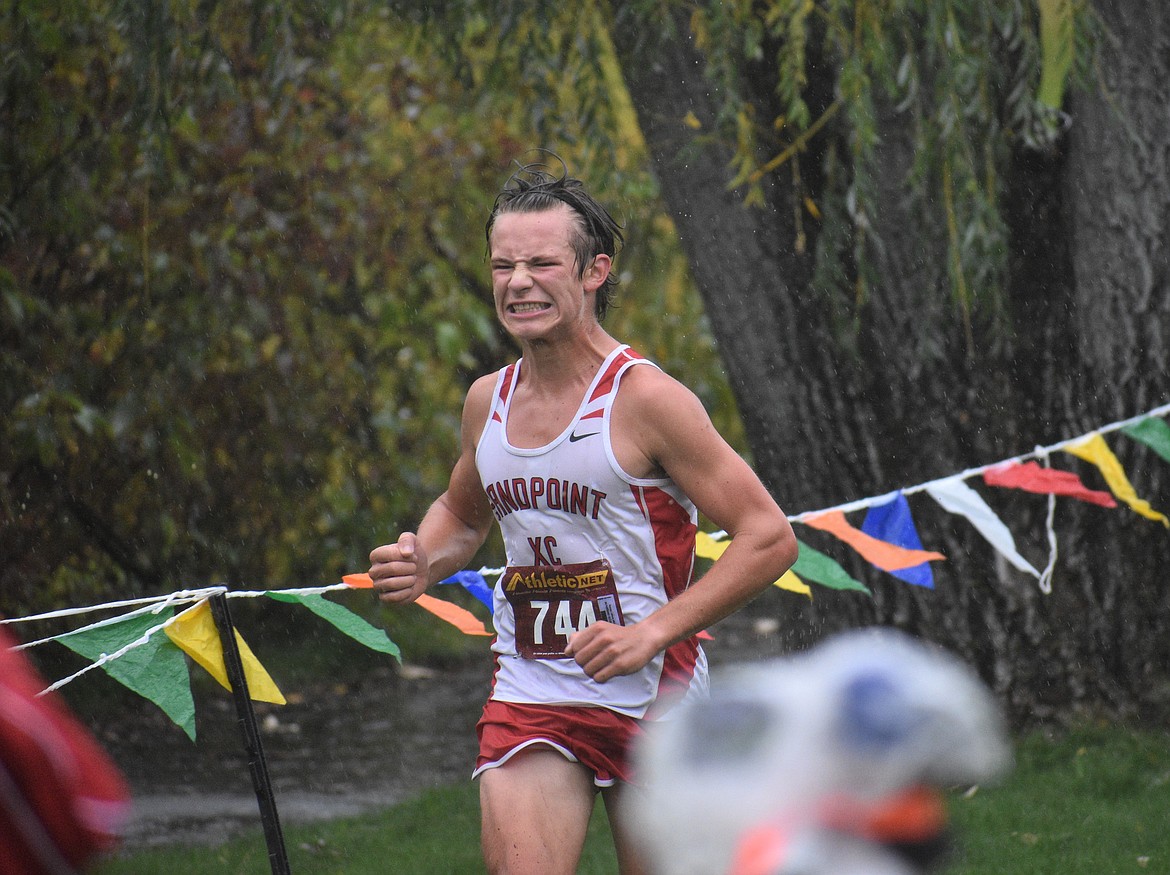 Sophomore Slate Fragoso grinds it out as he nears the finish line during Saturday's William Johnson Sandpoint Invitational.
(Photo by DYLAN GREENE)
A pack of Sandpoint girls run together during Saturday's William Johnson Sandpoint Invitational.
(Photo by DYLAN GREENE)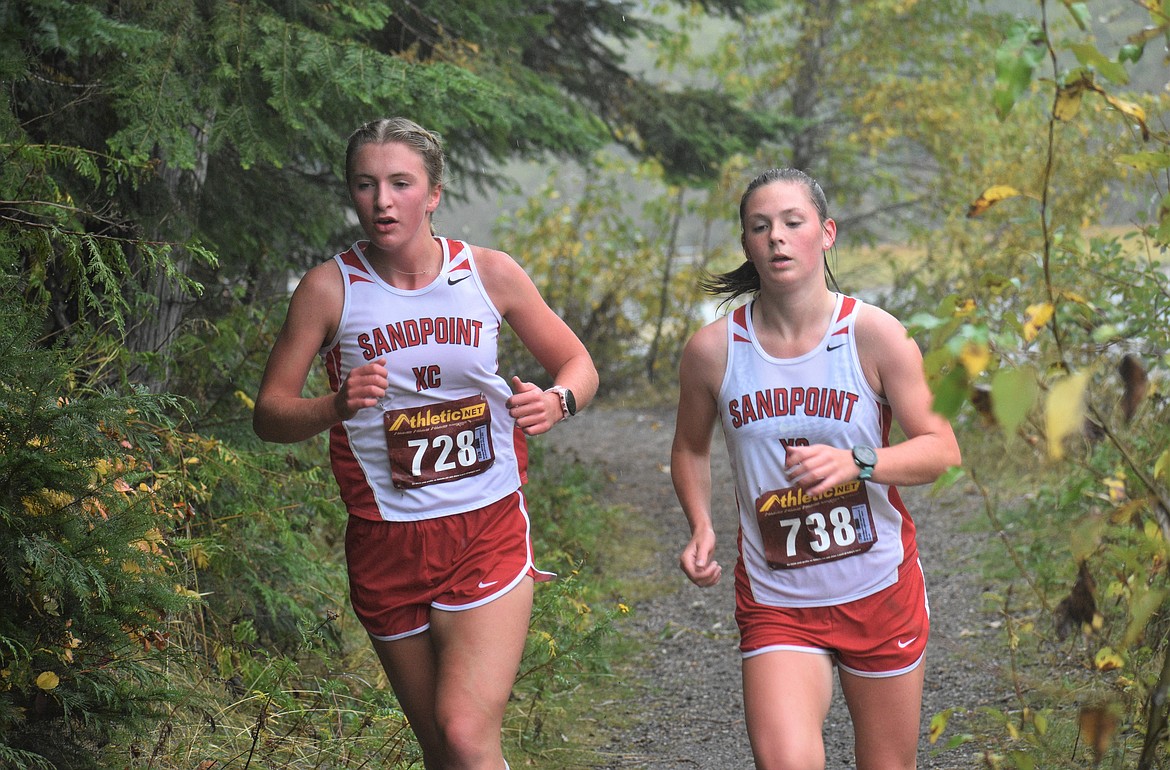 Annaby Kanning (left) and Quinn Hooper run side-by-side during Saturday's William Johnson Sandpoint Invitational.
(Photo by DYLAN GREENE)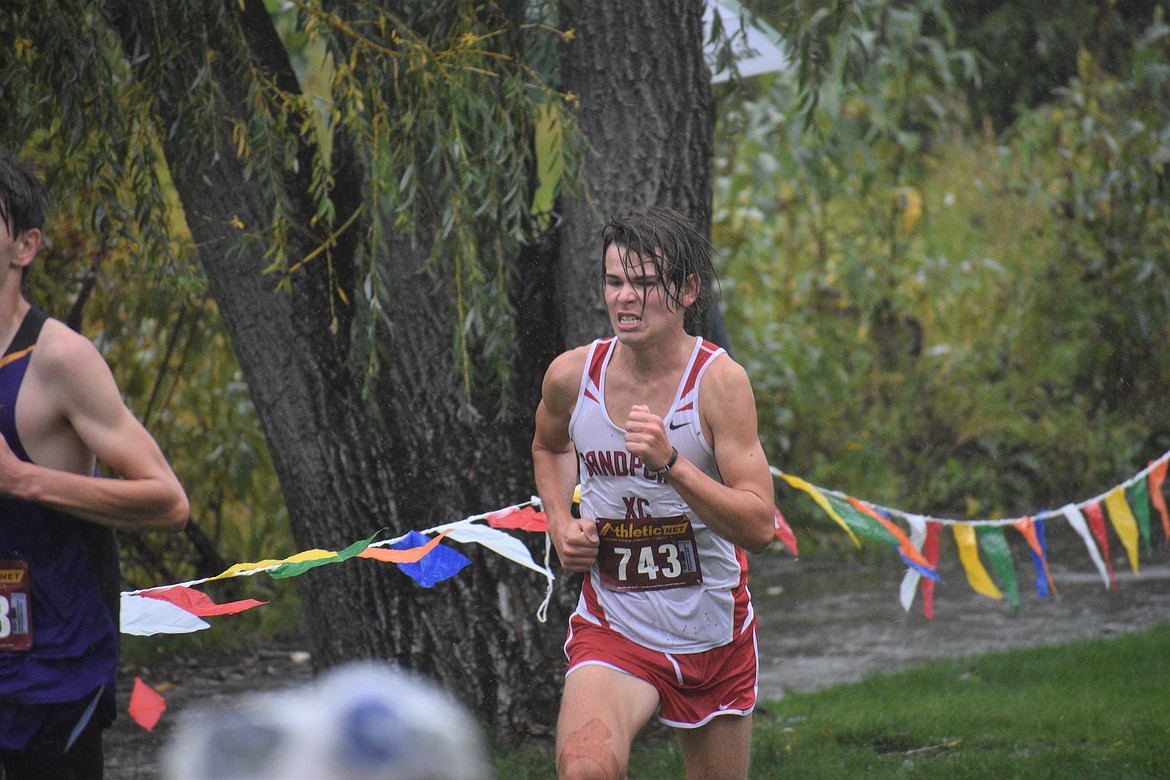 Junior Trey Clark digs deep as he nears the finish line of Saturday's William Johnson Sandpoint Invitational.
(Photo by DYLAN GREENE)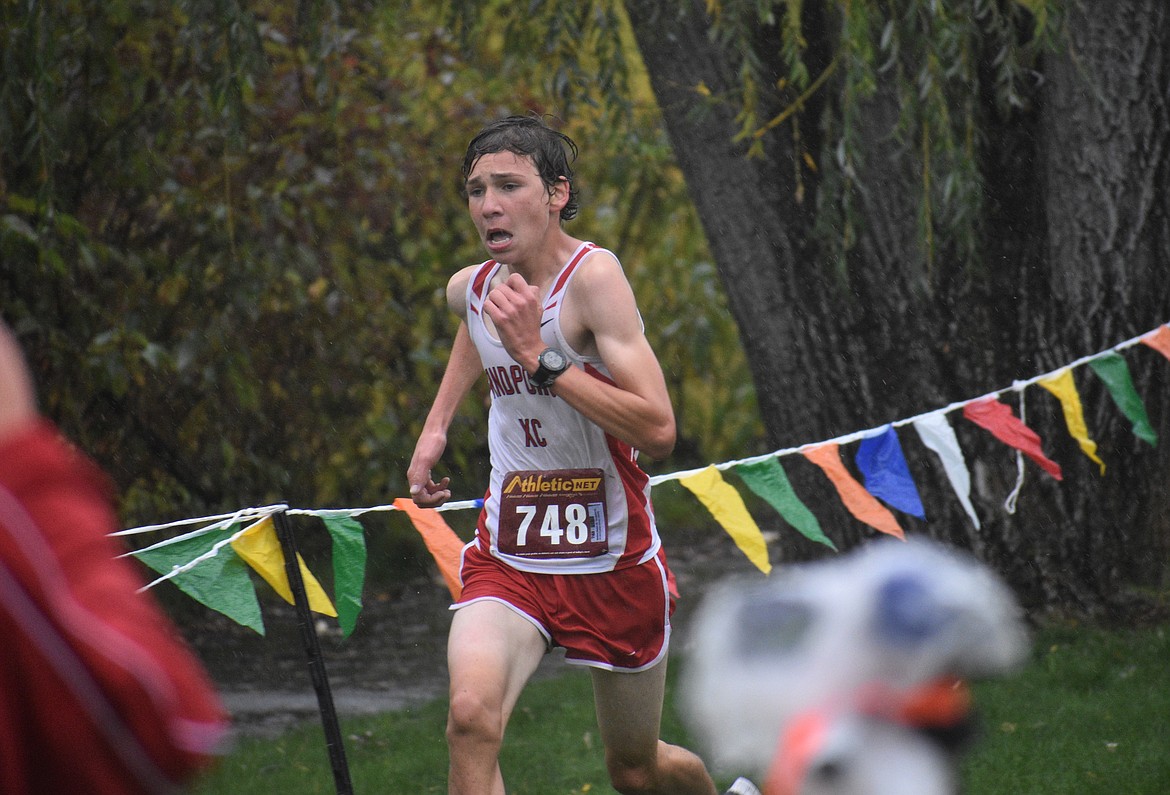 Freshman Nathan Roche digs deep as he nears the finish of Saturday's William Johnson Sandpoint Invitational.
(Photo by DYLAN GREENE)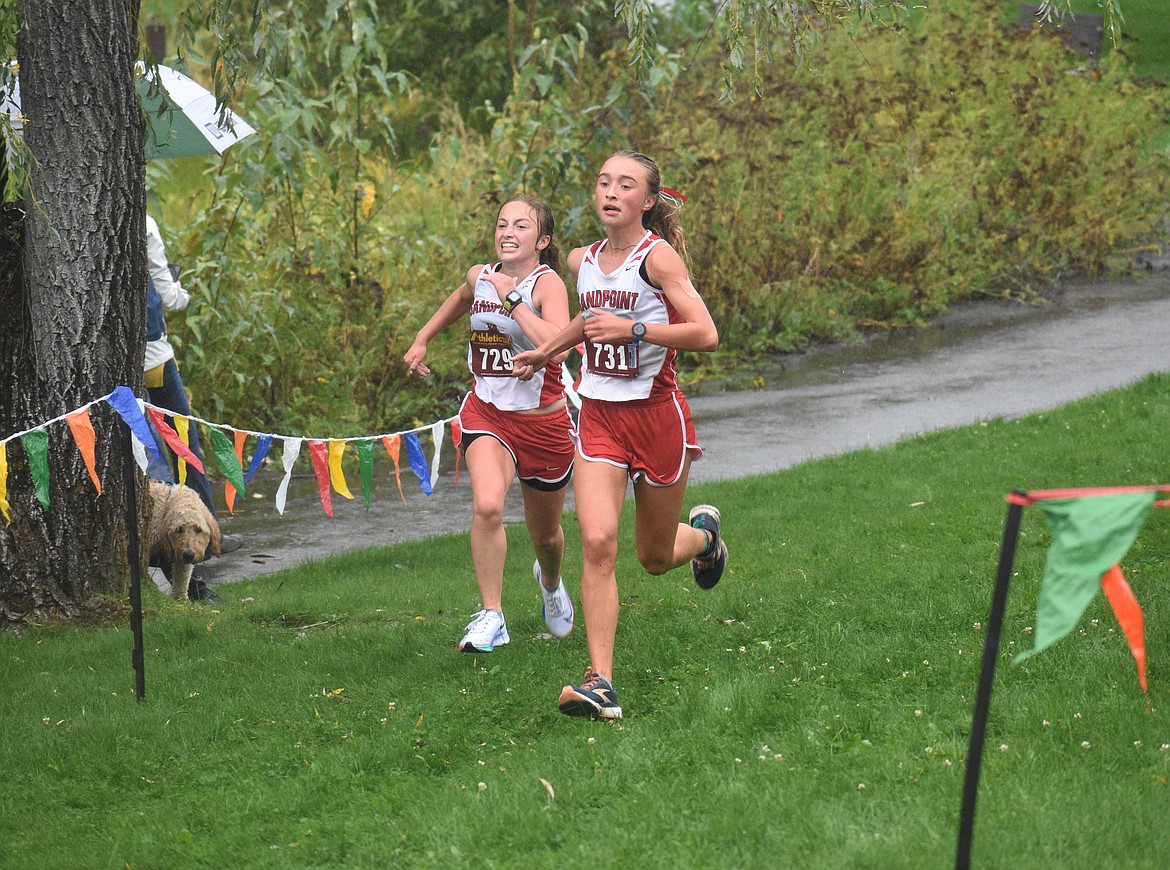 Camille Neuder (left) and Grace Rookey near the finish of Saturday's William Johnson Sandpoint Invitational.
(Photo by DYLAN GREENE)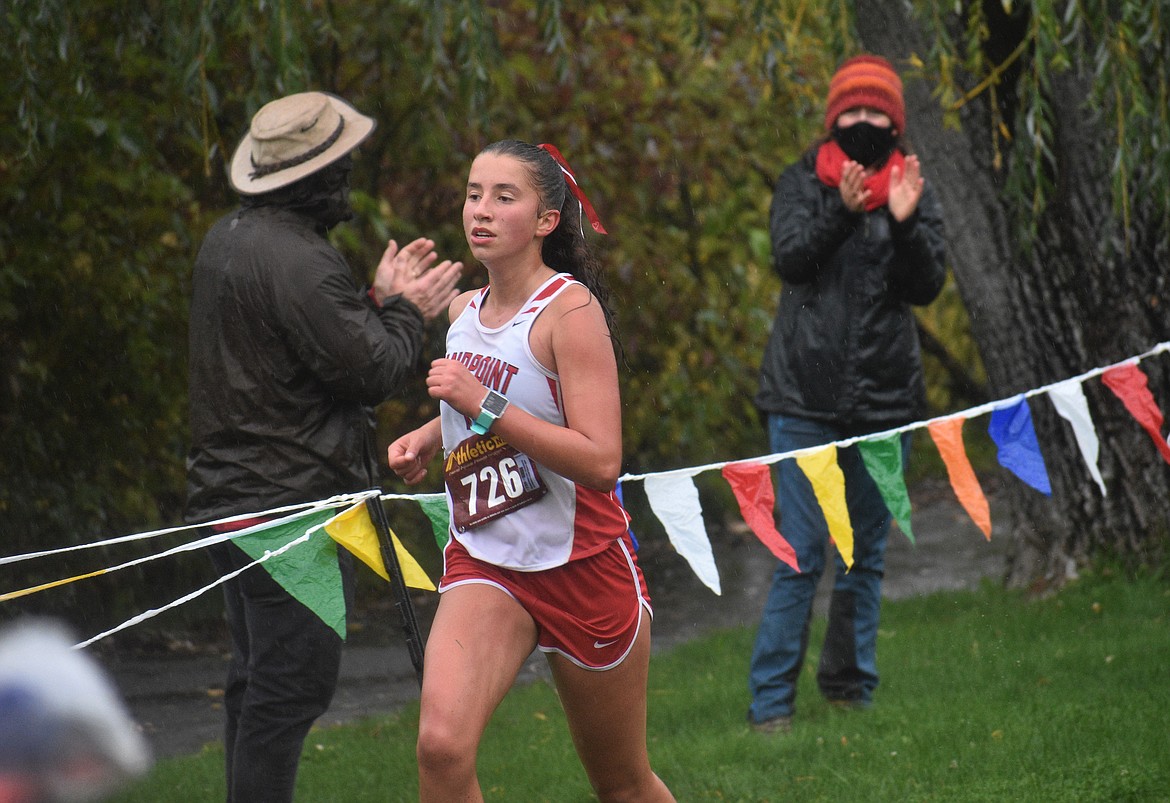 Payton Betz nears the finish of Saturday's William Johnson Sandpoint Invitational.
(Photo by DYLAN GREENE)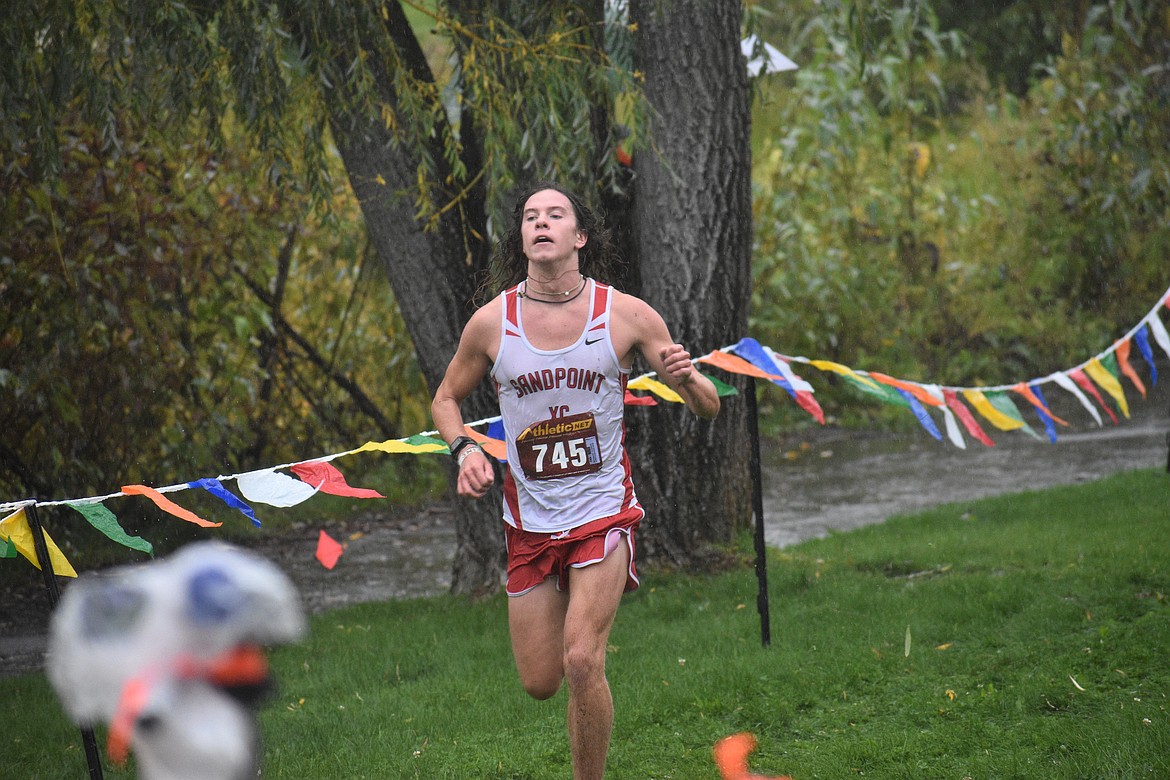 Jett Lucas closes in on the finish of Saturday's William Johnson Sandpoint Invitational.
(Photo by DYLAN GREENE)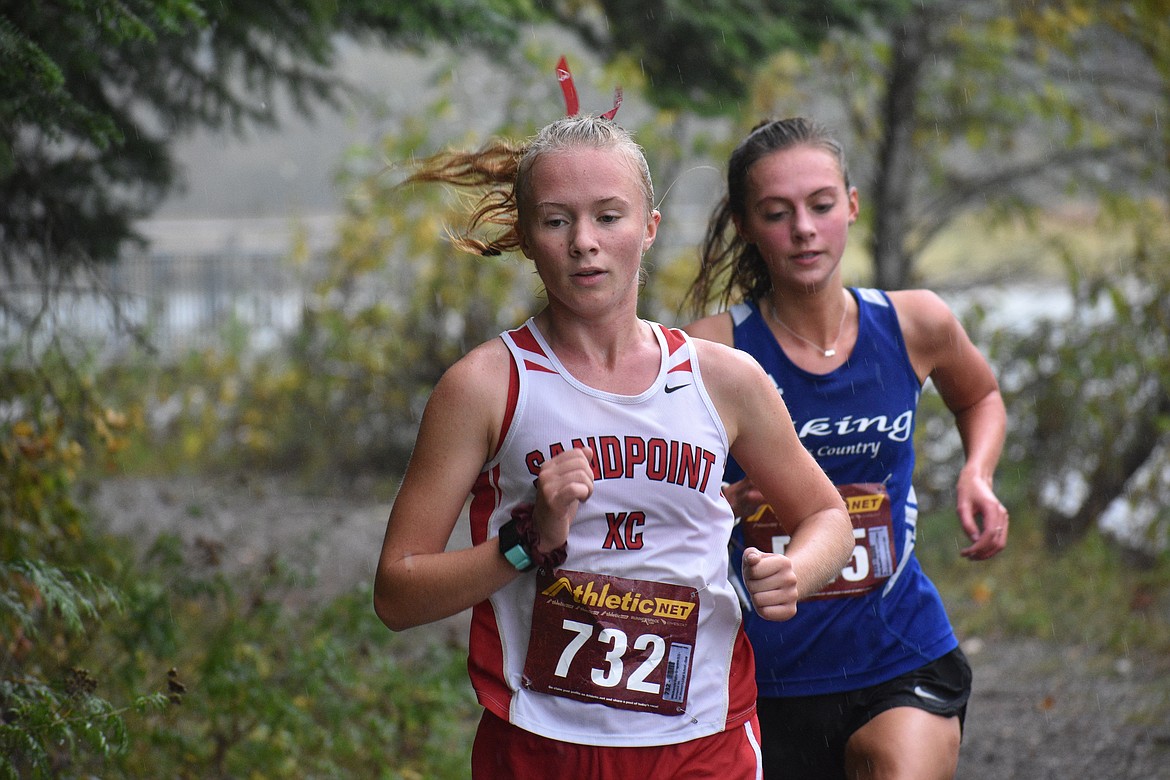 Mackenzie Suhy-Gregoire runs in the William Johnson Sandpoint Invitational on Oct. 10.
(Photo by DYLAN GREENE)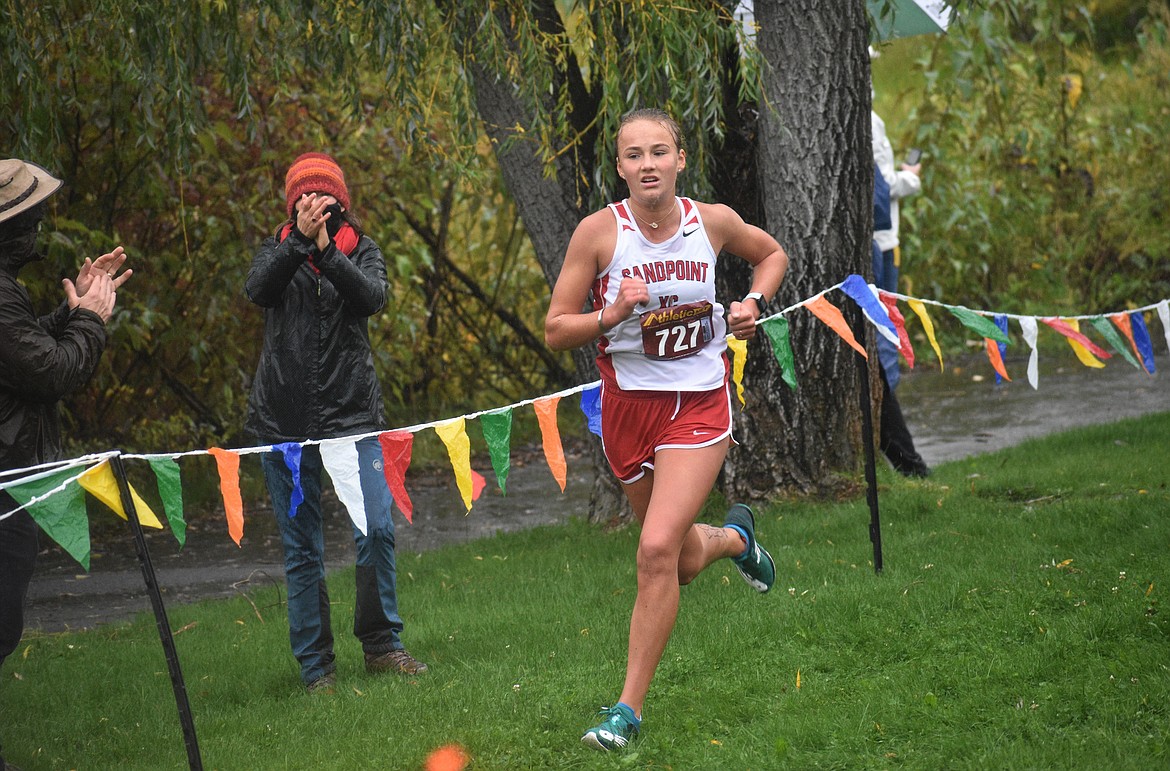 Sophomore Ara Clark nears the finish of Saturday's William Johnson Sandpoint Invitational.
(Photo by DYLAN GREENE)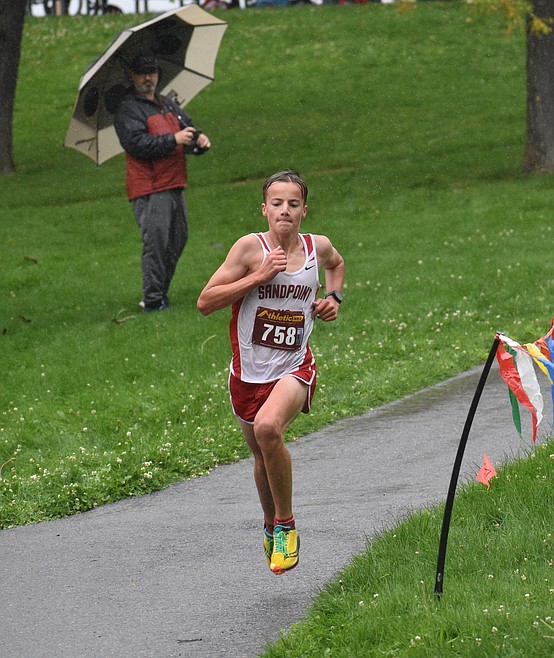 Kasten Grimm won the boys JV race.
(Photo by DYLAN GREENE)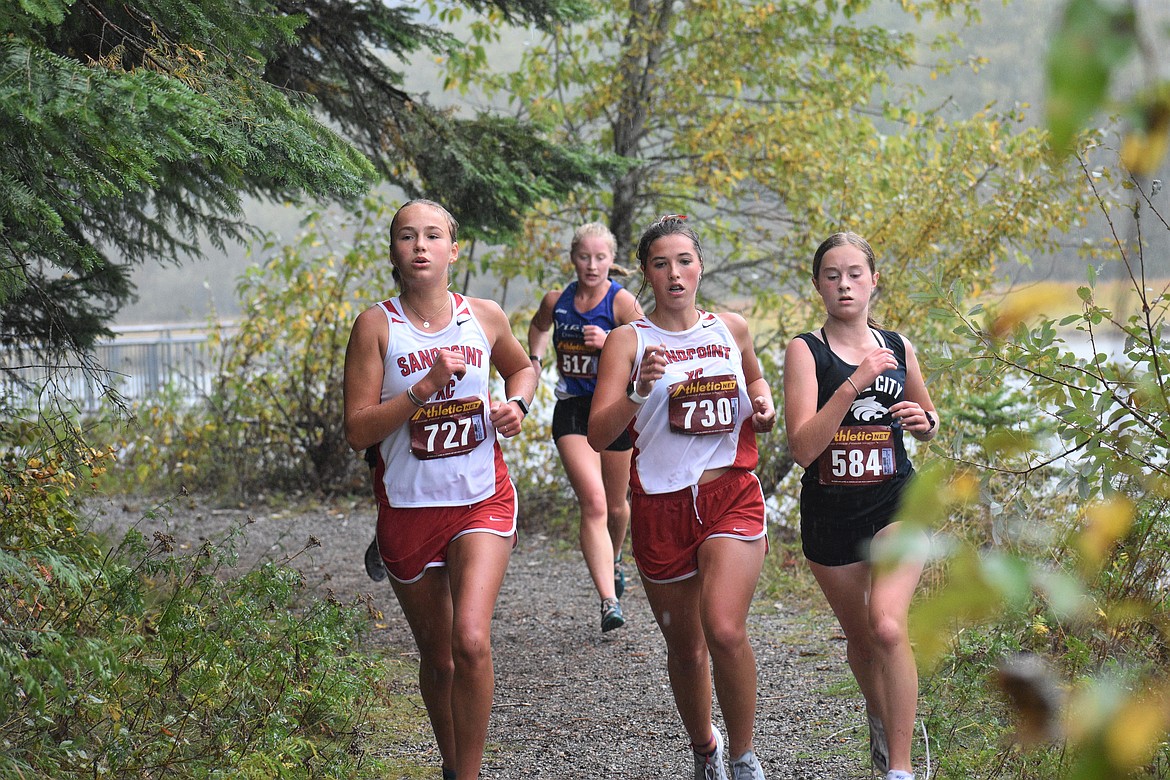 Sophomore Ara Clark (left) and junior Megan Oulman run side-by-side during Saturday's William Johnson Sandpoint Invitational.
(Photo by DYLAN GREENE)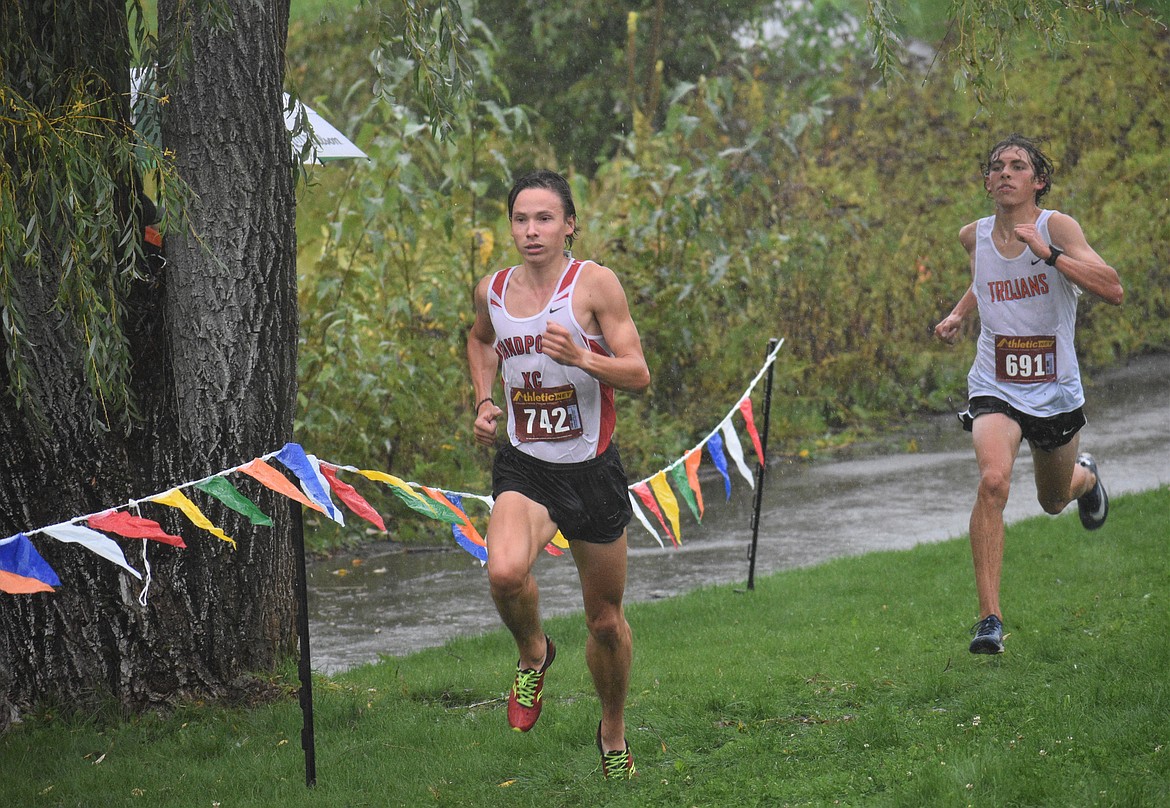 Nikolai Braedt nears the finish of Saturday's William Johnson Sandpoint Invitational.
(Photo by DYLAN GREENE)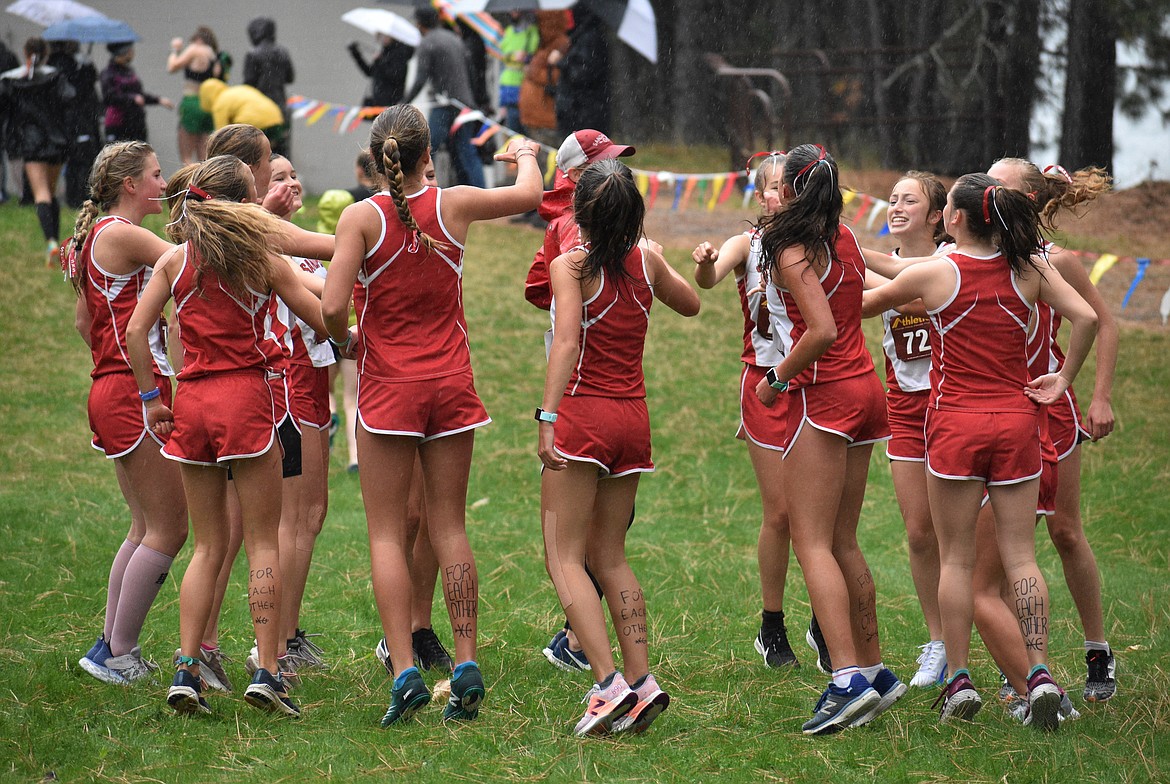 The SHS girls cross country team gets pumped up prior to the William Johnson Sandpoint Invitational on Oct. 10.
(Photo by DYLAN GREENE)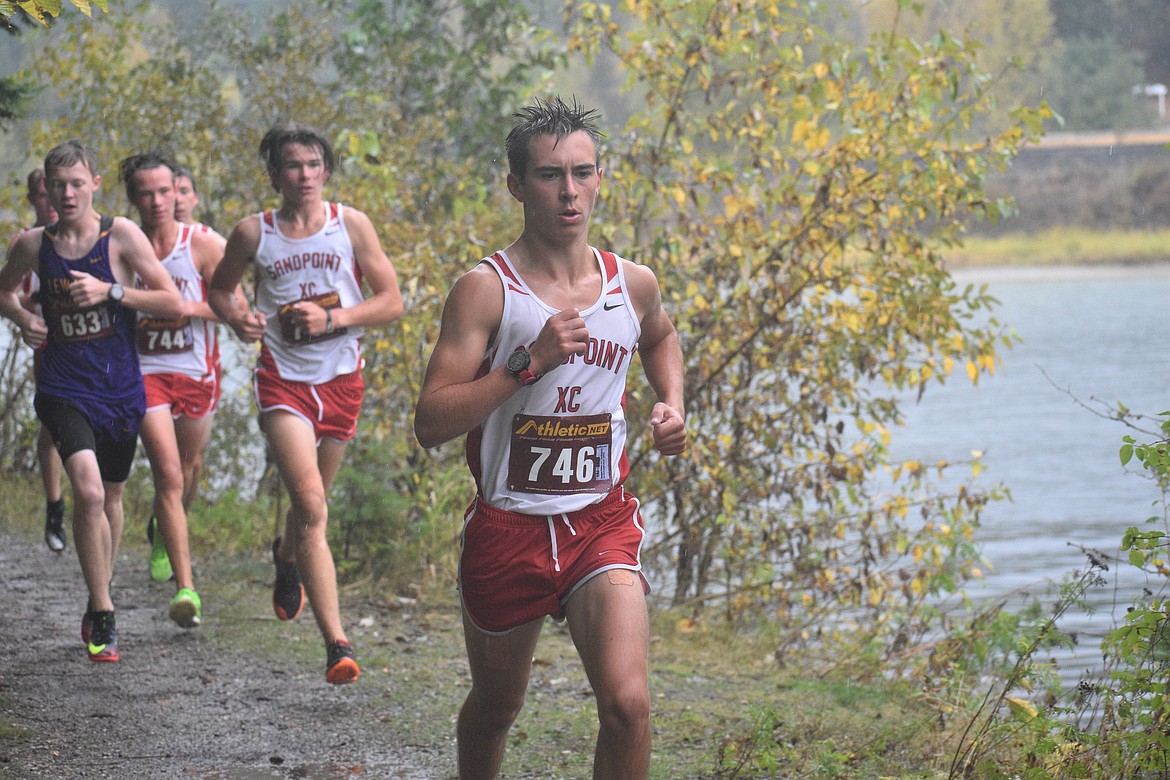 Senior Keegan Nelson competes in Saturday's William Johnson Sandpoint Invitational.
(Photo by DYLAN GREENE)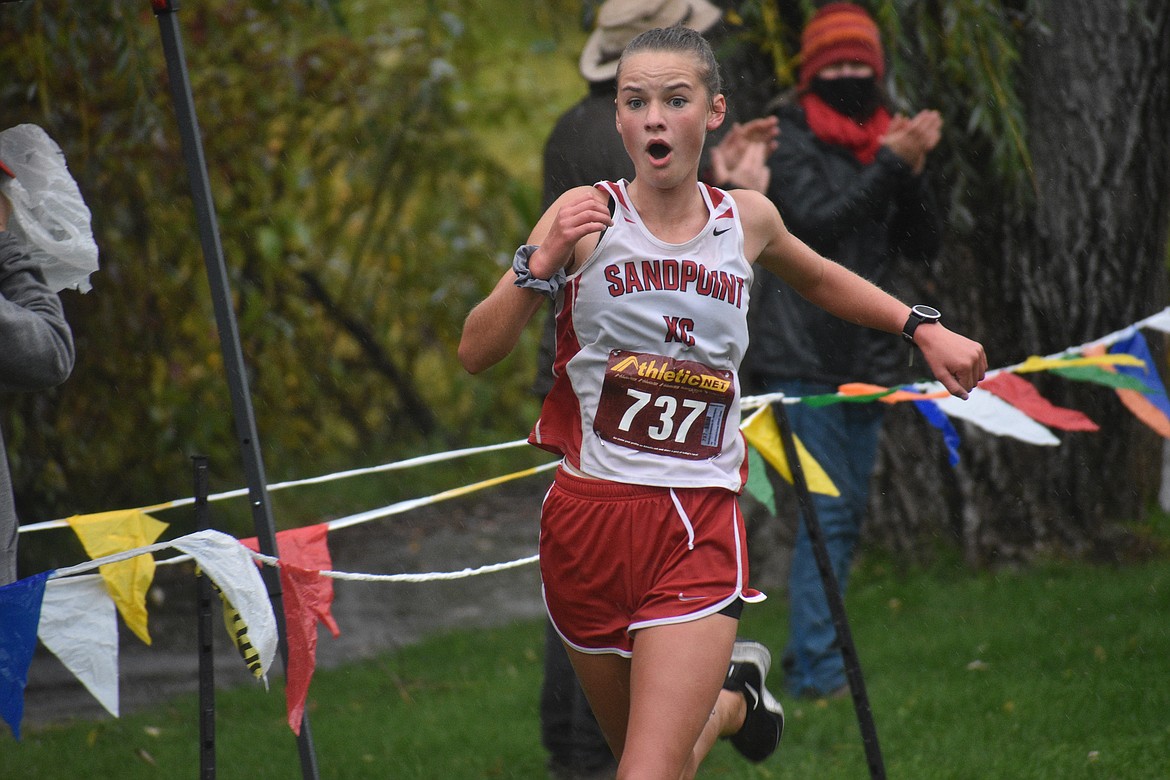 Tiffany Brown celebrates after crossing the finish line during Saturday's William Johnson Sandpoint Invitational.
(Photo by DYLAN GREENE)
Previous
Next
by
DYLAN GREENE
Sports Editor
|
October 12, 2020 2:24 PM
LACLEDE — October is championship month for Sandpoint cross country and this past weekend they proved they will be a force to be reckon with when state rolls around.
The Bulldogs hosted the William Johnson Sandpoint Invitational on Saturday at Riley Creek Campground in Laclede. The beautiful setting was dampened a bit by a steady rainfall, but ask any of the athletes and they'll tell you the conditions were perfect for a cross country race.
This was the first time since 2014 that Sandpoint has hosted a meet at the venue. Sandpoint cross country coaches Matt and Angie Brass said their runners loved competing in a new setting.
"This is one of my favorite courses of anyone's to run on, to set up and to watch," Matt said.
In the large school meet, the Sandpoint boys continued their dominant season in North Idaho by claiming the team title while the girls captured third.
The girls varsity and JV races were combined due to a lack of runners. Post Falls top-five runners all finished in the top-10 to help the Trojans beat the Vikings by 30 points. Sandpoint edged out Lake City by seven points for third.
Angie said it was nice to see everyone running together in one race.
"I think the girls did really well," she said. "Definitely working on our packs and really running strong in the middle and I think they did a good job on that [Saturday]. The finish was a little bit hard to get some traction and come in on. I think that was a little bit tricky, I don't think they were able to get that last gear that they wanted because of the conditions."
Mackenzie Suhy-Gregoire led the girls by taking sixth with a 20:12, just seven seconds off her personal best.
Megan Oulman (21:15) and Ara Clark nearly crossed the finish side-by-side in 12th and 13th respectively.
Freshman Grace Rookey (19th) and senior captain Camille Neuder (20th) worked off each other the whole race and had nearly identical times. Rookey ran a PR of 21:37.
"They are a really good pairing in training and in the races, so that was excellent," Angie said.
Payton Betz came in 24th (22:11) and Annaby Kanning took 29th (23:14) to round out Sandpoint's top seven runners.
Top to bottom, Angie was happy with her team's performance and she said it was nice to see Lakeland as they gear up for districts. Sandpoint's top-five runners finished in front of the Hawks No. 1 runner.
In the boys race, Sandpoint's seven varsity runners all finished in the top-15 to help the Bulldogs beat Post Falls by 15 points.
In every meet this season, Nikolai Braedt or Jett Lucas have edged out Post Falls' top two runners — Brycen Kempton and Alex Peters — but not on Saturday. Kempton won the meet and Braedt finished less than three seconds behind him in second (16:16). Peters took third and Lucas captured fourth (16:18).
Matt said Braedt and Lucas did a great job of pacing and fighting off several attacks, but they just didn't take off in time to catch Kempton.
"Brycen had a great last mile and he pulled away," Matt said. "They let him go at about a mile and a half and he went up and caught [Braden Dance] and kept going, and they gave him a little gap and it was just too much to overcome."
The Bulldogs' third, fourth, five, sixth and seventh runners formed a strong pack to help them edge the Trojans. Trey Clark captured ninth (17:16), Ben Ricks placed 11th (17:18), Keegan Nelson took 12th (17:19), Slate Fragoso secured 13th (17:20) and Nathan Roche grabbed 15th (17:27).
Sandpoint's pack has been strong this fall, but Matt knows they will need to be even better at state.
"We are going to have to move the pack up a little bit for that state meet so that we don't let too many places go," he said, "and they know, we've been talking about what it's going to take all season."
Matt said the competitive meets with Post Falls and Coeur d'Alene have really helped the Bulldogs and he's feeling pretty good heading into regionals.
Sandpoint has won seven straight district titles in boys and girls and it doesn't look like that streak will be ending this fall.
"I feel like we're in a good spot," Matt said. "We're healthy, there's always kind of the aches and pains — as the Brits call them the niggles — you always have those going in but we don't have anything really serious right now and we have almost a two week gap before regionals."
The Bulldogs will use the extra time off to train and recover before heading to Farragut State Park on Thursday, Oct. 22, for the 3A/4A/5A District I-II championships.
Freshman Kasten Grimm also captured first in the boys large school JV race to help the Bulldogs take first as a team.
BOYS
LARGE-SCHOOL TEAM SCORES — 1, Sandpoint 38. 2, Post Falls 53. 3, Coeur d'Alene 69. 4, Lewiston 87. 5, Lake City 116. 6, Lakeland 172.
SANDPOINT LARGE-SCHOOL FINISHERS — 2, Nikolai Braedt, 16:16.46. 4, Jett Lucas, 16:18.53. 9, Trey Clark, 17:16.90. 11, Ben Ricks, 17:18.4. 12, Keegan Nelson, 17:19.1. 13, Slate Fragoso, 17:20.15. 15, Nathan Roche, 17:27.7.
JV LARGE-SCHOOL TEAM SCORES — 1, Sandpoint 27. 2, Post Falls 58. 3, Lewiston 62. 4, Coeur d'Alene 85. 5, Lake City 134.
SANDPOINT LARGE-SCHOOL JV FINISHERS — 1, Kasten Grimm, 18:41.43. 4, Caleb Roche, 19:06.84. 5, Riley Christman, 19:11.82. 8, Hunter Dismore, 19:28.89. 9, Isaac Babin, 19:37.46. 13, Gavin Jasper, 19:50.14. 16, Will Jordan, 19:52.46. 18, Daniel Ricks, 20:12.95. 21, Anders Eastley, 20:26.41. 26, Nate Dotson, 20:37.84. 27, Jimmy Cornelius, 20:38.23. 31, Ethan Barcklay, 20:53.05. 36, Kjetil Lund-Andersen, 21:27.36. 40, Isaiah Hagstrom, 21:42.8. 42, William Dotson, 21:46.13. 45, Josiah Hill, 21:55.18.
GIRLS
LARGE-SCHOOL TEAM SCORES — 1, Post Falls 26. 2, Coeur d'Alene 56. 3, Sandpoint 70. 4, Lake City 77. 5, Lewiston 121.
SANDPOINT LARGE-SCHOOL FINISHERS — 6, Mackenzie Suhy-Gregoire, 20:11.96. 12, Megan Oulman, 21:15.55. 13, Ara Clark, 21:16.86. 19, Grace Rookey, 21:37.94. 20, Camille Neuder, 21:38.18. 24, Payton Betz, 22:11.45. 29, Annaby Kanning, 23:14.18. 32, Quinn Hooper, 23:51.58. 38, Tiffany Brown, 24:59.84. 39, Katelyn Greenway, 25:07.97. 43, Devin McDaniel, 25:26.05. 47, Audrey Anderson, 26:13.73. 55, Katya Lambert, 29:27.13.
---