A boy, a stick & Arctic grayling
by
BILL LOVE JR. Contributing Writer
|
October 13, 2020 1:00 AM
"Come on, Dad, you can make it."
In a role reversal, the daughter encouraged her 70-year-old father up a steep, rocky trail. Years ago on family hikes I often pleaded, "Come on, Annie, you can make it."
Our objective of catching Arctic grayling in a remote mountain lake involved a rigorous 4-mile hike with an up, down, up, down elevation profile shaped like the letter M on my GPS screen. That's just getting there; it's a backwards M returning.
How do Arctic grayling, a non-native species for our area, end up in a North Idaho mountain lake?
The Idaho Department of Fish and Game normally stocks cutthroat or rainbow trout in local high elevation lakes. For a little variety, however, a few lakes receive Artic grayling — an interesting looking fish with iridescent scales and a distinctive sail-like dorsal fin. (Check out the IDF&G website for stocking records.)
As expected on Friday of Labor Day weekend, we encountered other hikers on the trail. One backpacker carrying a fly rod shared encouraging news of catching several grayling while camping at the lake. Our pace quickened as one more up and down separated us from the promised water.
We arrived at the lake and discovered the rock outcrops that make ideal fly casting platforms already occupied. But rising fish and an empty shoreline lured us to the other side.
"Fish on!" Annie yelled as I fiddled, rigging up my gear. A Purple Haze fly attracted an 8-inch grayling on her second cast. I finally got in on the action using a Sturdy's Fancy, the traditional British Isles fly pattern for grayling.
A few minutes later I noticed a boy standing just 50 feet from me awkwardly using a stick, about three feet long, as a fishing pole. After sneaking quick peeks of his struggles, I engaged him in a brief conversation. "How's the fishing? Would you like to try fly fishing?"
"Caught two. Sure, but I've never done much fly fishing," he responded.
Andrew and I social distanced as much as possible sharing a flat rock while I presented a quick fly casting tutorial. Afterwards I cast out about twenty feet and handed him the rod. Within a second, a grayling grabbed the fly and Andrew reeled in his first fish on a fly rod. I congratulated him without knowing which one of us was more excited. "Now you cast and catch another one," I instructed.
Fly casting, like a golf swing, seldom comes natural to beginners. But Andrew did well with only the occasional comment from his instructor, "not so far on the back cast, strip in a little line." Eager grayling followed his fly and several grabbed it but failed to hook up. Eventually, however, Andrew caught his second fish without any assistance from me.
During the next hour, the two former strangers, separated by two generations in age, became fishing partners. Constant conversation ensued as Andrew described scrambling up the rocky granite face above the lake after breakfast. Come to find out, his family visited five other nearby mountain lakes during their week-long backpacking trip. He regretted leaving his fishing outfit at home but made do with the stick. After mentioning some of his favorite fishing holes near his family's home, I suggested a couple others for him to try. Normal fish talk between two anglers.
After a while, he fetched his stick fishing pole and returned the $400 Winston fly rod to me. Andrew caught fish on both outfits. But I had not experienced the thrill of catching grayling on a crooked stick. Maybe next time?
Time came for Annie and me to head back. Each leg of the M trail seemed steeper and longer. Upon reaching the rig at dusk, an extra-strength acetaminophen eased my knee pain while ice-cold watermelon chilling in the cooler quenched my dry mouth. I reflected upon Annie catching her first Arctic grayling. I recalled a 13-year-old boy fly fishing for the first time.
Inspired by, "Come on, Dad, you can make it," I did make it.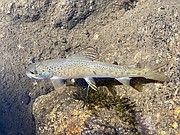 ---