'A moment of pure joy'
by
CAROLINE LOBSINGER
Staff Writer
|
October 13, 2020 1:00 AM
SANDPOINT — Camille Neuder just wanted to have fun.
She'd grown up listening to stories from her mom, Elizabeth Neuder, about the special friendships she'd made and wonderful memories created when she'd taken part in what was then Sandpoint's Junior Miss. A few years ago when her sister, Julia, took part in Sandpoint's Distinguished Young Women program, she heard the exact same stories.
"Just hearing them talk about the experiences they made and the friendships that they are still in contact with, that was why I joined the program," said Neuder, who was selected as the 2021 Distinguished Young Woman of Idaho on Oct. 3. "I definitely felt those same things that I hear them talk about. The girls from the local program are so incredible and such dear friends of mine now and they've been so supportive as I've gone on my DYW journey to state and they're excited for me as I continue on to nationals and if I didn't win a single thing throughout this whole program, I wouldn't change my participation for the world."
Held over three nights, Neuder, her family, a few select friends and the local DYW committee gathered for a series of watch parties at the Selkirk Association of Realtors office as well as for the live virtual portions of the program. The first two nights were the preliminary programs, with the 10 finalists being announced at the end and the third night serving as the final. After the individual category award winners with one as an overall category winner, with the second runner-up, the first runner-up and then Idaho DYW being announced.
Neuder received awards in fitness, interview and scholastics and was the overall category winner for self-expression before she was announced as Idaho Distinguished Young Woman.
"When they announced me as a finalist, it was really a moment of pure joy because I didn't have any expectations for it so I was really able to just enjoy the experience for all that it was and anything on top of that was just a bonus," she said.
Because she'd gone in with no expectations, other than a goal to have fun and embrace the experience, Neuder said she was surprised to hear her name called for category honors, much less as Idaho's Distinguished Young Woman.
"It was definitely a really big shock and also just to my committee because we've never had a girl from Sandpoint make it into the top 10 before and so that was really exciting for all of us, especially because it was a virtual program, being able to share that experience with my committee members was truly special for me and for them," she said. "It's something I'll definitely remember and value."
The program was completely virtual, with some categories such as fitness and talent as a one-chance, one-take video while others were done live via Zoom such as the interview and self-expression.
Because each DYW was taking part from their hometown, Neuder said she was able to enjoy the experience with her committee, family and friends. While her sister wasn't able to make it home from college, there were plenty of texts, FaceTime chats and phone calls.
For her talent, Neuder sang a vocal piece, "Never Alone," by the group formerly known as Lady Antebellum because of the message it sends.
"It [makes sure] that everyone knows their voice is worthy of being heard and that they're never really alone because there's always someone looking out for them," she said. "I want to be that kind of person who can help other people know that they are never alone."
Her interview question also resonated with her, Neuder said. All based on the concept of fierce, Neuder was asked that with a million different ways to be fierce, how was she fierce in her daily life.
"The most powerful thing any of us can do is have the fierce strength to use our voice, especially as a woman going into the engineering field," she recalled answering. "So often I see people shy away from this opportunity but our voices are worthy of being heard and so each day I strive to help other young girls know that they are capable and strong enough to achieve all they set their mind to because together the voice of many is much more fierce and strong than the voice of one."
Since some of the categories had been submitted in late August or early September, Neuder said she couldn't remember what she'd said or how she'd done and "got in her head" a bit and was pleasantly surprised at how things came across.
"Just those little things that were able to make me feel at peace a bit. But I still would never have guessed," she said, adding she hadn't stopped smiling since she'd found out.
While they couldn't get together and bond in person, Neuder said Idaho's 35 DYW participants were able to bond via "plenty of Zoom calls" and a group chat on Instagram. It also helped that instead of a one-week period, the participants were able to talk and bond virtually over several months.
"I've been able to meet a lot of incredible young women and people that I'm so honored and blessed to have as friends of mine now," she said of her fellow DYW participants.
Between now and nationals in June 2021 in Alabama, Neuder will help with the local and state programs as well as represent both at different events. With first runner-up Sophie Anderson hailing from Coeur d'Alene, Neuder said they'll be able to work on projects in the area together.
Neuder said she is excited to be able to share the program with others, and pass on its message of empowerment to other girls.
"The lessons I've learned from DYW I'm going to carry with me my entire life," she said. "They are so powerful and so deeply rooted in the fact that the community is remarkable," she added. "They are truly so supportive and loving and every person I've met along the way has helped teach me a new lesson about being the version of myself that I want to be one day."
The future likely involves a career in engineering physics — Neuder hopes to get into renewable energy to make it more accessible to others and make the world a better place.
Her family, like the DYW committee, was incredibly supportive and encouraged her to just have fun and enjoy the journey, Neuder said.
"They've been so supportive every step of the way, really just helped re-instill that idea of my own ambitions because they've made sure I've always been willing to go out and reach for that next thing and those new goals," she added. "I would not be here without them and the same goes for my local committee. Every step of the way, they've just really helped make sure that I was supported and loved endlessly. None of this would have happened without their love and support."
The program has been a huge part of her life, and Neuder said she hopes it remains that way.
"I'm so excited to see where it goes," she added. "I'm really honored and humbled to be the 2021 Distinguished Young Woman of Idaho and so incredibly excited for all that is going to be, all the doors that are going to be opening because of it and just can't wait to help other girls know that they too can be a part of this program and that the best version of themself is themself exactly as they are."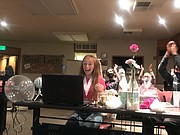 ---