Grangeville edges Spartans 2-1 in district tourney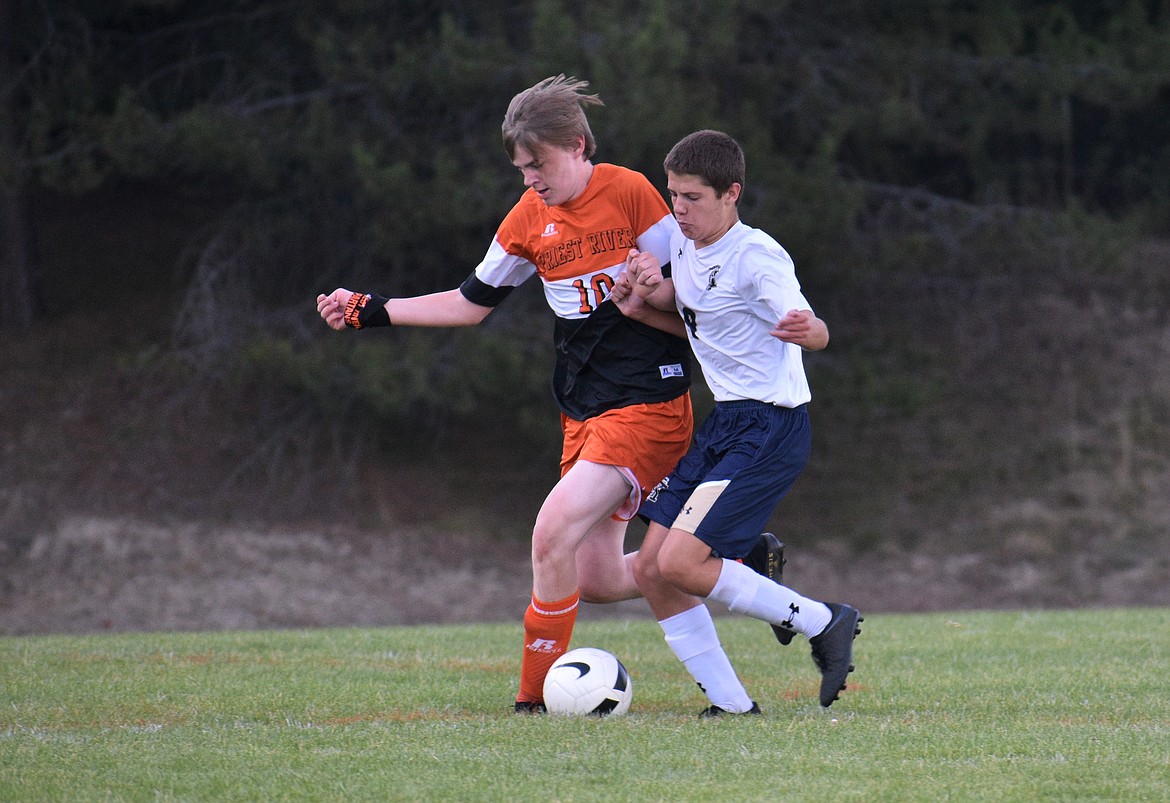 Junior Shane Gamber fights a Timberlake player for possession of the ball during a home match on Sept. 1. Gamber tallied 13 goals this season.
(Photo by DYLAN GREENE)
by
DYLAN GREENE
Sports Editor
|
October 14, 2020 1:00 AM
POST FALLS — Spartan boys soccer has battled hard all season and Tuesday it all came to an end.
Priest River, the sixth seed, fell to No. 3 Grangeville 2-1 in the 3A district tournament.
"We stayed there right with them," head coach Daryl Hall said. "For being the last seeded team in the district tournament, we held the third team pretty well."
"We went out and played our game and didn't let them push us around," he added.
About a week and a half ago, the Spartans lost 5-1 at Grangeville.
Junior Shane Gamber scored the sole goal for Priest River in Tuesday's match. Gamber tallied 13 goals this season, according to Hall. He believes that's the most a player on the team has scored in at least the last five years.
For most of the season, the Spartans struggled getting 11 players on the field. The limited numbers early this fall provided a unique challenge for Hall. He wanted to focus solely on defending because the Spartans were low on numbers, but he fought the urge and allowed his players to go on attack when the opportunities were there and it paid off.

"For that to happen in a season where we were down and I was trying to concentrate more on defense that actually worked out really well," he said. "That says a lot about the boys and the hard work that they put in."
Hall said being shorthanded wasn't ideal, but the Spartans tried to use it to their advantage.
"It wasn't definitely a struggle, but a lot of times it gave us a lot more purpose knowing that we were down," he said, "and it always seemed like we went into a game and were the underdog, so we had a lot more to prove. The boys proved a lot more than I ever could have imagined they were going to do, so I'm really surprised about where we came from and where we are today. It was a big jump."
The Spartans finish the season 2-11. All the players from this year's squad will be back next season along with Hall, who has already committed to coaching Priest River for a second straight year.
Hall told his players they have a lot to be proud of because the future is bright.
"We have a lot to look forward to for next year because we have all returning players and I think I have a good crew of freshman coming up ... and we'll see how that plays out," he said.
---