'I was at City Hall in my FedEx uniform every chance I got'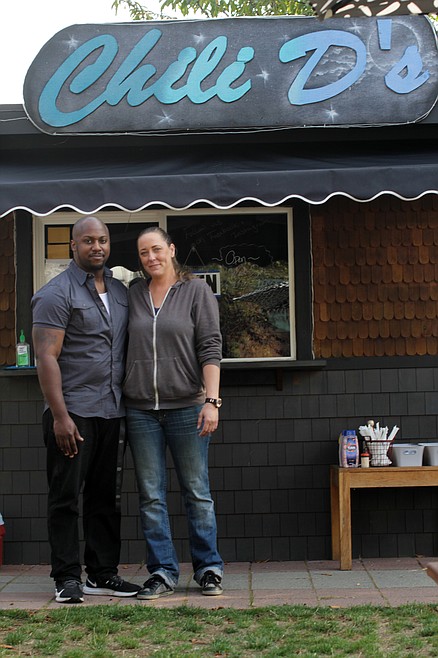 Gary Jackson and Amanda Schock stand outside their chili stand Friday afternoon at the Oak Street Court.
(Photo by RACHEL SUN)
by
RACHEL SUN
Staff Writer
|
October 14, 2020 1:00 AM
When Gary Jackson opened his chili restaurant, "Chili D's," at the Oak Street Court last month, it was a labor of love, he said.
The stand, which is now open Wednesday through Sunday from 11 a.m. to 7 p.m. was a long time coming.
Jackson wanted to create a job where he worked for himself, he said. Chili has always been his favorite food, and from that love Chili D's was born.
The name, a shortened version of "chili dog," was his wife Amanda Schock's idea. For a long time, the couple was unsure of where they might locate their business and had the idea to start a chili dog stand.
Eventually, the two found a location thanks to help from of Ohn and Ken Nail, the owners of the food court. They helped Jackson and Schock get started, Jackson said, and having the stand allowed the couple to expand their menu beyond chili dogs.
All the food at Chili D's is homemade, Jackson said. There's a House Chili, Meat Lovers ""Lava" for spice enthusiasts (as well as a tub of Tum's sitting on a table outside the stand), or customers can "go postal" and choose their preferred add-ons.
Jackson and Schock are also looking to expand their vegan and gluten-free menu items in the future, Schock said. In addition, customers can order hamburgers, hot dogs, chili dogs and sides of cornbread.
It took months to perfect the chili recipe, Jackson said, especially the spicy "Lava" chili, which Schock was the test subject for. That was also the inspiration for the Tums outside the stand, Schock said.
"I'm a heartburn nightmare, but I'm a spice nut," she said. "So I live off those things."
The stand went through a whole tub on the first week, Schock said.
"We had one customer, he's really funny," she said. "He pops in here all the time, and he always ordered spicy food. And he mentioned, he's like, 'oh, man, I gotta go eat this at my office because I have Tums in my desk.' Like bro, we got you."
Another specialty Jackson added, he said, is a peach cobbler in a waffle cone with ice cream, caramel and cream cheese vanilla icing.
"Peach cobbler is my favorite, [but] I wanted to create it a different way," he said. "Something that would be easy to make and it's just as good."
The couple also had a catering request for a wedding in their first few weeks open, Jackson said.
"Her [fiance] sat down at the table, took one bite, and she gets up and comes to the window. So I thought I did something wrong," Jackson said. "She's like, 'you guys cater?'"
Despite the upsides, the couple also faced challenges in opening and working long hours, Jackson said.
Because they didn't know how much business they would get, the couple hadn't set up a food vendor when they opened and have been making regular trips to the nearest warehouse stores to stock up, Schock said.
The two are also adjusting to cooking in the new space, she said, and managing numerous orders.
"You've never seen so much burned bacon," Schock said with a laugh. "That was very fun for us trying to figure out how that works. Our first day, I think all we did was slam into each other."
Jackson, who works at FedEx, said after years of hard work and exhausting hours, both he and Schock, who works at the U.S. Postal Service, wanted a job where they could do something for themselves.
"We've been working hard our whole lives, you know? All of our friends got their coffee shops and we are friends with the owners of Beet and Basil, and we were like 'why can't we do that?'" he said. "I was at City Hall in my FedEx uniform every chance I got."
The support from community members is a large part of what made the stand possible, Jackson said.
"[My boss] gives me so much support. He was like, 'I love seeing this. This is not the end of the road for you.'" Jackson said. "[he] helped me so much."
He said he and his Schock also got business advice from friends, including the owners of Beet and Basil.
Prior to his stand, Jackson's only food service experience was in fast food, and at home helping his mother cook for their neighborhood in California.
"She made these big fry burritos, and they were delicious. It started out as she was helping these kids when their mom couldn't feed them. So my mom made these big batches of burritos. They were cheap, she can make a lot," Jackson said. "Word spread, so she started selling them out of the house. And I used to help her make those."
In the future, the couple said they'd like to expand with more stands and eventually get a brick-and-mortar restaurant. They also plan to stay open for the winter, Jackson said, offer curbside pickup and work alongside other food vendors in the court including Moxie's and Heart Bowl to make improvements like adding lighting to attract bar crowds.
Despite the challenges and hard work, Jackson and Schock said they're grateful for all the support they've gotten that made the business possible.
"Everything's been jumping right into place, you know, because of the friends and family that we got around it's been really, really good," he said. "They made it real easy."
---