Olsen lumber yard to have grand opening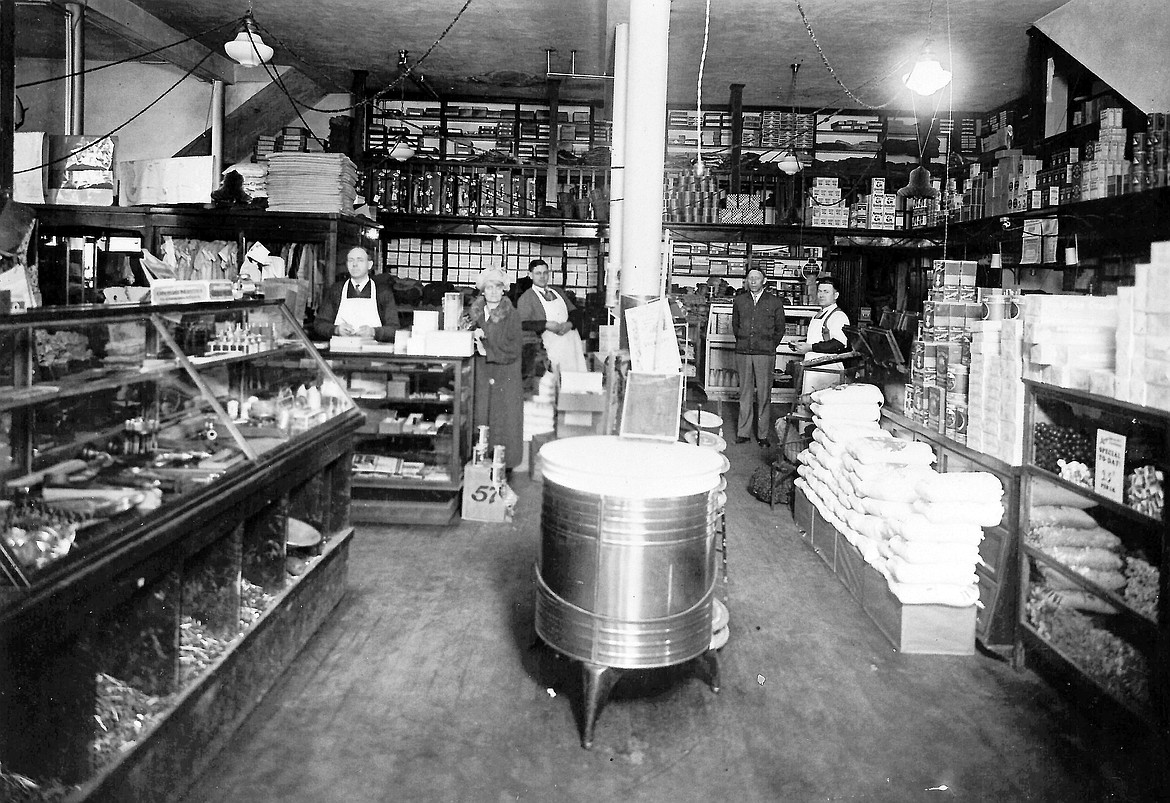 Three clerks in white aprons and two customers are pictured in this 1920s-era photo inside a hardware or general store in the Priest River area. According to Alberta Rice, the tall man of the right with his hands behind his back , is Max Salesky.
(Photo courtesy PRIEST RIVER MUSEUM)
by
MARYLYN CORK Contributing Writer
|
October 14, 2020 1:00 AM
20 years ago — 2000
Doing student teaching
Two Priest River students are among a total of 120 University of Idaho education majors doing student teaching during fall semester. The experience is a requirement for teacher certification. The local student teachers are: Lance Clark, physical education, at Bryan Elementary School, Coeur d'Alene District; and Mary K. Suenkel, English, Coeur d'Alene High School, Coeur d'Alene District.
30 Years ago — 1990
Team to present study
A three-member team from the University of Idaho 's College of Art and Architecture will present the findings of a beautification study they have completed on Priest River's downtown and Burlington-Northern Railroad corridor during a meeting Thursday at 7 p.m. at Priest River City Hall.
40 years ago — 1980
Plans for mill unveiled
A new cedar mill may be built 3 1/2 miles north of Priest River if the Bonner County Planning Commission gives Brice Barrett, Priest Lake, a building permit on Oct. 23. If approved, plans are to employ five or six persons
50 years ago — 1970
Judges names winners
The Youth Center Marathon Dance had a big turnout, but only five candidates registered as contestants. After the three-hour dance, the judges, Mr. And Mrs. Carl Martinson, awarded first place to Mike Edgar and LuAnn Carey, second place to Danny Kimmons and Diane Baker, and third place to Mike Wear and Frances White. Proceeds benefited the Youth Center.
60 years ago — 1960
Construction to begin immediately
Construction of a new school building at Priest Lake will begin immediately, according to Charles E. Selle, Clerk of Bonner County Class A School District No. 82. The new school, to be located at Lamb Creek, will have four completed classrooms with two uncompleted rooms. Approximate cost of construction will be $126,160. Les Krizenesky was awarded the general contract for the construction.
70 years ago — 1950
Olsen lumber yard to have grand opening
Opening of the new retail yard in Priest River by the E. C. Olson Co. Of Spokane on Oct. 14 marks another milestone in the expansion of the lumber industry here. Operating in connection with the Kaniksu Forest Products, inc., the new lumber yard will be managed by Corbert Clemons.
With the acquisition of the Granite Lumber Company mill last spring, the company now produces more than 2 million board feet of lumber per month on a 48-hour week. The company has shown steady growth and progress since 1932.
80 years ago — 1940
"Horse" apples big
Ed Dailey, who lives on the Peninsula, brought to town sample of apples he is growing on his ranch. he brought in a "horse" apple and a "snow" apple. The "horse" apple is not well known here because the stock originally came from South Carolina, brought here by the late Monroe Smith. The "horse" apple specimens Dailey showed off were 12 inches in circumference and were the color of the transparent.
90 years ago — 1930
Taking livestock to the fair
Cal Huff, Jr. took in the biggest truck load of livestock that was ever seen on the fairgrounds at Sandpoint. He didn't know whether to enter them as registered grade, grade or scrubs, so he just turned them loose to shift for themselves.
100 years ago — 1920
Prolific and delicious
A delightful strawberry feed was enjoyed by a group of friends at the home of Mr. and Mrs. E. E. Shoup just over the Priest River bridge. The strawberries there have been bearing prolifically all season remarkably well for this popular variety of the everbearing strain,
---