Priest River football shut out by Bonners Ferry again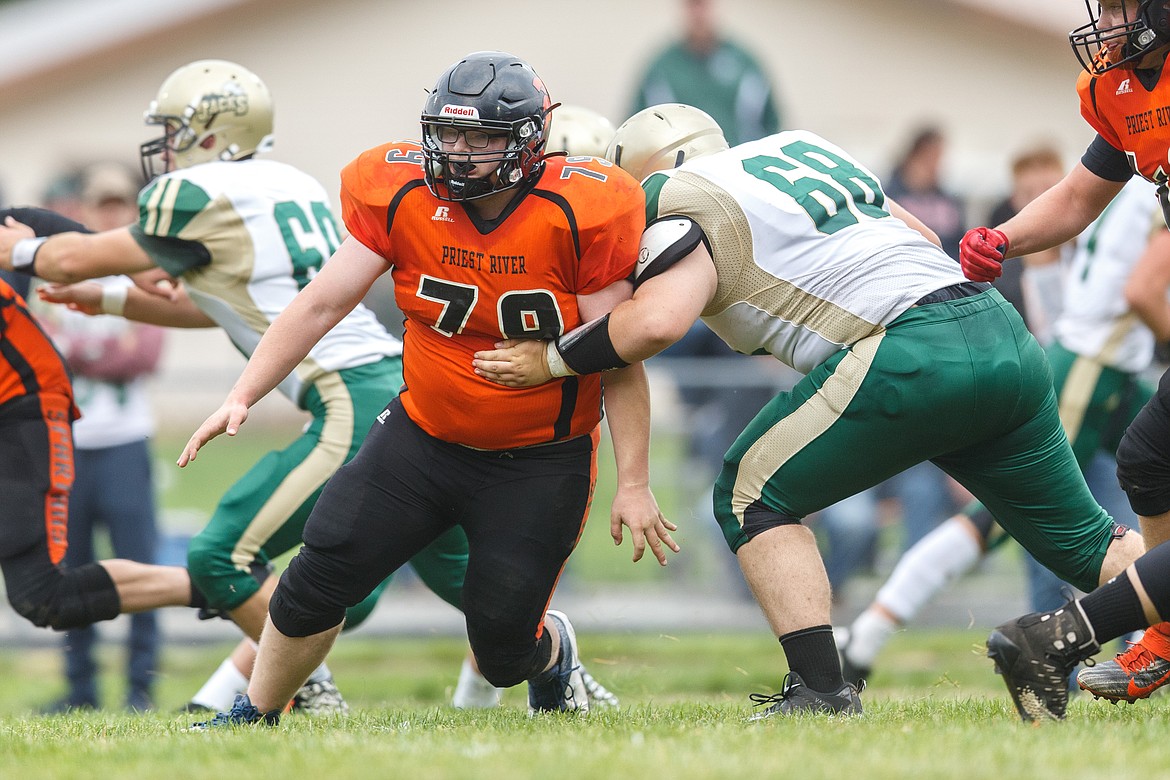 Senior Kent Alexander breaks through the St. Maries offensive line during a game at PRLHS on Sept. 19.
(Photo courtesy of JASON DUCHOW PHOTOGRAPHY)
by
DYLAN GREENE
Sports Editor
|
October 14, 2020 1:00 AM
BONNERS FERRY — For the second time this season, Priest River football fell to Bonners Ferry last Friday.
These two teams faced each other in a nonleague game at Priest River on Sept. 4 and the Badgers cruised to a 45-0 victory. But this time around the Spartans tried their best to spoil Bonners Ferry's Homecoming.
Unfortunately, the offense was unable to put any points on the board and the Spartans lost 22-0. Priest River has been shut out in four of its five games this season.
"We cut the score in half from the first time we played, but it was pretty much the story of the season," head coach Jared Hughes wrote in an email. "We give up big scores in the first half, settle down on defense and continue to struggle to maintain a drive on offense."
The Badgers jumped out to a 14-0 first quarter lead to put the Spartans in a hole early. Priest River held Bonners Ferry to just eight points the rest of the game. Kameron Saleksy and Deegan Goins each recorded eight tackles for the Spartans.
Priest River was unable to find the end zone, but they finally got the passing attack going. Quarterback Everett Hannah completed 11 of his 20 passes for 138 yards. That's more passing yards than the Spartans had in their first four games combined.
Five Priest River players caught a pass in the game including Conor Berns who had four receptions for 45 yards.
Hughes said the team is playing hard, they are just making too many mental mistakes. The Spartans had eight penalties and allowed six sacks.
Priest River (0-5, 0-1 IML) will look to pickup its first win of the season 7 p.m. Friday at Kellogg (1-3).
---