Priest River girls soccer falls in district tourney, season comes to a close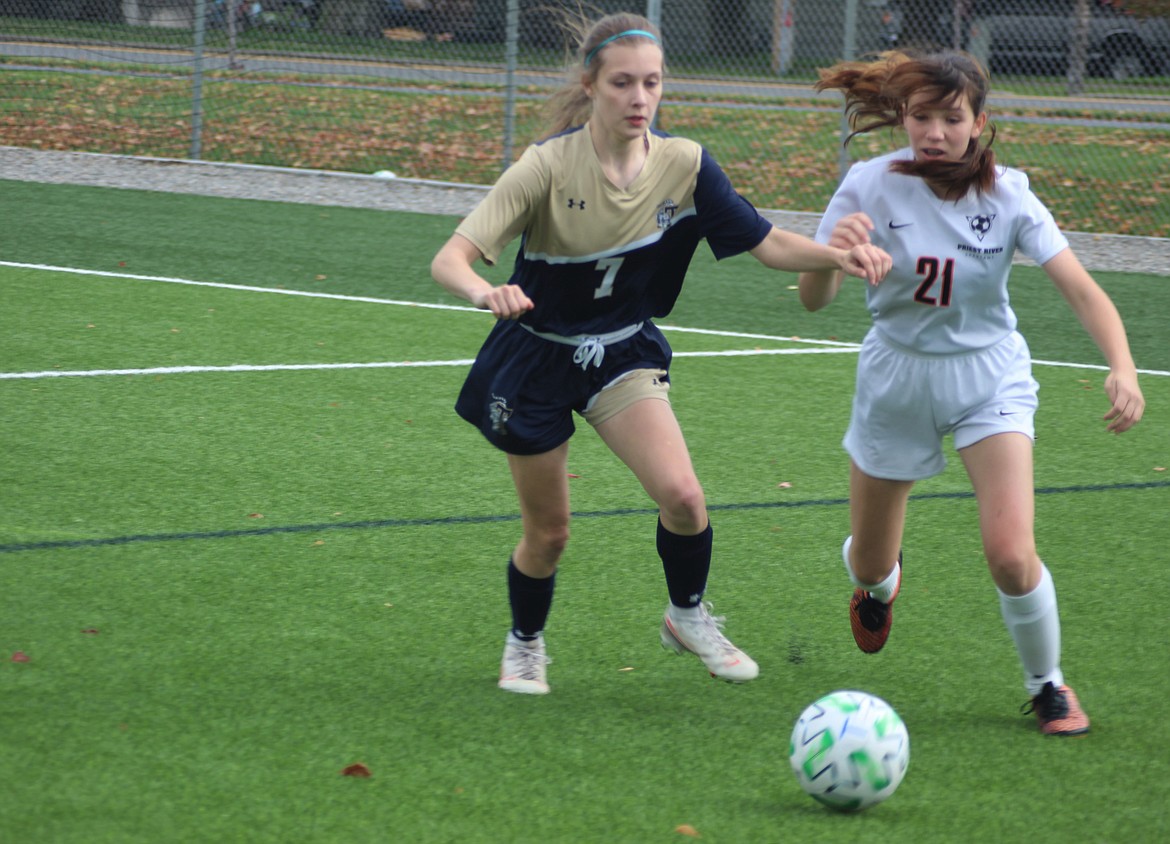 Timberlake's Kiersten Sawley, left, and Priest River's Elisheva Davis fight for control of the ball during the first half of a 3A district playoff game on Monday in Post Falls.
(Photo by JOEL DONOFRIO/COEUR d'ALENE PRESS)
by
DYLAN GREENE
Sports Editor
|
October 14, 2020 1:00 AM
POST FALLS — The Priest River girls soccer team left it all on the pitch Monday afternoon. Unfortunately, that wasn't enough for the Spartans to overcome Timberlake in the 3A Region 1 tournament as they lost 3-0.
The loss ends the Spartans season.
Coming in, Priest River, the sixth seed in the tournament, faced an uphill battle against the No. 3 Tigers. Only 11 players were available to play for the Spartans. Key offensive players Halie Moore, Samantha Pound and Kiersten Davis were all sidelined due to injuries.
But the team didn't make excuses and dug in defensively to hold Timberlake scoreless for the first 63 minutes.
Senior goalkeeper Makia Fitzmorris, who made 15 saves in the game, came up huge in the first half. She punched a pair of balls over the top of the net and made a key save on a low, hard shot by Timberlake's Kiersten Sawley.
"We had an outstanding performance from the defense tonight, in particular, Hannah Palfrey, Makia Fitzmorris, Hannah Larson and Makina Womack," head coach Rob Lawler wrote in an email.
With the score tied at 0-0 more than halfway through the second half, Timberlake finally broke through in the 64th minute and added a pair down the stretch to put an end to Priest River's upset attempt.
The Spartans finish the season 0-11-1. Timberlake outshot Priest River 22-3 and Brooklyn Best also made four saves in net.
"Even though the score called this match a win for Timberlake, we made huge strides in our performance from the start of the season to the end of the season," Lawler wrote, "and tonight honestly felt like a win for the Lady Spartans. I could not be prouder of these ladies for their pride, their heart and their determination."
First half — none. Second half — 1. TL, Kayli Lynn (Charley Hegstad), 64:00. 2. TL, Jade Reed (Isabel Hilliard), 70:00. 3. TL, Elektra Sturgill (Hegstad), 72:00.
Shots on goal — TL 22, PR 3.
Saves — TL, Ella Nunn 3; PR, Makia Fitzmorris 15, Brooklyn Best 4.
---