Sandpoint volleyball takes care of Moscow in three sets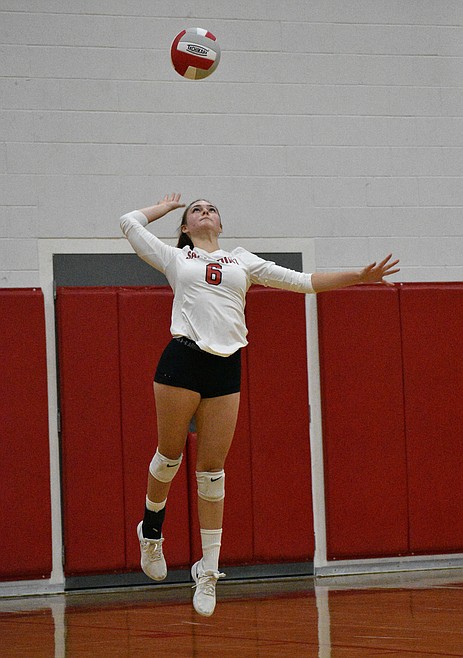 Senior CeCe Deprez serves the ball during a match against Moscow on Sept. 22.
(Photo by DYLAN GREENE)
by
DYLAN GREENE
Sports Editor
|
October 16, 2020 1:00 AM
SANDPOINT — The Sandpoint volleyball team completed a regular season sweep of Moscow on Thursday night with a three set victory, 25-14, 25-7, 30-28.
The win helps the Bulldogs solidify the No. 2 seed in the district tournament.
"We just had such good rhythm tonight," head coach Karen Alsager said. "We had good serving, we had good passing and hitters were taking care of their jobs, it just felt like such a team effort."
The last time the Bulldogs played at Moscow, Sandpoint fell to the Bears in five sets in the district semifinal. Alsager said it felt good to erase that memory and walk away with the win.
"I was very proud of them," she said. "Everyone stepped in and did a little something extra tonight, it was great."
Gabby Hicks had 15 kills, 14 digs and three aces. Bella Phillips tallied six blocks and five kills, Sam Koster grabbed 11 digs and three aces and Kaylee Banks notched 20 assists. Lauren Breuner added three aces.
Alsager was really impressed with the play of Tori Pelkey and Berklee Lane. Pelkey had five kills and Lane led the team with four aces.
No. 2 Sandpoint (4-10) hosts No. 3 Moscow in a district loser-out match 6 p.m. Tuesday at Les Rogers Court.
---