It is important to protect physical books
|
October 16, 2020 1:00 AM
After 23 years of marriage, I may have finally begun to understand my husband's book-hoarding, ahem, book-collecting mentality. And, it might be just in time.
For years, it's been a running joke that he can't part with a book. College text books, cookbooks, novels he wants to read again someday, and books that belong to other people fill our shelves and storage space. The leather-bound Louis L'Amour collection I can understand, but the second and third copies of those tattered paperbacks take up valuable decorating space in my house.
I had secretly hoped that one day, we would sell our home and he would be forced to inventory and purge his collection. As we pack to move later this month, a cruel reality is setting in.
The books are going with us and the new house has more bookshelves.
Who would've thought that books would be such a source of contention. "I work in a library!" is a phrase I exclaim several times a week these days. He offers no explanation; just a smile and a shrug.
My husband is the neat one in our household. The books are tidy and organized. He hasn't started making furniture out of stacks of books yet. I really shouldn't complain. I just don't understand it. But, I think I'm starting to.
While researching for this column in the EBSCOhost database in The Digital Library on our website, I found an interesting article that explains this phenomenon. In his article titled "Object Lesson – Why we need physical books" published in the May 2015 issue of The New Republic, William Giraldi makes the case for protecting the physical book in the digital age. He asserts that the physical books that adorn our shelves are manifestations of our identity. Could it be that I've been viewing our books too literally?
This got me thinking about the tiny log cabin I grew up in. My parents' book collection was given more square footage than food storage space. Their shelves displayed antique hard-back novels, art books, and nature books along with sensationalistic biographies and suspense thrillers. Were my parents trying to say something with their collection?
Collecting books is not the same as collecting other things. Even I can see this. When people collect shoes or cars, they may be considered materialistic. But if you collect books, you are considered an intellect.
"Books are not objects in the same way that shoes are objects." Giraldi claims.
Don't get me wrong, I have my own reasons for liking books. I read them. Sometimes, if the cover is particularly beautiful, I decorate with them. But, mostly, I listen to audiobooks from The Digital Library. They don't clutter my house and they mysteriously dissolve when I have finished reading them. If I want to read a title again, I can do that without digging through layers of books on a shelf. I wonder what that says about me.
I realize that the people who read this column are more likely to relate to my husband than to me. If you share space with someone who doesn't understand your need to keep every book you've touched, I beg you to consider eBooks and audiobooks from The Digital Library at ebonnerlibrary.org.
My husband has learned to love audiobooks recently and I am grateful. The least I can do is learn to understand his need for physical books. That understanding is more important now than ever, during one of the most trying times in our marriage; the packing and moving of his book collection.
StoryWalk — At Dover City Park enjoy "The Monster's Monster" by Patrick McDonnell, and "Kitten's First Full Moon"" by Kevin Henkes at McNearney Park in Ponderay. Titles are updated monthly and posted at facebook.com/BonnerStoryWalk.
Marcy Timblin is in charge of public relations, marketing & community development for the East Bonner County Library District. She can be reached at 208-208- 208-208-263-6930, ext. 1204.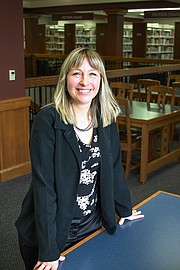 ---