Quakers install "Peace Pole" at Clark Fork Library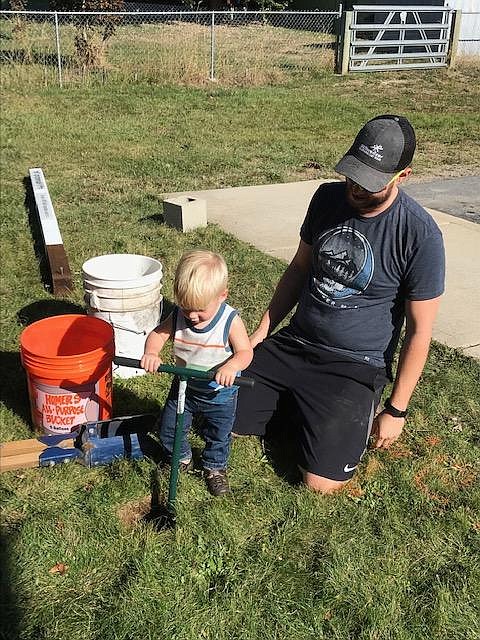 Walter Hayes IV and his toddler son Wally Hayes V work digging a hole for the Peace Pole at the Clark Fork Library on Monday.
Courtesy of Kathe Murphy
by
RACHEL SUN
Staff Writer
|
October 16, 2020 1:00 AM
A new "Peace Pole" was installed at the Clark Fork Library by the Sandpoint Quakers this week, adding the multiple Peace Poles already installed in the Bonner County area including one added to the Sandpoint Friends Meeting House in August.
Much of the digging for the pole's installation was done by Walter Hayes IV, his toddler son Wally Hayes V and his stepson Buddy Adams, wrote Kathe Murphy in an email.
A single message, "May Peace Prevail on Earth," was written on the pole in several languages including English, Salish, French, Spanish, Chinese, Japanese, Hebrew, Arabic, Kurdish, Vietnamese and Russian, according to the press release.
One of the Peace Poles at the East Bonner County Library will also be updated, according to a press release, and may be moved from the parking lot to a Children's Garden.
"Friends appreciate generous financial assistance provided by The Bonner County Human Rights Task Force and the Sandpoint Presbyterian Church," wrote Kathe Murphy in a statement from the press release. "The Clark Fork group would also like to thank Walter Hayes IV, his toddler - Walter "Wally" Hayes V and his strong stepson Buddy Adams for their kind help installing the pole."
---