Nashville recording artist to play Panida Theater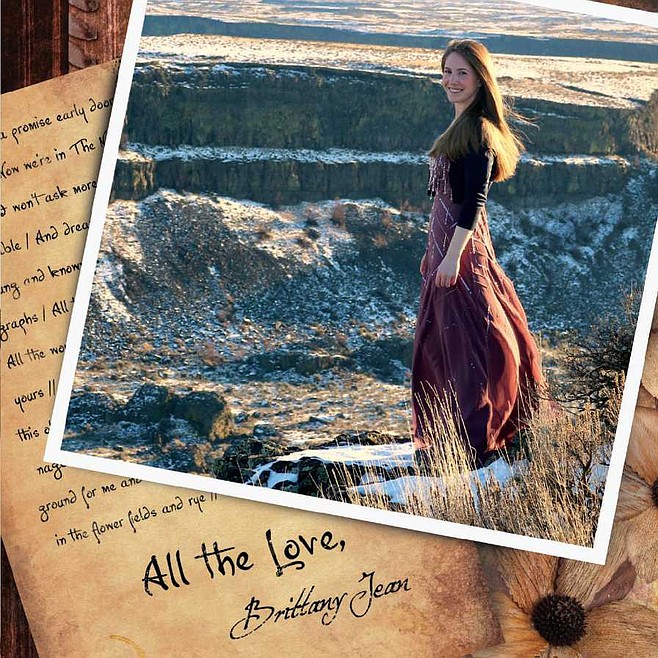 Courtesy of Brittany Jean
by
RACHEL SUN
Staff Writer
|
October 17, 2020 1:00 AM
Nashville recording artist Brittany Jean will perform in Sandpoint on Saturday, Oct. 31 at 7 p.m.
at the Panida Theater.
Jean has been likened to Judy Collins and Allison Crowe, said her father and manager Jim Walker, and takes inspiration in her songwriting from folk and bluegrass, occasionally straying into songs with a bit of a country sound.
"She's kind of an odd person to fit into one genre of music," he said.
Jean, who plans to release her fifth album in October of 2021, usually performs about half original songs and half covers from artists like John Denver and Sara Evans, Walker said.
All of Jean's music is family-friendly, he said, and inspired by meaningful experiences she's had and people she's met.
Jean moved to the small town of Brewster, Washington, from West Chicago, Illinois, seven years ago with her family after a housing decline made it difficult for Walker, a general contractor, to make a living.
Walker's son, who went to college with the son of business owners in the Brewster area, helped connect his father to work in there, Walker said.
Originally, Jean planned to go to college while pursuing her music career, Walker said.
However, after one year of college, he said, Jean found she was unable to focus on music the way she wanted to. At the time, Walker said, the family was also having a bad year financially and would have struggled to afford college tuition for her.
So instead, Jean turned to music. For the past several years, Jean has performed anywhere within about a roughly five-hour driving distance, Walker said, and travels to Nashville two to three times a year to record music.
She performed twice at the Pearl Theater in Bonners Ferry, and was scheduled to return to the venue on March 21 before the event was canceled due to COVID-19.
"Brittany lost 39 gigs," Walker said. "We're just trying to rebuild her schedule."
She also performed once in Sandpoint at the Pend d'Oreille Winery, Walker said. Jean has regularly performed at wineries since moving to the Northwest.
"Before we moved from [West] Chicago, we had never heard the term 'winery,'" he said. "Now it's every weekend."
"She's really excited about coming to the Panida Theater," Walker said.
Tickets are now available at the Panida Theater and online, he said. Tickets are $15 for adults and $10 for 18 and under.
---