'I'm tired of angry'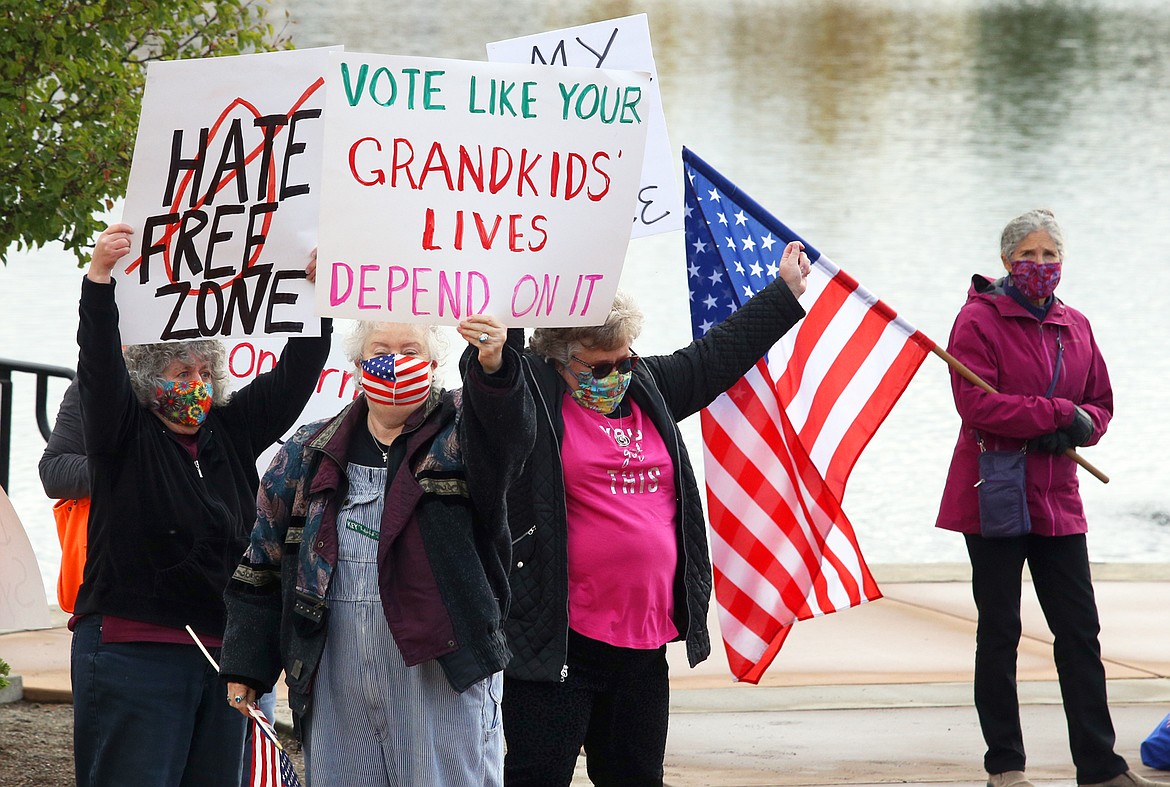 Karen Mello, left, Susan Smith, center, and Cathy Hudson stand with signs and arms raised at the women's rally and march to honor the life of Ruth Bader Ginsburg at Riverstone Park in Coeur d'Alene on Saturday.
BILL BULEY/Press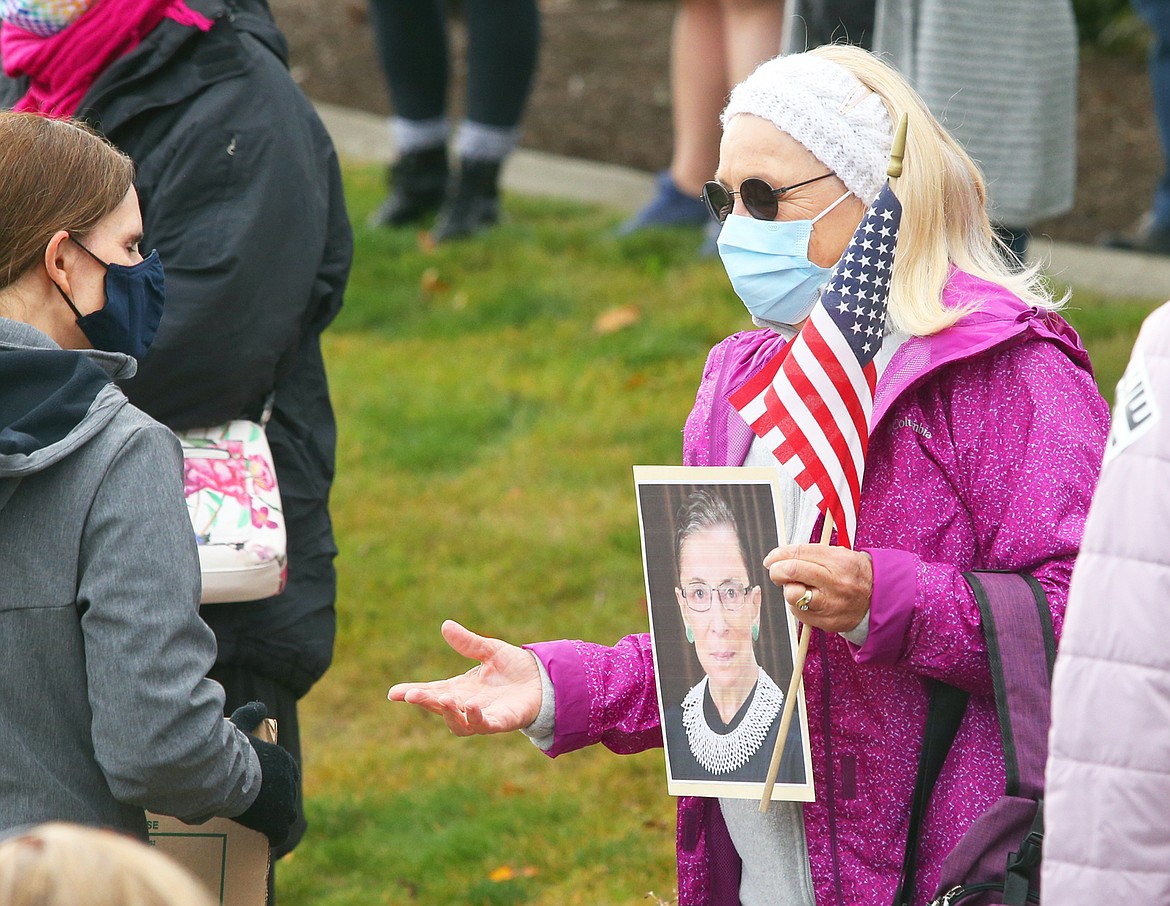 A woman who attended Saturday's rally and march at Riverstone Park holds a picture of Ruth Bader Ginsburg.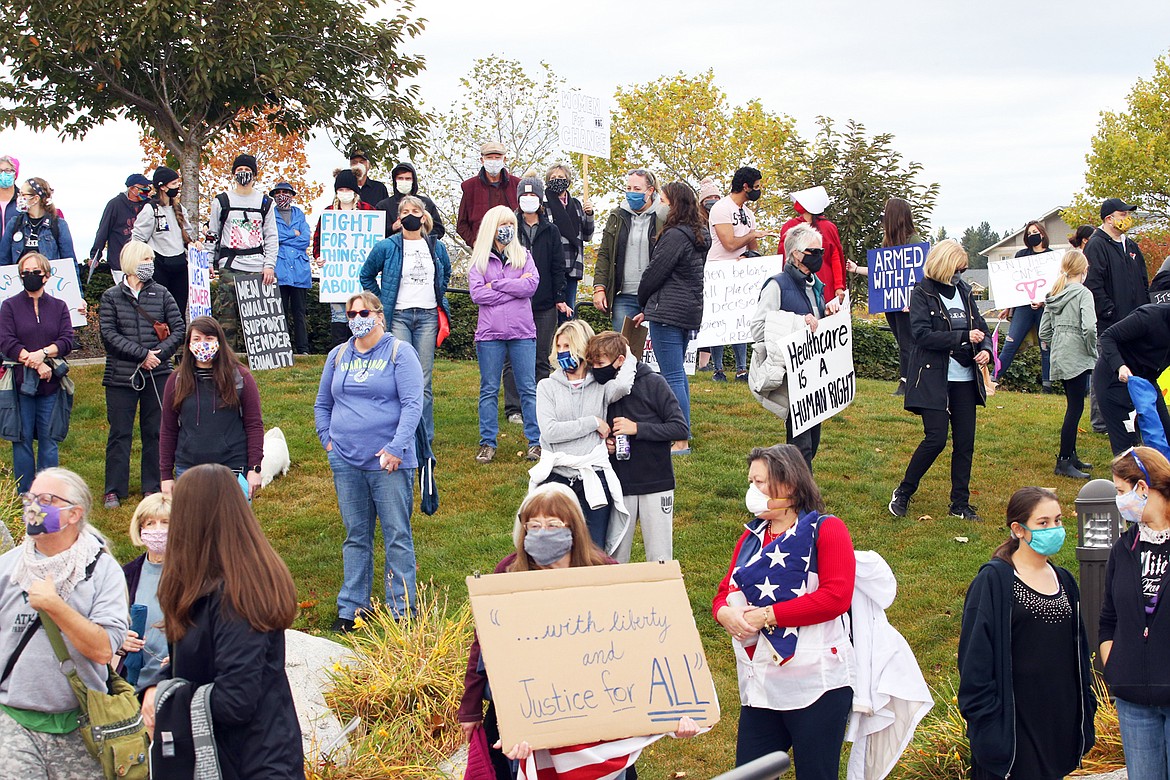 Some of Saturday's crowd for the women's march and rally unite at Riverstone Park.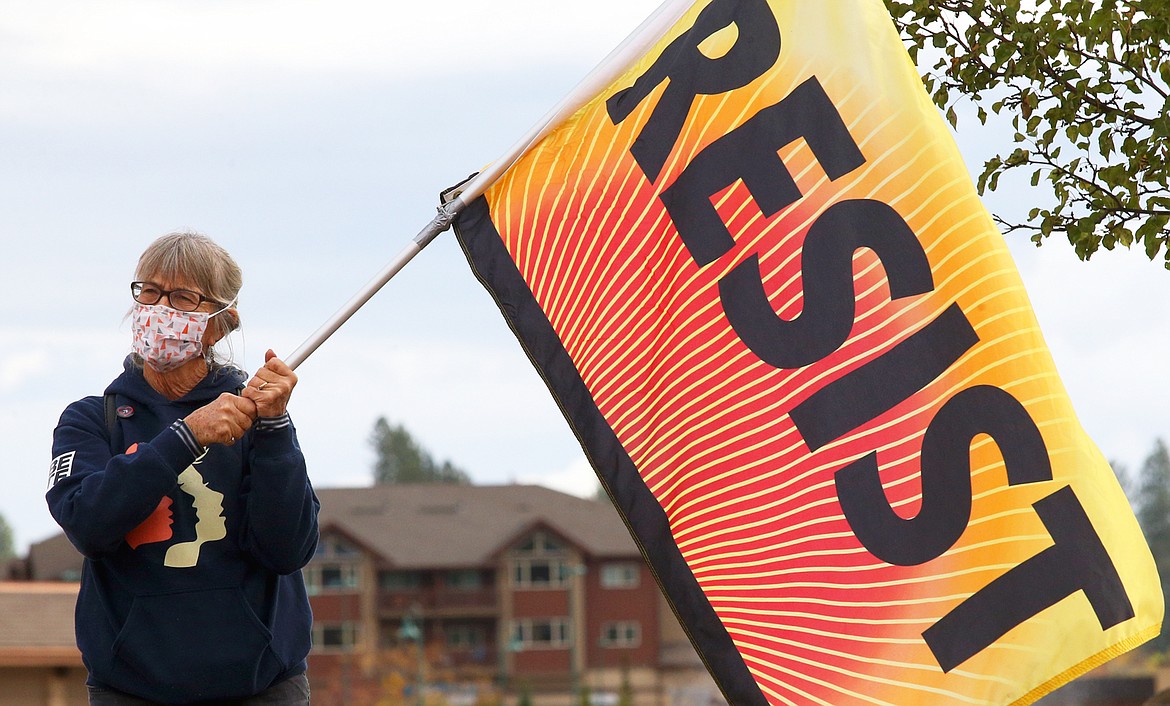 Rebecca Holland of Sandpoint holds a banner at the women's rally and march at Riverstone Park on Saturday.
Previous
Next
by
BILL BULEY
Hagadone News Network
|
October 18, 2020 1:00 AM
COEUR d'ALENE — Karen Mello sat in the middle of Saturday's crowd at the Kootenai County women's rally to honor the life of the late Supreme Court Justice Ruth Bader Ginsburg.
While she wanted to pay tribute to Ginsburg and celebrate her career, she was hoping to share a message about something else: the country is too divided.
"We need more people in the middle, more moderates," the Coeur d'Alene woman said at Riverstone Park on a cool, cloudy morning while holding a sign that read "Hate Free Zone" with a red line through the word hate. "Not all liberals are way wacko and not all Republicans and conservatives are way wacko."
The fifth-generation Idahoan said Idaho has always been pretty moderate, and she always got along with and respected her neighbors. Democrats, Republicans, independents — their political affliction didn't matter.
Times have changed.
"Now all of the sudden, it matters," she said. "We've got to get over this."
Mello was among a masked crowd of about 200, mostly women, teens to seniors, who gathered to hear speeches, wave signs, march and share their admiration for RBG, who died Sept. 18 at the age of 87 and served on the Supreme Court for 27 years. The rally was one of many around the country calling for the U.S. Senate to stop the confirmation proceedings for Judge Amy Coney Barrett and wait until after the November presidential election.
Cheers and applause arose often as speakers praised Ginsburg for her achievements, what she meant to women and how she advocated for and advanced their rights.
"She was holding on to life and until the election," said voting advocate Lisa Nunlist. "Bless her heart. We just hope that she rests in peace and our lives honor her."
Alicia Abbott of Babe Vote said RBG's efforts were aimed at building a "more equitable and inclusive America" for women, minorities and the LGBT community.
She said she was a champion of rights.
"As a single, childless woman, entrepreneur and homeowner, I have to ask myself what my circumstances would look like without Ruth," Abbott said.
She said the rally celebrated "the doors that Justice Ruth Bader Ginsburg opened for all of us."
"Her place in history was a gift to us all," Abbott said.
Darla Krug got some jeers when she stood up with a sign that read, "Confirm Amy Coney Barrett!!!"
Organizers quickly said they wanted to have no negativity at the rally.
A few women went and stood next to Krug with signs that read "Coeur d'Alene is 2 Great 4 Hate" and "Dump Trump."
Krug's son Jason, 13, has Down's syndrome, and Barrett also has a children with Down's syndrome.
"She might be what is standing in the way of genocide for children with Down's syndrome," Krug said later.
She spoke of prenatal screening, CRISPR gene editing and designing of babies as a threat to the unborn.
"They're designing (Down's syndrome children) right out of our country, and other countries have followed suit," Krug said.
Several speakers shared pro-choice views, as Ginsburg was pro-choice, and some in the crowd held signs that said, "My Body, My Choice."
Krug looked toward her son and said, "He has no voice. I can tell you, the world will not be a better place without them."
A woman named Heather, who declined to give her last name, spoke to Krug.
"I just wanted to come and say, although I may not agree with you, I appreciate your passion for your child," she said.
"I admire her for standing up for her beliefs and her child," Heather said. "That's what supporting women and empowering women is about, supporting each other."
The world, Heather said, "needs more civility. I'm tired of angry."
"I'm tired of angry, too," Krug said. "There's just not time for that anymore."
Others agreed.
One man in the crowd held a sign that read, "Let's agree to use our energy to get along!" and referred to Romans 14:19 in the Bible.
Randy Carlson stood behind the crowd with a banner stating his support of President Donald Trump.
He said he didn't agree with the views being expressed at the rally, but wanted to attend.
"I watched the news over the years, I've really come to the conclusion that the news does not paint a truthful picture of all the things that are going on in the country and I don't believe the polls right at the moment," he said.
The man next to Carlson declined to comment.
"I would not expect that you would accurately quote anything that I say," he said.
Some came because they're not happy with President Trump and his supporters.
"I'm so sick of seeing all the Trump signs here. I'm so sick of it," said Cathy Hudson, sitting next to Mello. "It's like we don't have a voice, and it's so nice to see all these people supporting this side, having a choice. I have a voice. I have a right to show my sign just like the Trumpers do."
Susan Smith, flanking Mello's other side, said she attended the rally and march to honor RBG "and because I want to see Trump lose the election because he's unfit morally and intellectually."
Shari Williams, who is seeking the Senate, Legislative District 4 seat, called on the crowd to attend government meetings, hold elected officials accountable and join organizations "that make a difference in family's lives."
"In short, take up the proverbial sword of Justice Ginsburg and her unquenchable spirit and be part of the solution because women's rights are human rights," she said.
Williams also said she has Republicans and Democrats in her family.
"I just want you to know we can all get along," she said.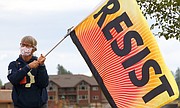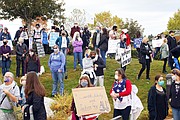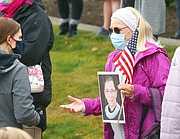 ---