Hundreds turn out for Victorino benefit
by
KEITH KINNAIRD
News editor
|
October 20, 2020 1:00 AM
SANDPOINT — Hundreds of people were on on hand Saturday to aid injured Ponderay Police Sgt. Mike Victorino.
Organizers of a benefit filled the main exhibition building at the Bonner County Fairgrounds with well-wishers for the officer, who was injured in an Aug. 15 motorcycle crash on U.S. Highway 12 near Lewiston. It's estimated that at least 500 people turned out to show their support for the injured law officer.
The amount of money raised for Victorino was still being tallied on Monday, according to Ponderay Deputy City Clerk Kayleigh Miller.
"The support was fantastic," said Miller.
Miller said Saturday's benefit saw as many as 500 come through the doors of the exhibit hall, although there was not a firm head-count immediately available because it was unclear how many who bought tickets ahead of time turned out on Saturday.
"I didn't know what to expect, but I was thankful for everyone that was there," said Miller.
Victorino suffered a traumatic brain injury after crashing his motorcycle on the highway, according to friends and family. Idaho State Police said Victorino was not wearing a helmet at the time of the crash.
Victorino remains in an in-patient rehabilitation facility and is undergoing physical therapy.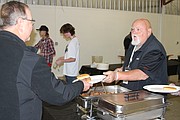 ---