KLT earns award for multi-use trails at Pine Street Woods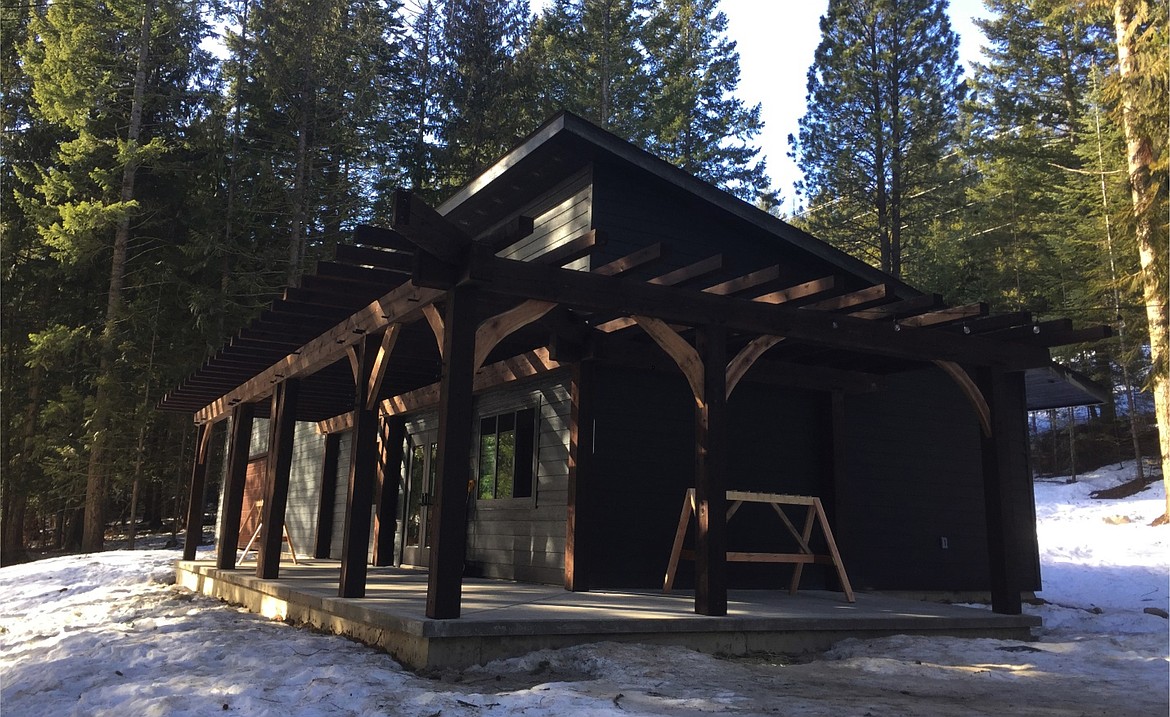 A community partnership between Sandpoint Nordic Club, Kaniksu Land Trust, and others including Idagon Homes and Collin Begs Design Build Timber Framing, led to the construction of an outdoor recreation center at the Pine Street Woods. Significant project support was also provided by Avista Corporation, Idaho Forest Group and countless area suppliers, subcontractors and builders.
(Photo courtesy ROSS LONGHINI)
by
RACHEL SUN
Staff Writer
|
October 20, 2020 1:00 AM
SANDPOINT — The Kaniksu Land Trust, a local conservation nonprofit, has been awarded for its Pine Street Woods project by the American Trails' Coalition.
KLT won ATC's Multiple-Use Management and Corridor Sharing category, which recognizes organizations that facilitates or encourages usage for multiple types of trail activities, specifically those that are not typically shared on a common trail, according to a press release.
Pine Street Woods is a 180-acre property used for recreational and educational use by the public. It is also minutes from downtown Sandpoint, allowing for easy access.
The project cost $2.1 million and was funded largely by the LOR Foundation, Equinox Foundation, grants from the U.S. Forest Service and Idaho Department of Parks and Recreation. It was also funded in part by local businesses and the Idaho Forest Group.
The idea for the project started around 2012 said Katie Cox, executive director for the KLT. Fundraising began around 2017.
Recently, over seven miles of new trail was added to the existing 12 miles of trails on the adjacent parcel, according to the press release.
Cox said the trail would not have been possible without the help of volunteers in the community — particularly the Pend Oreille Pedalers and the Sandpoint Nordic Club, many of whose members volunteered to help build the trails at the Pine Street Woods since the land was acquired in 2019.
The award, Cox said, is not just for KLT but the community as a whole.
"It's well over 2,000 hours of time people have invested in creating this place for their community," she said. "It's quite amazing to think we've only had this for a little over a year and a half."
KLT conservation director Regan Plumb also pointed to other community organizations that partnered with KLT to make the Pine Street Woods trails possible.
"This award underscores that working shoulder-to-shoulder with community partners like Pend Oreille Pedalers and Sandpoint Nordic Club to create multi-use trails for all is simply the right thing to do," she said, according to the press release.
Cox has also been invited to speak at the gala award ceremony, which is usually presented on Capitol Hill in Washington, D.C., but will be held virtually this year. Recipients of this year's awards will then be invited back in-person for the 2021 award gala.
Pine Street Woods is open to the public daily from 7 a.m. to 7 p.m. at 11915 West Pine St. For more information about Pine Street Woods or the Kaniksu Land Trust, visit www.kaniksulandtrust.org or call (208)263-9471.
---