Slow down and move over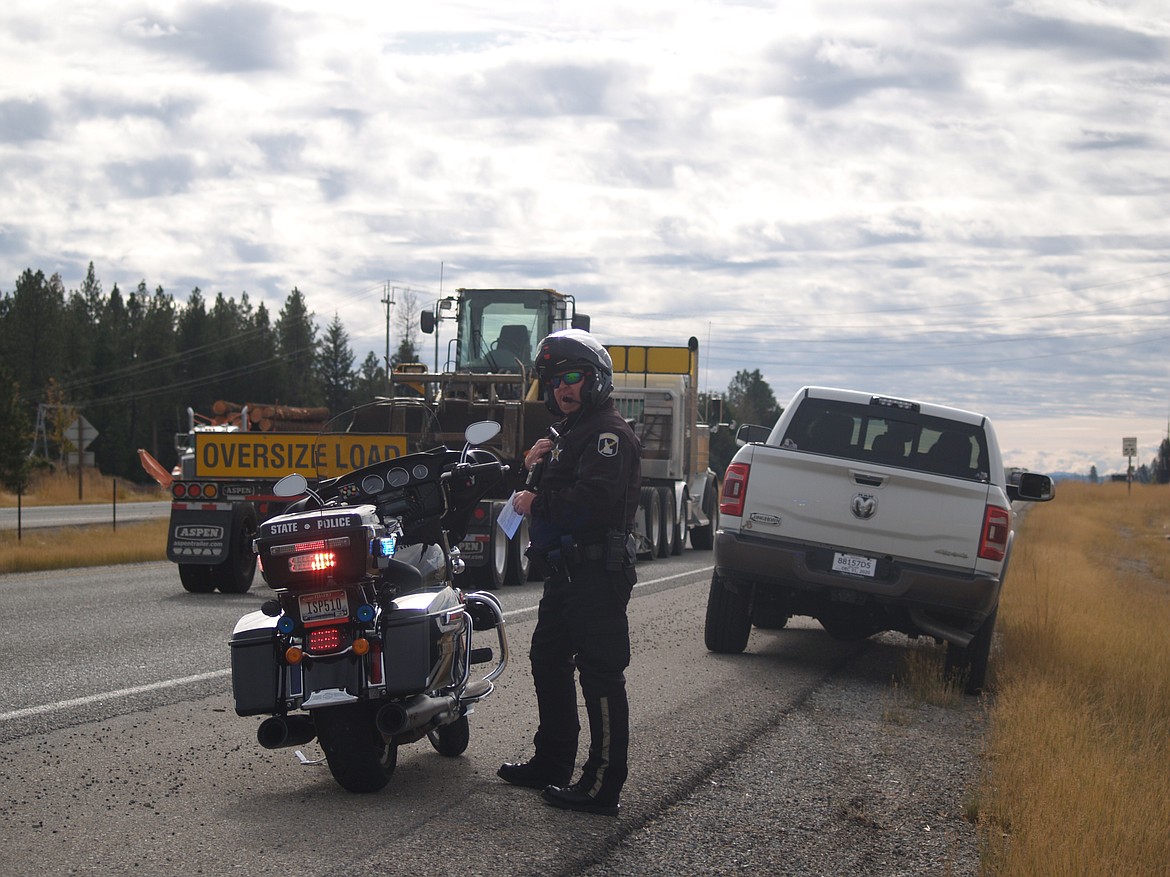 Idaho State Police Trooper Rob Davis said working on the side of the road can be dangerous when motorists don't change lanes or slow down. "I've had vehicles come so close they almost knocked my bike over," he said. (MEGAN SAUSSER/ITD)
by
KAYE THORNBRUGH
Hagadone News Network
|
October 21, 2020 1:00 AM
In almost 20 years as a tow truck driver, Jim Drayfahl has seen it all — including things he wishes he could unsee.
From children injured in crashes to grisly fatalities that compel him to remove his hat and take a moment to pay his respects, Drayfahl has been in the middle of roadway chaos and tragedy.
The road isn't dangerous for just motorists, however. It can also be a dangerous place for people like Drayfahl, who help clean up the scene of an accident.
"It's one of those jobs where you don't know if you're coming home," said Drayfahl, who works for Schaffer's Towing. "You'd better make sure to kiss your loved ones before you go out the door."
Working on the roadside, Drayfahl is acutely aware of the possibility that he could be hit by a driver who didn't notice the flashing lights on his truck, maybe, or someone trying to get a closer look at a wreck. He keeps his head on a swivel, he said, constantly checking his surroundings.
He gives all new tow truck drivers the same piece of advice: "We have to watch for them, because they won't watch for us."
First instituted in 2006, Idaho's "move over" law requires drivers to slow down and move over for law enforcement vehicles with flashing lights.
In 2019, the law expanded to include all emergency responders, such as tow trucks and workers from the Idaho Transportation Department.
This week is National Move Over Week, and the Transportation Department is asking motorists in the Gem State to switch lanes, slow down and pay attention.
"Whenever you step out of that truck, you've got to be looking," ITD Technician Mike Margason said Tuesday.
ITD workers commonly spend time on the shoulder of the freeway, removing dead animals, tires and other objects from the road, or assisting stranded drivers. It can put them in a dangerous position.
Margason recalled a coworker who was smacked by the side mirror of a truck as it roared past, much too close — a stark reminder of the disasters that can happen if drivers don't slow down or give enough space to stopped cars and pedestrians.
"We want to go home every night," Margason said. "Especially with winter coming, you've got to watch out for us."
Snow and ice make for even more hazardous conditions, especially when drivers don't slow down.
"Anything can happen," said ITD Transportation Technician Trent Bridges. "It's scary for us."
Idaho State Police Trooper Rob Davis is one of just a few officers who patrol the five northern counties on a motorcycle. Before joining the motorcycle unit, he said, he took for granted the relative protection of a patrol vehicle.
On a motorcycle, he's more vulnerable — and if he's struck on the side of the road, the result could be devastating. It's not always possible to change lanes when passing a stopped emergency vehicle, but even slowing down makes a difference.
"I've had vehicles come so close they almost knocked my bike over," he said.
All drivers play a role in making Idaho's roads safe to travel, he said.
"We all share the same roads," he said. "It only takes a second to slow down, and everybody can be safe."
Police are trained to handle dangerous situations and receive equipment to protect them. But those things are of limited use when it comes to collisions on the side of the road.
"Our gear can't stop their vehicle," said Idaho State Police Sgt. Allen Ashby.
In his 15 years with ISP, Ashby said he's had many more close calls with vehicles than anything else. He recalled almost being hit by a vehicle that was going too fast and spun out on I-90. It missed him by two feet.
"It's mere luck that I wasn't struck," he said.
More than anything, Ashby said he'd like motorists to practice empathy and patience when asked to slow down or change lanes while in a hurry to reach their destination.
"We all have spouses and children," he said. "Hitting your brakes for 10 or 15 seconds can make the difference in them seeing us again."
---