Local children's shelter, foster home reworks annual fundraiser
by
RACHEL SUN
Staff Writer
|
October 25, 2020 1:00 AM
If someone were to walk through Kinderhaven, they would see what, for the most part, looks like any large family home.
On one particular Friday, a group of young children play with blocks, use a toy kitchen and somersault over bean bags in a living room area.
A little further away from that, a 17-year-old girl plays video games on a couch in a separate area dedicated for parental visitations and the teenagers at Kinderhaven. A small security camera is mounted on a corner wall, but other than that the area looks like any other family home.
Kinderhaven has grown significantly since its beginning in 1996 as an emergency shelter for children who had been removed from their homes for their own safety — usually because of abuse and neglect, said executive director Jen Plummer.
Although it still serves as an emergency shelter, it is also as a group home, Plummer said, and there is no time limit for how long children can stay. It has grown, she said, into a unique sort of family — but a family nonetheless.
A unique family
Kinderhaven is currently licensed to house up to 16 children, Plummer said, at times housing children for periods of weeks or months, and other times years.
Since opening, Kinderhaven has housed about 2,000 children.
On that particular Friday, there were nine children being housed, Plummer said. However, that number can vary depending on the day.
"Sometimes you would get children in the middle of the night," said Kathy Chambers, board chair and volunteer coordinator. "Sometimes their caseworkers will decide that the child can go back home or they find another foster home for them.
Kinderhaven also takes children of all ages, from birth to 18 for girls, and until around 11 years old for boys because of safety precautions. Many teenagers who go to Kinderhaven end up staying until they age out of the system, Plummer said.
"It's very hard to place a teen in foster care, and many of them don't want to go back home, they would prefer to stay here," she said. "So we can have teenagers for years."
The staff at Kinderhaven work to give children a sense of security, she said, and work from a "trauma-informed" approach to build trusting relationships with adults. Sometimes it's hard for children to adjust, she said. Many come from abusive or neglectful homes, so that process is both difficult and extremely important.
"It isn't a daycare where you're dealing with children with behavioral issues that you might see in with your own children, or if you were a teacher in school," Chambers said. "[Staff] are looking at the child instead of like, 'what's wrong with this kid,' which is easy to say when the child is having a complete meltdown … [asking] 'what happened to this child?' And then try and unravel that from there."
Part of the role for staff at Kinderhaven includes filling in a parental role, Plummer said. Children and staff always have dinners together and operate under consistent sets of rules similar to what any other child might experience at home.
"They instantly have a family of multiple mothers, which isn't always fun for them, because kids that have been on their own for a while and don't like necessarily like to be told when bedtime is and when we eat," she said. "But once they settled into that routine, and knowing that they're going to be fed and cared for, nurtured and loved, they can create a trusting bond with an adult. And that's going to set them up for future."
The children at Kinderhaven are also encouraged to pursue activities they're interested in including recreational and school sports, arts and music.
In one instance, a resident at Kinderhaven wanted to pursue voice and, and guitar lessons, Plummer said, so the group worked with Sandpoint Music Conservatory to make it possible.
"really whatever they want to do we really encourage it," she said.
That's not to say that children don't experience challenges in healing from trauma, or even the more mundane disagreements that might pop up in any family.
One 17-year-old, who could not be named for safety reasons, said living there had "ups and downs," and voiced frustrations typical for someone her age — the young residents are sometimes loud, and she felt like people "barged in" on her alone time.
"[I like to] hang out with friends," she said. "When I'm here, I like to be alone."
Still, many children also form special connections they never had the chance to before coming to Kinderhaven, Plummer said.
"I remember once we had a young lady who just came from such a filthy home, and she was so dirty, and she had no clothes," she said. "The other girls were like, 'we'll show you where everything is, come on.' "They're just really super supportive."
Some residents at Kinderhaven will also find comfort in talking with other children who've had experiences similar to them, Chambers said.
"I think kids sometimes will feel very isolated," she said. "And they realize that there are other kids that have suffered. They are all unique situations, [but] they just have that little family around them and to have sort of a group of siblings that they never had before."
Community needs
For some time, there has been an immense need for foster homes in the region, Plummer said. Because of that, Kinderhaven has been mostly at capacity the past several years.
"There are very, very few available foster homes here," she said. "It's really at crisis level. And it's been this way for quite a while."
Keeping children in the same schools, and with the same friends and support systems they had beforehand going into foster care is extremely important for children like the ones that come to Kinderhaven, Plummer said.
"[when you're removed from your home], your school, your teachers, your community members become that much more important," she said.
That need to provide a safe, comfortable and reaffirming environment for children who end up in foster care is the whole reason Kinderhaven was started, Plummer said. When it was opened by the late Sandpoint mayor Marsha Ogilvie, it was in response to hearing about a child that was being housed in juvenile detention because there were no available foster homes.
"Kids who are abused often think that abuse is their fault," Plummer said. "And, you know, going to jail it would certainly reinforce that."
Kinderhaven recently purchased an additional building, Plummer said, which they had hopes of turning into a separate boy's home — something that's an especially big need. However, those plans had to be put on hold because of COVID-19.
"We were hoping to be smack dab in the middle of the capital campaign right now to be opening our boys home," she said. "But we couldn't proceed with large capital expenses like that when, you know, everything is so uncertain."
A 'Tour of Trees'
As of now, the main priority for Kinderhaven is to ensure current programs and the children they serve remain funded, Plummer said.
"I think people are going to come out and support us more than ever," she said, "But it's very unknown right now."
Usually, most of the annual budget for Kinderhaven comes from the nonprofit's "Festival of Trees," a three-day event with a family night, a public luncheon and specially decorated trees for sale held at the Bonner County Fairgrounds.
That event alone accounts for about 75% of annual funding, and relies on support from local businesses and artisans, she said. Overall, about 85% of Kinderhaven's funding comes from the local community, with only about 15% from payments by the state of Idaho.
This year, however, board members had to change plans due to COVID-19. The organization will not hold a Festival of Trees, but rather a "Tour of Trees."
Decorated trees for sale will be displayed at area businesses from Dec. 9 through 12, including businesses in downtown Sandpoint, and spots in Ponderay, Sagle and even at Schweitzer Mountain Resort.
The nonprofit will be doing advertising and social media outreach to bring more awareness to the fundraiser, and keep providing for the children and Kinderhaven.
"We just want to make sure that Kinderhaven exists for generations to come," Plummer said. That's really what we want to see — we want Sandpoint to always have a haven, a refuge for abused and neglected children."
More information on Kinderhaven and the Tour of Trees is available on the website, kinderhavensandpoint.com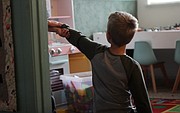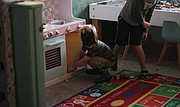 ---