Blanchard fire forces evacuations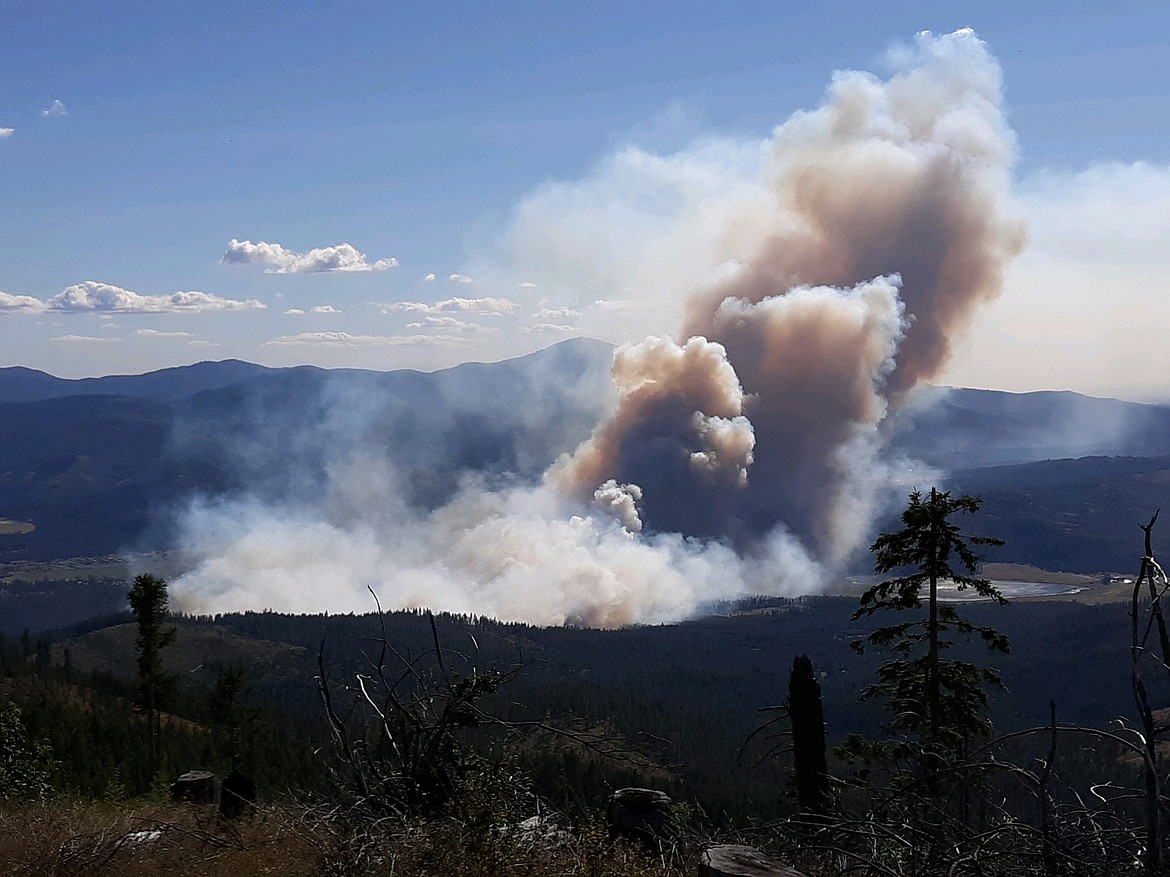 Smoke billows from the Hunter 2 Fire near Blanchard. The fire quickly reached 500 acres and forced the evacuation of some Blanchard residents.
(Photo courtesy JENAY BLACKWELL)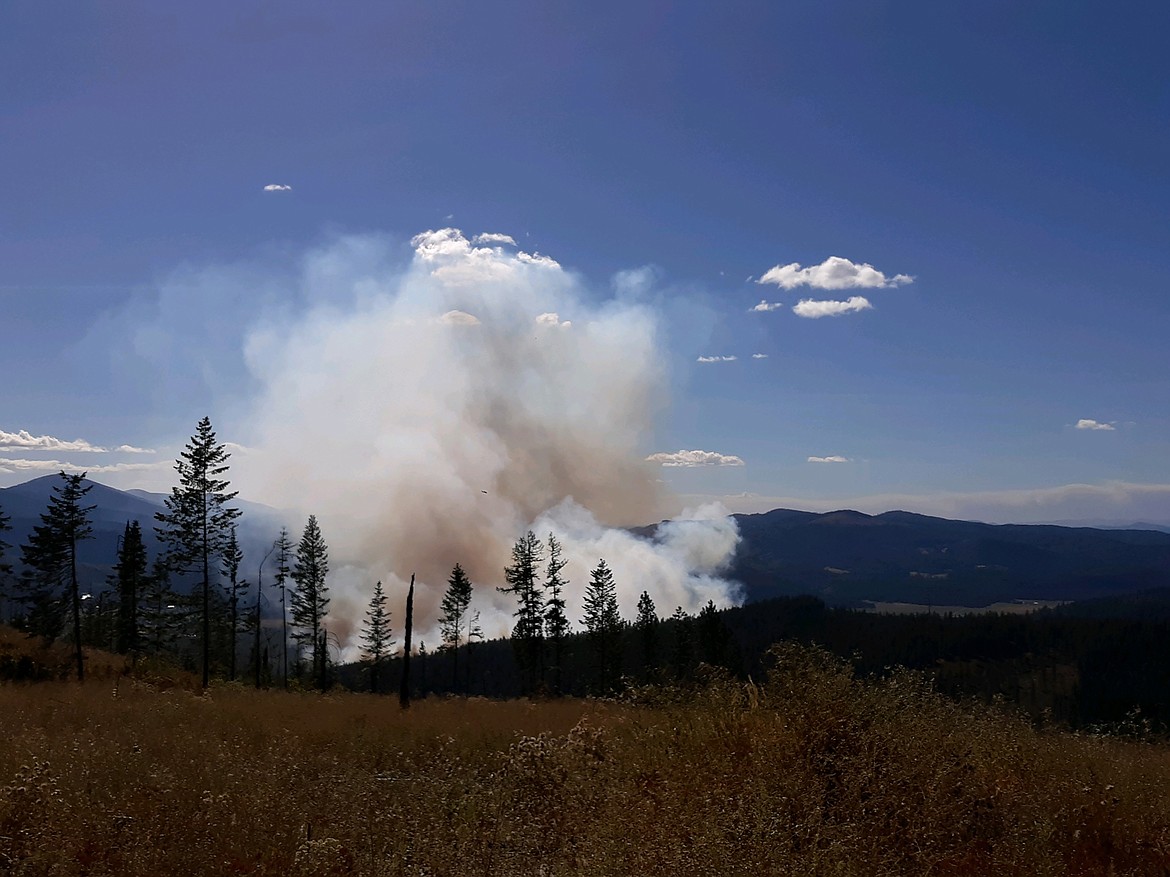 Smoke billows from the Hunter 2 Fire near Blanchard. The fire quickly reached 500 acres and forced the evacuation of some Blanchard residents.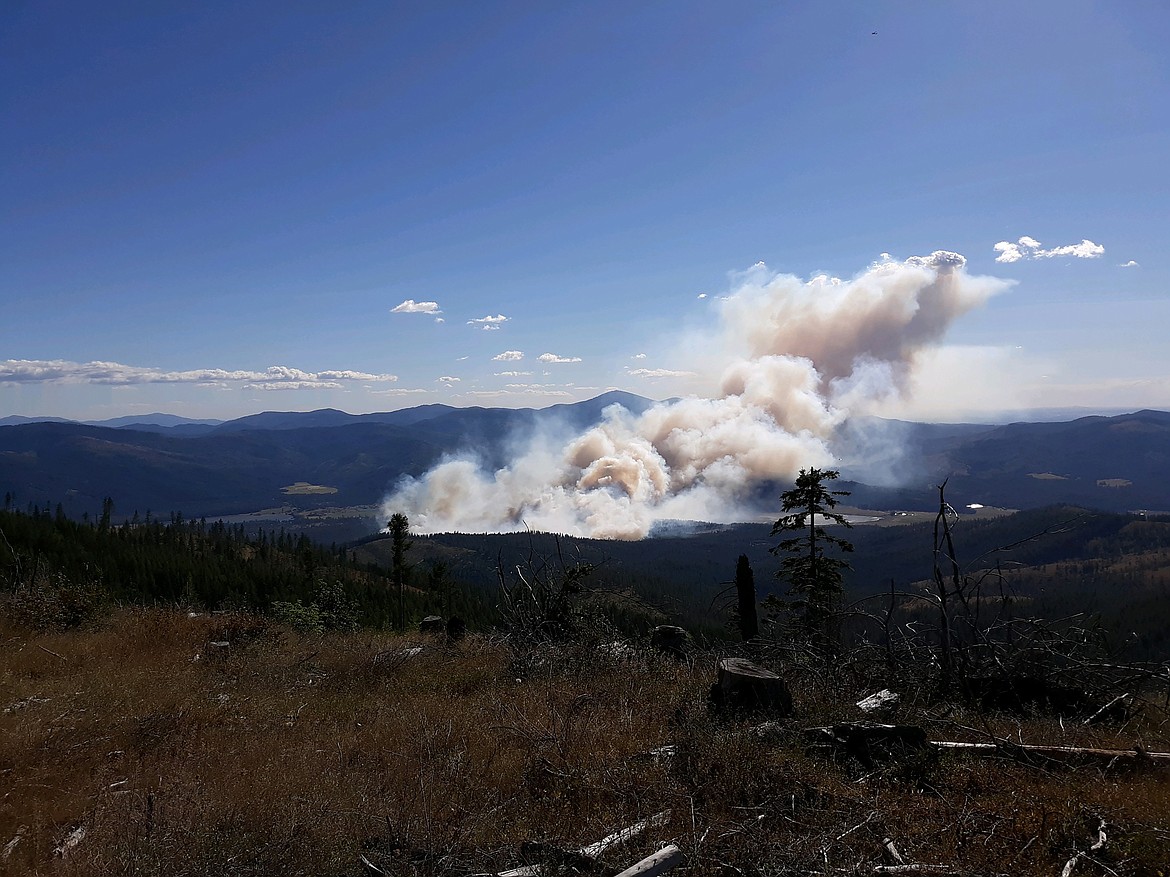 Smoke billows from the Hunter 2 Fire near Blanchard. The fire quickly reached 500 acres and forced the evacuation of some Blanchard residents.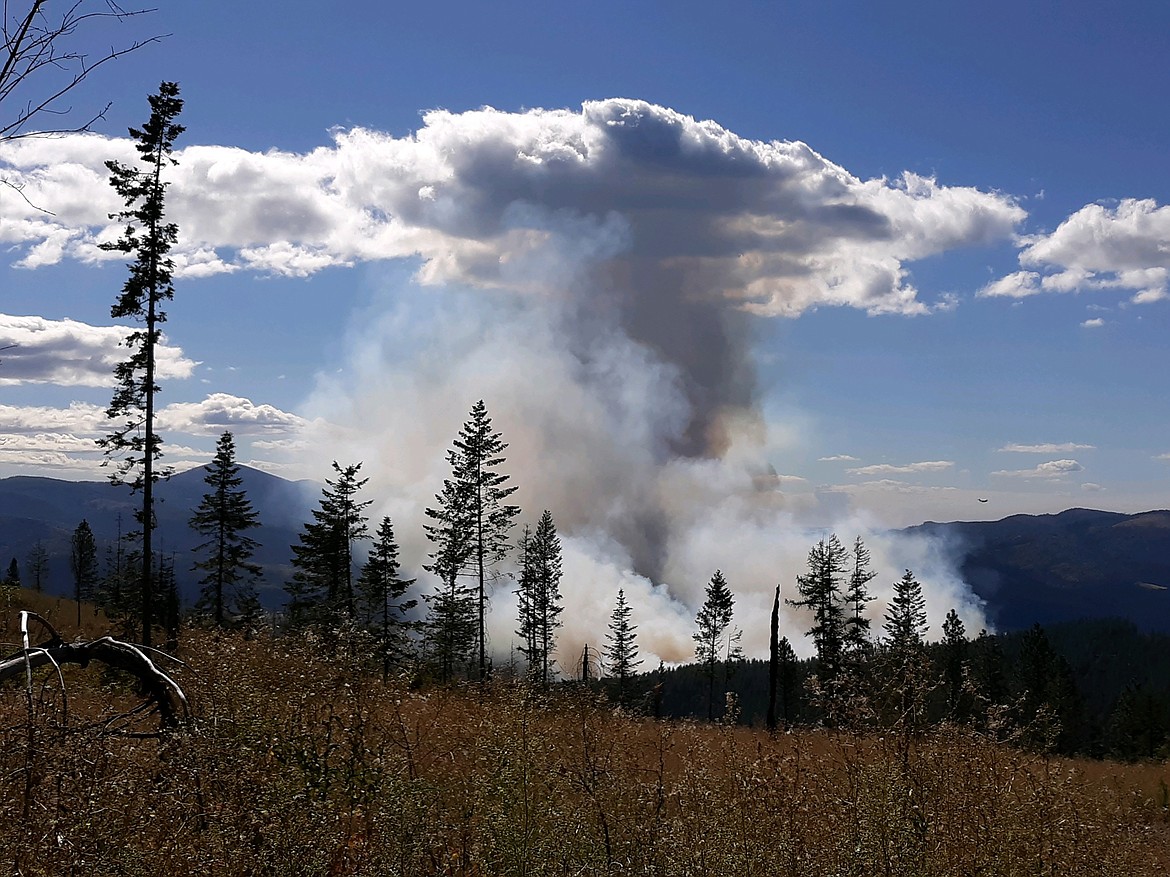 Smoke billows from the Hunter 2 Fire near Blanchard. The fire quickly reached 500 acres and forced the evacuation of some Blanchard residents.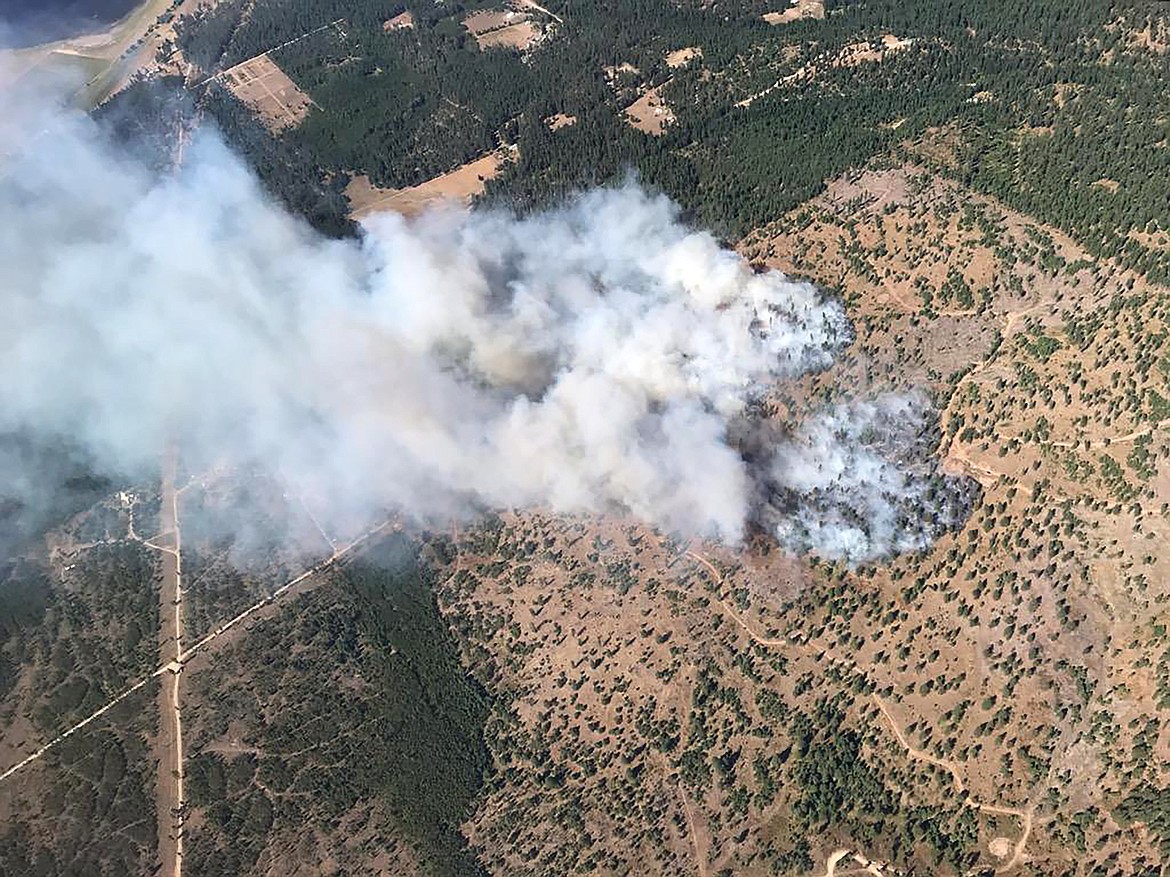 An aerial view of the Hunter 2 Fire in Blanchard. The fire, reported early Monday afternoon, has grown to more than 500 acres and forced evacuation of some Blanchard residents.
Previous
Next
by
CAROLINE LOBSINGER
Staff Writer
|
September 8, 2020 1:00 AM
BLANCHARD — Area residents were evacuated from their homes after a Labor Day wildfire quickly grew to more than 100 acres and jumped Highway 41.
The Hunter 2 Fire, located about a half-mile northeast of Blanchard at the junction of Hunter Road and Highway 41, was reported early Monday afternoon. As of 6:15 p.m., the fire was estimated to be well over 500 acres with multiple resources on scene, including a number of pieces of heavy equipment, Idaho Department of Lands posted on its fire information page on Facebook.
Additional resources have been ordered, including a Type 3 incident management team, to fight the fire.
IDL said air resources were grounded until after high winds died down but by 6:15 p.m., air tankers were helping fight the blaze.
"The #Hunter2Fire has grown to approximately 500 acres and crossed Highway 41 to the Stoneridge Golf Course area," IDL officials posted in an update. "Two large air tankers are now helping to fight the fire, but competition for resources remains a challenge."
The fire closed a two-mile stretch of Highway 41 — from Roberts Lane to Blanchard Cutoff Road — shortly after 4 p.m. and residents were told to avoid the area.
About 2:30 p.m., Blanchard residents were advised evacuations were likely and by 6 p.m., evacuations were in place for the area of Blanchard Elk and Stone roads.
Shortly after 4 p.m., a possible evacuation advisory was issued for Blanchard residents east of Highway 41 from Hunter and North roads up to north of Redneck Drive, as the areas of Dolly Sods Road, Tower Mountain Road, Easy Street, and Akre Heights.
The fire was one of five being battled by IDL crews and its partners in the region with high winds creating conditions for rapid fire growth, IDL officials said in a press release.
In addition to the Hunter 2 Fire, crews were fighting the Sunnyside Complex Fire, which includes the Clover and MM 49 fires, the Dusty Fire and the Cliff Fire.
The Sunnyside Complex fire, which is burning outside Orofino, is over 500 acres. Structures are threatened and some structures have burned, IDL said. The fire started early this afternoon.
The Clover Fire is west of the Whitetail Loop Fire, which was contained last week. The Clover Fire is about 4-5 miles long. The nearby MM 49 Fire is burning at 100 acres. A Type 2 Incident Management Team has been ordered for the Sunnyside Complex, officials said.
Evacuations remain in place for the Dusty Fire at Dusty Lane subdivision south of the town of Emida. The fire is currently 15 acres with heavy equipment on the scene. Air resources will be used when the weather allows, IDL officials said.
The Cliff Fire, which is burning at Heyburn State Park, is about 22 acres and fire crews have succeeded in putting a dozer line around the fire. The Coeur d'Alene Tribe has closed the Trail of the Coeur d'Alenes from the Plummer trailhead to the Heyburn State Park trailhead. The bike path inside the park is closed and people are asked to stay away from the area.
Red Cross officials responded to the various evacuation notices, noting wildfires were widespread not just in North Idaho but many areas of eastern and central Washington state.
"Please follow any evacuation instructions from your local authorities," Red Cross officials said in a press release.
Evacuees needing assistance, should contact the American Red Cross at 509-670-5331.
If residents have time, evacuating residents are encouraged to gather all prescription and emergency medication, extra clothing, pillows, blankets, hygiene supplies, important documents and other comfort items. Additionally, special items for children and infants, such as diapers, formulas and toys, should be brought, along with other items for family members who may have other needs.
Those being evacuated were advised by Bonner County Fairgrounds officials that they could bring their animals to the facility on North Boyer Road.
"We have plenty of room," fairgrounds manager Darcey Smith posted to the fair's Facebook page. "This is reserved for those residents that are being evacuated at this time. Please stay safe out there."
Retired forester Bill Love Jr. said Monday's conditions were similar to those during Firestorm '91 "when a dry, coldfront brought 50 mph winds which caused numerous fires throughout the region. That event occurred in mid-October."
Information: https://www.facebook.com/IDLFireInfo
Caroline Lobsinger can be reached by email at clobsinger@bonnercountydailybee.com and follow her on Twitter @CarolDailyBee.
---