Smith Creek: Tales of a favorite drainage
by
BILL LOVE JR. Contributing Writer
|
September 8, 2020 1:00 AM
Everyone should have a favorite drainage to pursue their outdoor activities. Smith Creek, in Boundary County, checks all of the boxes for me.
As it flows from the Selkirk Mountains into the Kootenai River, Smith Creek sources underneath Lions Head Ridge and Smith Peak. Cow Creek, an aptly named tributary because of Forest Service grazing allotments, joins Smith Creek near the old Dirt Oven site. The lower reach, below the spectacular Smith Falls, is channelized as it passes through the Boundary-Smith Creek Wildlife Management Area.
To qualify as your favorite, you must first establish a personal history with a watershed.
I first entered Smith Creek in January 1974 beginning my forestry career assigned to a U.S. Forest Service crew surveying the new Smith Creek Road. Nearly five decades later, I still consider it the "new" road because it replaced the lower six miles of road constructed by the Civilian Conservation Corps in 1933-34.

Later that year, I spent the summer at the former CCC Camp 126F site preparing a timber sale on the flanks of Cutoff Peak. In the evenings, I learned to fly fish on nearby Smith Creek.
During that season, my Idaho roots grew deeply in the decomposed granitic soil. I drank enough Smith Creek water that a few molecules may still run through my veins. I need to return often to rehydrate myself.
If you lack a deeply rooted connection with a watershed, remember that tomorrow's history starts with today's experiences. What are you waiting for?

Next, the watershed must appeal to your outdoor interests.
As a forester intrigued by fire lookouts, Smith Creek checks that box with three standing lookout towers and remnants of a couple others. The summits of Saddle Mountain and West Fork Mountain contain perhaps the only two still-standing Aermotor (metal cabin) lookout towers on the Kaniksu National Forest. The tower no longer stands on Cutoff Peak but the lookout's cabin still exists. Best of all, you can experience the life of a fire lookout by renting the Shorty Peak Lookout.
Hiking ranks as an important activity for me. Smith Creek trails lead to Shorty Peak, Cutoff Peak, Red Top Mountain, Hidden Lake, West Fork Cabin and Lake. By the way, I flagged-in the trail location to Hidden Lake in 1978 for construction by the Youth Conservation Corps. Check that box.
Fly fishing small streams checks my biggest box for outdoor pursuits. A #14 Adams fooled Smith Creek's trout nearly a half century ago just as it did last week.
Huckleberries? You betcha, but don't ask me where to find them. Hint: look for where the white pine trees grow.
Smith Creek scratches my outdoor itch. And, I will return often. But if you don't want to go that far to adopt a favorite drainage, consider one that requires less driving time from Sandpoint.
The Trestle Creek/Lightning Creek loop provides a bonus of two drainages for the price of one with its connected road system. Even if you don't drive the entire loop, September is a great time to visit the Avista property just off Highway 200 on Trestle Creek to observe the kokanee spawning. Look for an informative interpretative display coming soon to this popular site.
Two highlights of this loop include the Lunch Peak Lookout which is available for rent and Char Falls on Lightning Creek. A chain of mountain lakes in the Lightning Creek headwaters appeals to hikers and anglers alike.
Pack River ranks high as a favorite drainage for many. The magnificent views of Chimney Rock, the Beehive and Harrison Peak will impress you with the ruggedness of the Selkirk Mountains.

At the end of the Pack River Road, the trail to Harrison Lake initiates many hikers to their first mountain lake experience. Daughter Annie and I encountered a backpacking couple with an infant, a person armed with a Bowie knife and handgun, and a group of trail runners all enjoying Harrison Lake last weekend. You will seldom walk alone on this trail.
Well, it's early September with plenty of time left to visit your favorite drainage. Lacking a favorite, go test drive a couple and adopt one of them. As for me, look for my rig up Smith Creek but I'll be down at the crick with my fly rod.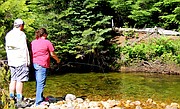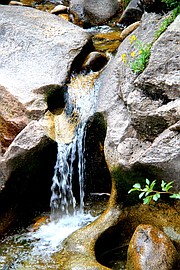 ---