Bulldogs honor four seniors, dominate Lakeland 8-0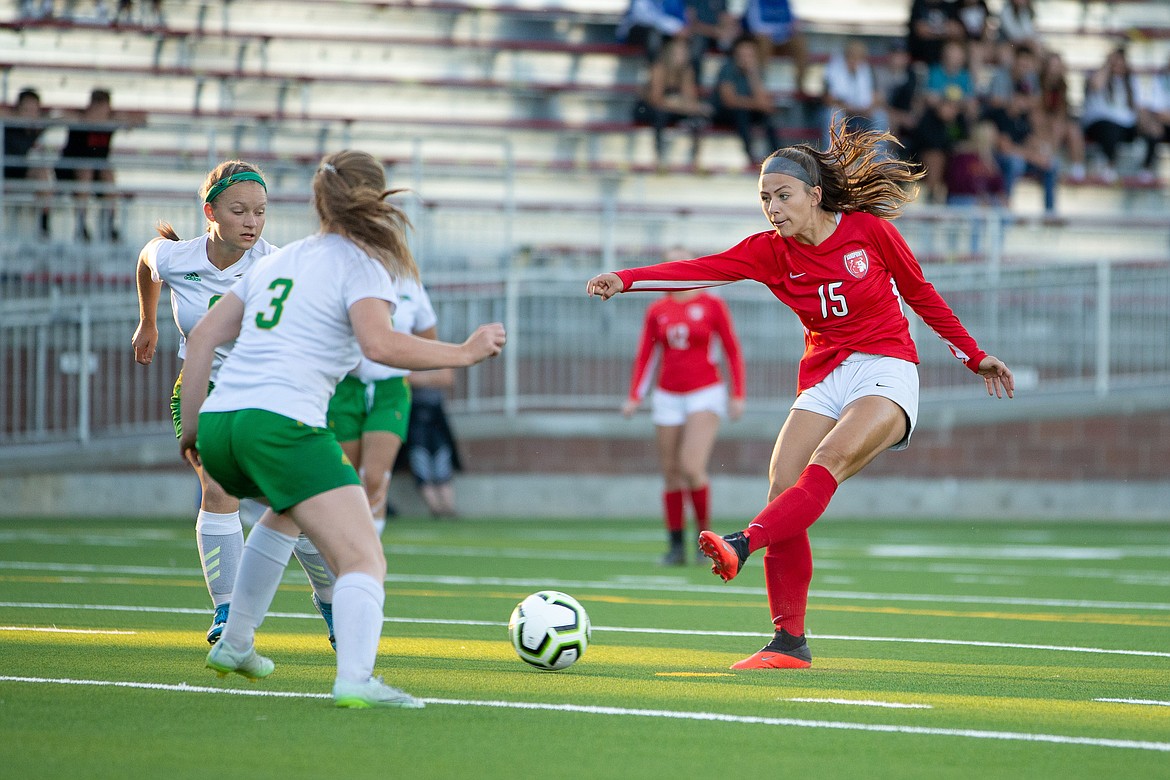 Senior forward Jordie Breeden fires a shot on net to score her second of three goals during Wednesday's win over Lakeland at War Memorial Field.
(Photo courtesy of JASON DUCHOW PHOTOGRAPHY)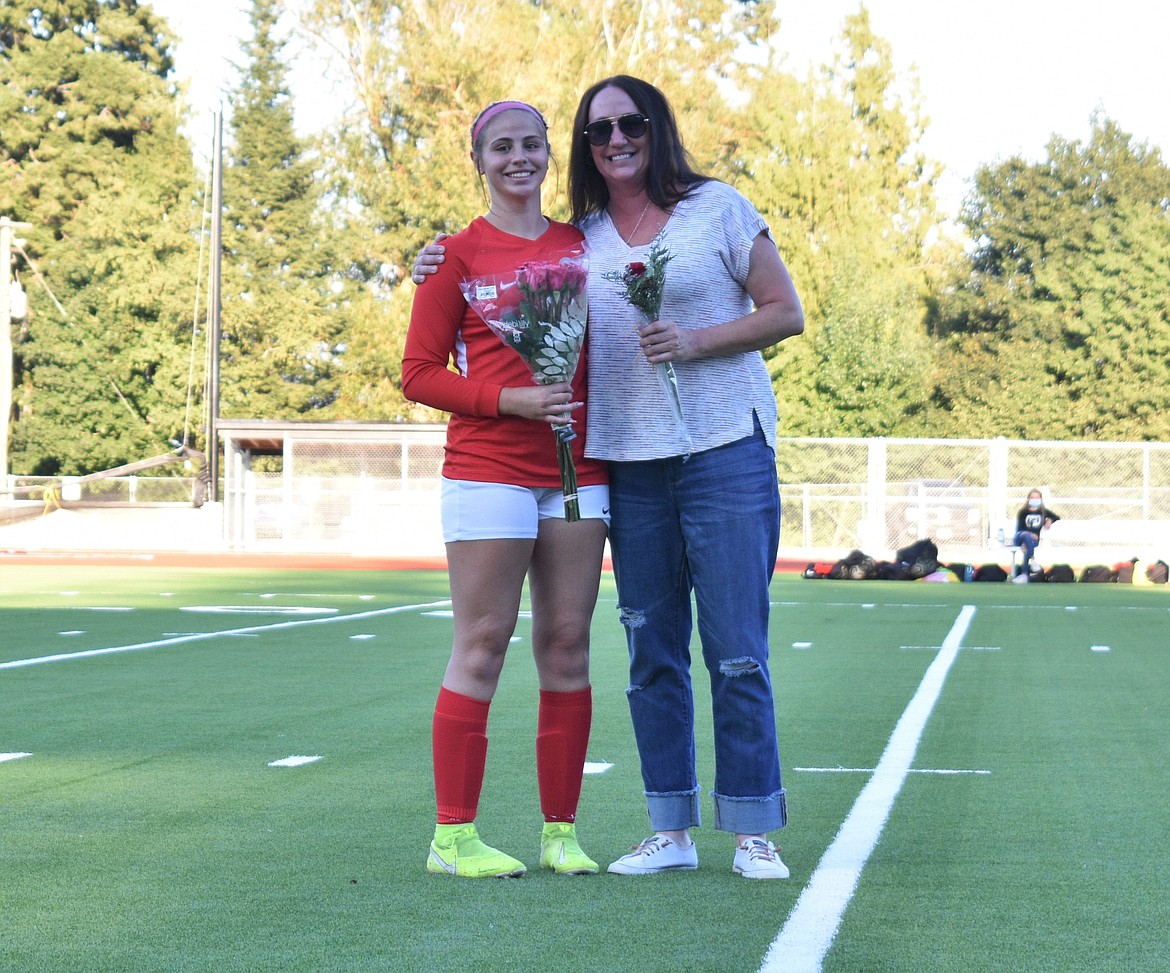 Kendall Rubright poses for a photo with her mom on senior night.
(Photo by DYLAN GREENE)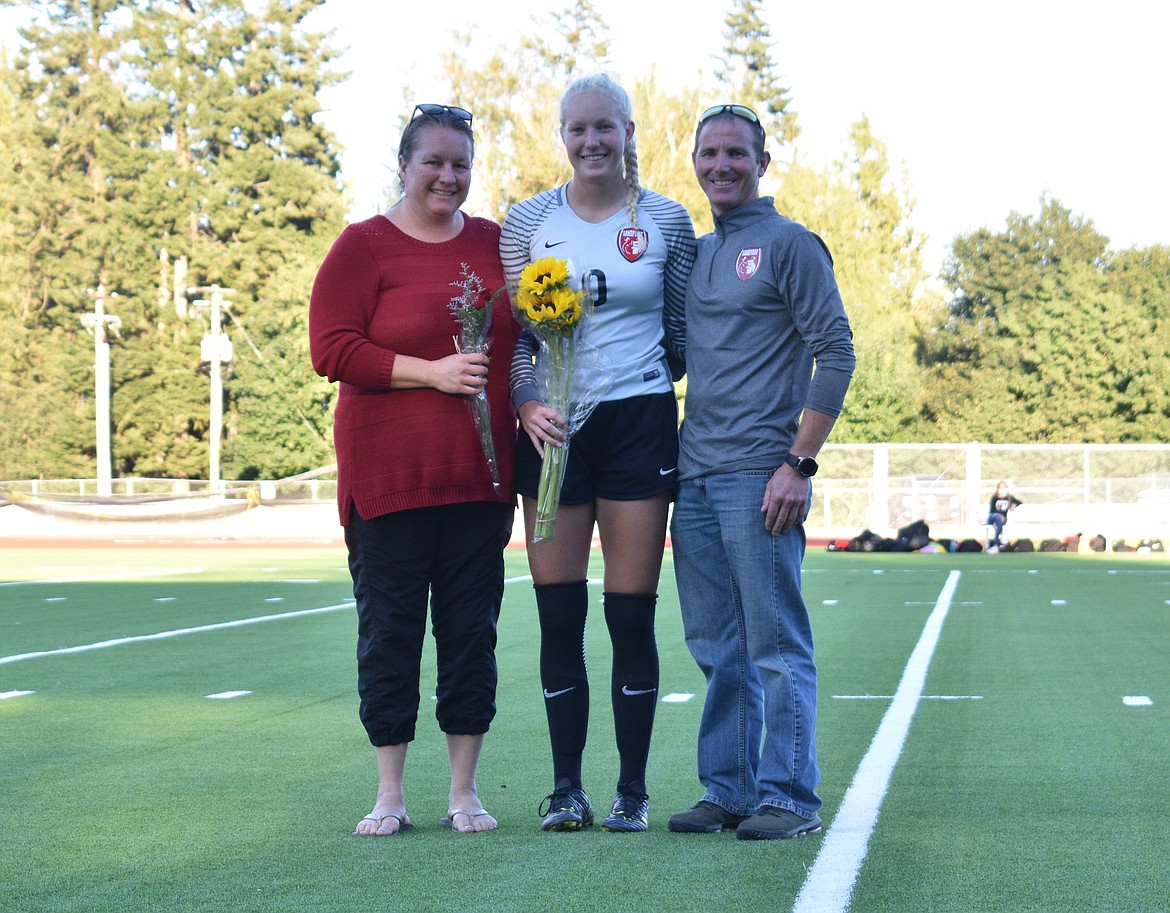 Hattie Larson poses for a photo with her family on senior night.
(Photo by DYLAN GREENE)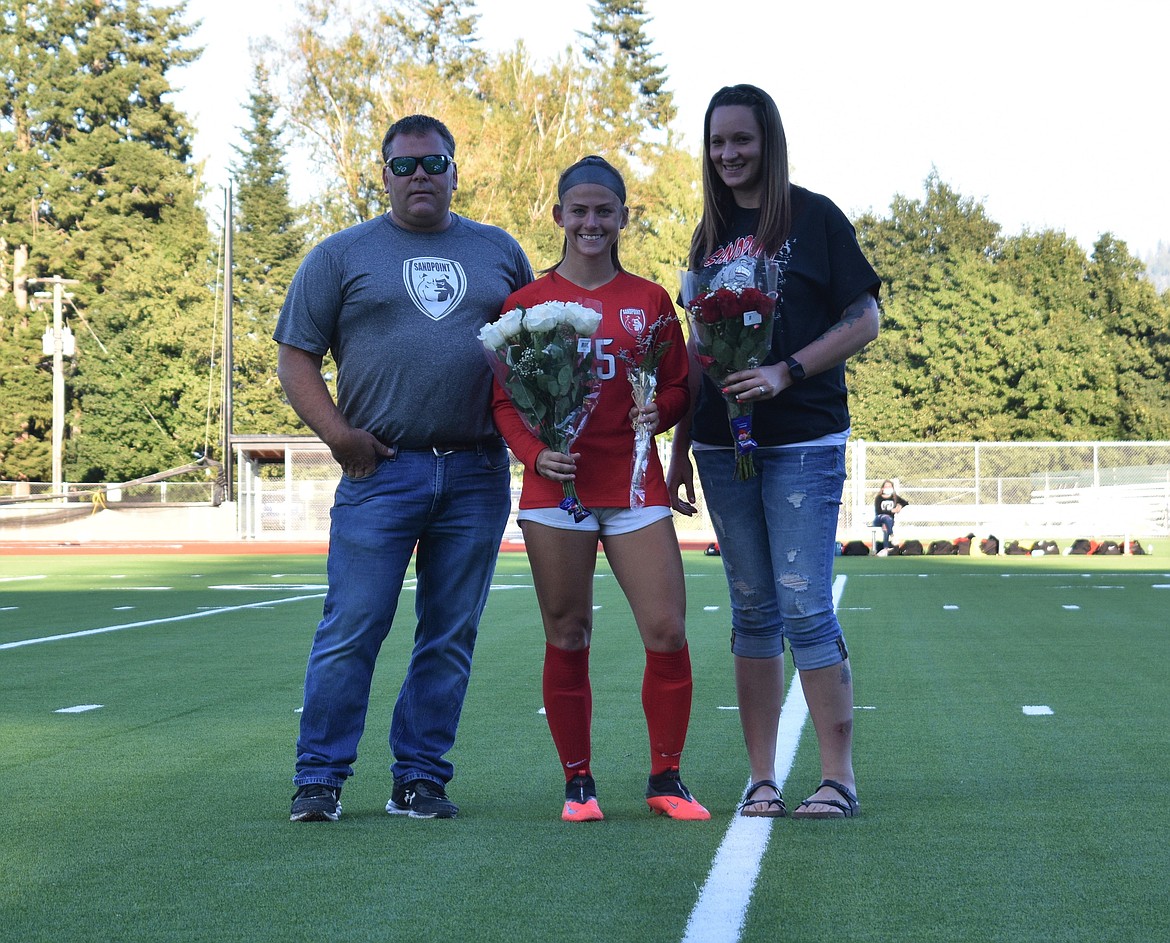 Jordie Breeden poses for a photo with her family on senior night.
(Photo by DYLAN GREENE)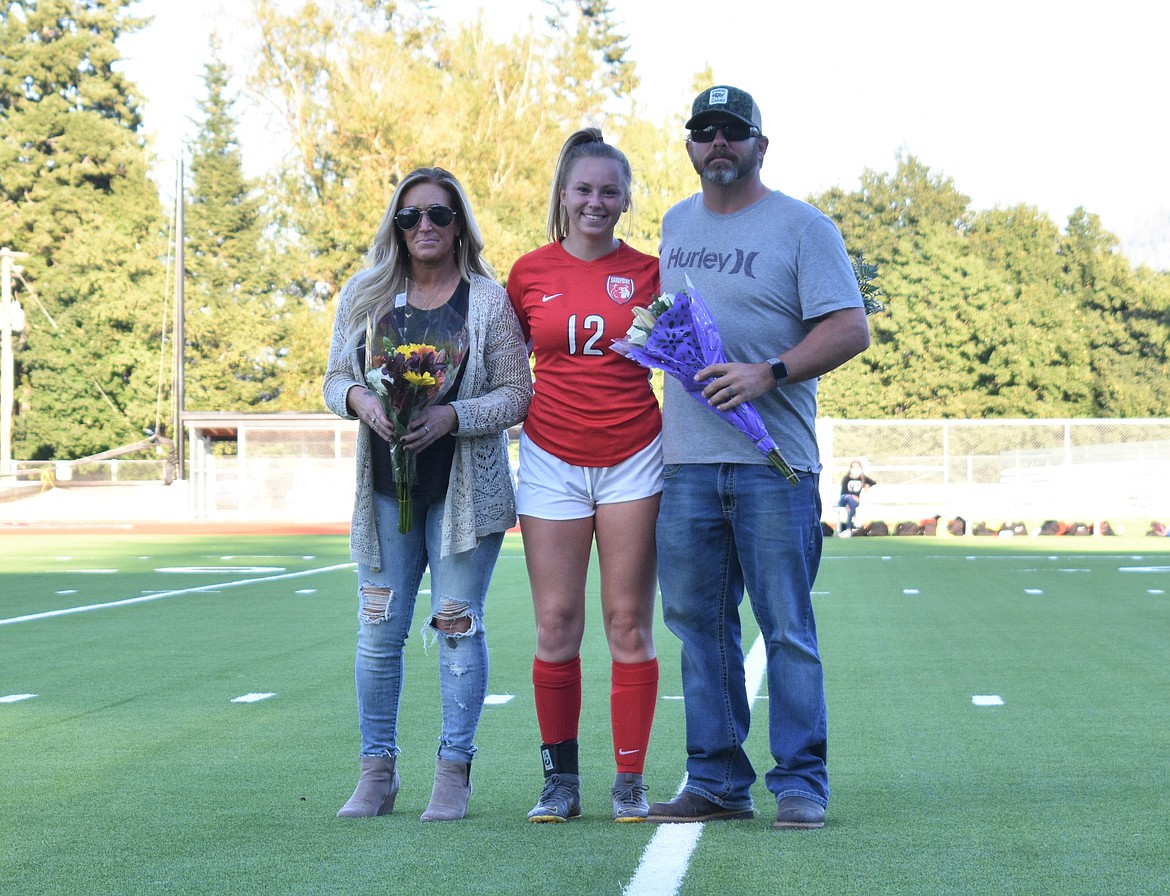 Aspen Larson poses for a photo with her family on senior night.
(Photo by DYLAN GREENE)
Previous
Next
by
DYLAN GREENE
Sports Editor
|
September 9, 2020 11:01 PM
SANDPOINT — Sandpoint girls soccer put on a show Wednesday night at War Memorial Field.
Senior forward Jordie Breeden dominated scoring three goals and assisting on two more all in the first half to help the Bulldogs roll to an 8-0 win over Lakeland.
Breeden scored her hat trick 15 minutes into the match and she was happy to lead her team on senior night.
"I wasn't expecting to score in the first 20 seconds of the game but it feels so good to just be a senior," she said after the game. "We were having fun out there."
The Bulldogs honored Breeden and the team's three other seniors — Kendall Rubright, Aspen Larson and Hattie Larson — prior to the match.
Head coach Conor Baranski said he was glad the Bulldogs were able to celebrate the seniors and walk away with the win. Baranski said senior night is always a reminder to the younger players to soak it all in.
"It all goes so fast," he said, "so we just try to have that be a reminder of we got to live in the moment and enjoy it because it all is over too quickly as these seniors know."
Hattie returned to her spot at goalkeeper after missing last Thursday's home game against Coeur d'Alene due to a dislocated finger. She only grasped the ball twice during the game against the Hawks.
The first came when she picked up the ball to set up a goal kick. The second came when she made a save in the 54th minute on a Lakeland penalty kick. That was also the Hawks only shot of the game.
Despite the lack of action, Baranski said Hattie's presence always makes a difference.
"Having arguably the best goalkeeper in the state playing, there is an increased level of confidence for the other players," he said. "It's really comforting."
Everything was clicking for the Bulldogs against the Hawks. The team had six goals in the first half and maintained possession throughout. In the opening 40 minutes, Hattie hovered around midfield like an extra defender.
In their past two games against Coeur d'Alene and Lake City, Sandpoint scored one goal combined. But the Bulldogs had no trouble finding the back of the net Wednesday night and Breeden believes this performance will help them down the road.
"I feel like it made our team more unified," she said, "and I think moving on we'll be stronger as a team, and we found our strengths and our weaknesses today."
Kimberly Yarnell and Kylie Williams each tallied a goal and an assist for the Bulldogs and Ashlee Webster added a pair of goals. Sandpoint had 42 shots in the game.
Sandpoint (3-2, 2-2 IEL) heads to Lewiston at noon Saturday.
First half — 1, Sandpoint, Breeden (Yarnell), 1:00. 2, Sandpoint, Breeden (Piper Frank), 4:00. 3, Sandpoint, Williams (Breeden), 6:00. 4, Sandpoint, Webster (Breeden), 13:00. 5, Sandpoint, Breeden (unassisted), 15:00. 6, Sandpoint, Yarnell (Williams), 32:00. Second half — 7, Sandpoint, Aliya Strock (Charlie Morgan), 55:00. 8, Sandpoint, Webster (unassisted), 64:00.
Shots — Sandpoint 42, Lakeland 1.
Saves — Sandpoint, Hattie Larson 1. Lakeland, Jordan Hodgkins 15.
---