Sandpoint bounces back, shuts out rival Hawks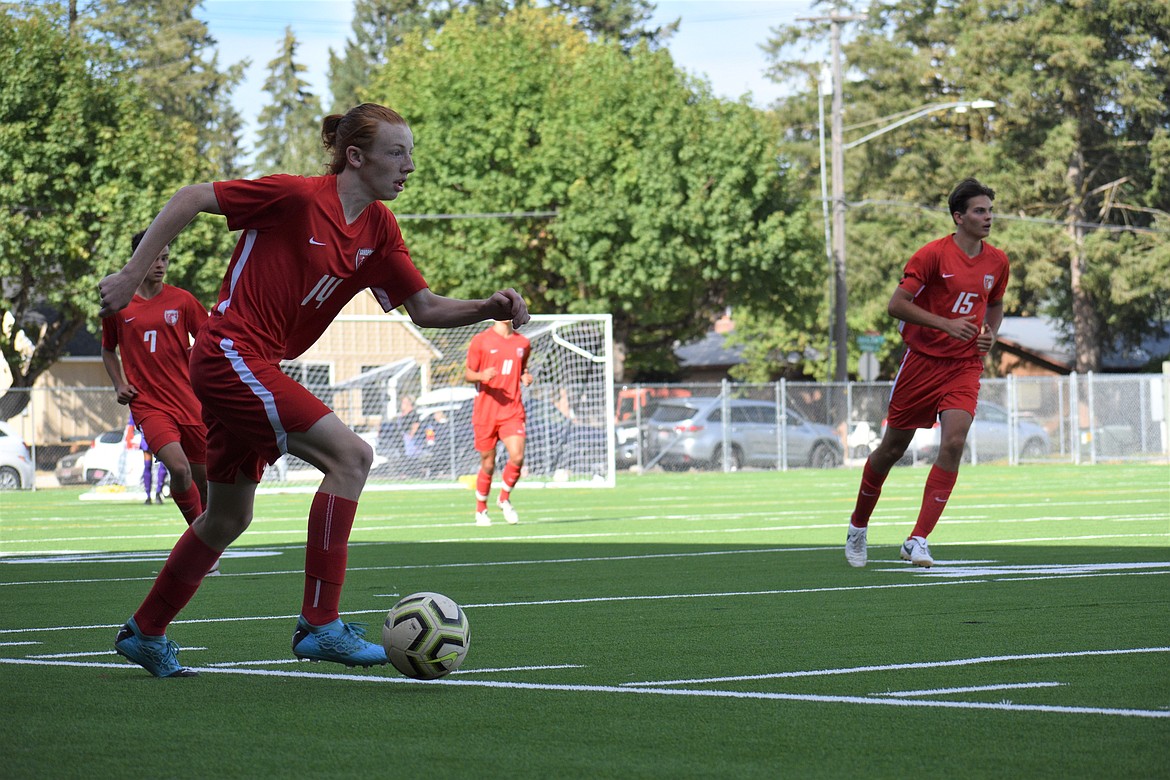 Junior Canyon Nash looks for an open teammate during a game against Post Falls on Aug. 25 at War Memorial Field.
(Photo by DYLAN GREENE)
by
DYLAN GREENE
Sports Editor
|
September 10, 2020 1:00 AM
RATHDRUM — After suffering a 7-0 defeat to Coeur d'Alene last week, Sandpoint boys soccer bounced back Wednesday picking up a 7-0 victory of their own over rival Lakeland.
"It always feels good to get your first shutout of the season," head coach Tanner French said, "and I'm proud of the boys who came off the bench. An all-around great effort to escape without injuries."
The Bulldogs scored five goals in the first half and had 15 shots on goal in the game.
Seniors Chris Koch and Zander Moore each had two goals and one assist and junior Canyon Nash tallied a goal and two assists. Junior Aidan Smith scored a pair of goals as well.
French said his team scored in a variety of ways and his back line had great communication all match.
"Regardless of the opponent, it's always good to get a game that requires a lot of mental focus," he said, "and I believe the boys had an opportunity today to possess the ball and remained vigilant at the task at hand and that is to slowly build up to districts and a state tournament to complete a full game."
Sophomore Roman Jiles had two saves in net for Sandpoint.
The Bulldogs (2-3, 2-2 IEL) play at Lewiston at 10 a.m. Saturday.
First half — 1, Sandpoint, Koch (unassisted), 4:00. 2, Sandpoint, Smith (Nash), 6:00. 3, Sandpoint, Smith (unassisted), 8:00. 4, Sandpoint, Moore (Nash), 16:00. 5, Sandpoint, Koch (Moore), 19:00. Second half — 6, Sandpoint, Moore (free kick), 51:00. 7, Sandpoint, Nash (Koch), 72:00.
Shots — Sandpoint 15, Lakeland 3.
Saves — Sandpoint, Roman Jiles 2. Lakeland, Bradley Munson 5.
---