LPOSD, Little talk learning, pandemics and funding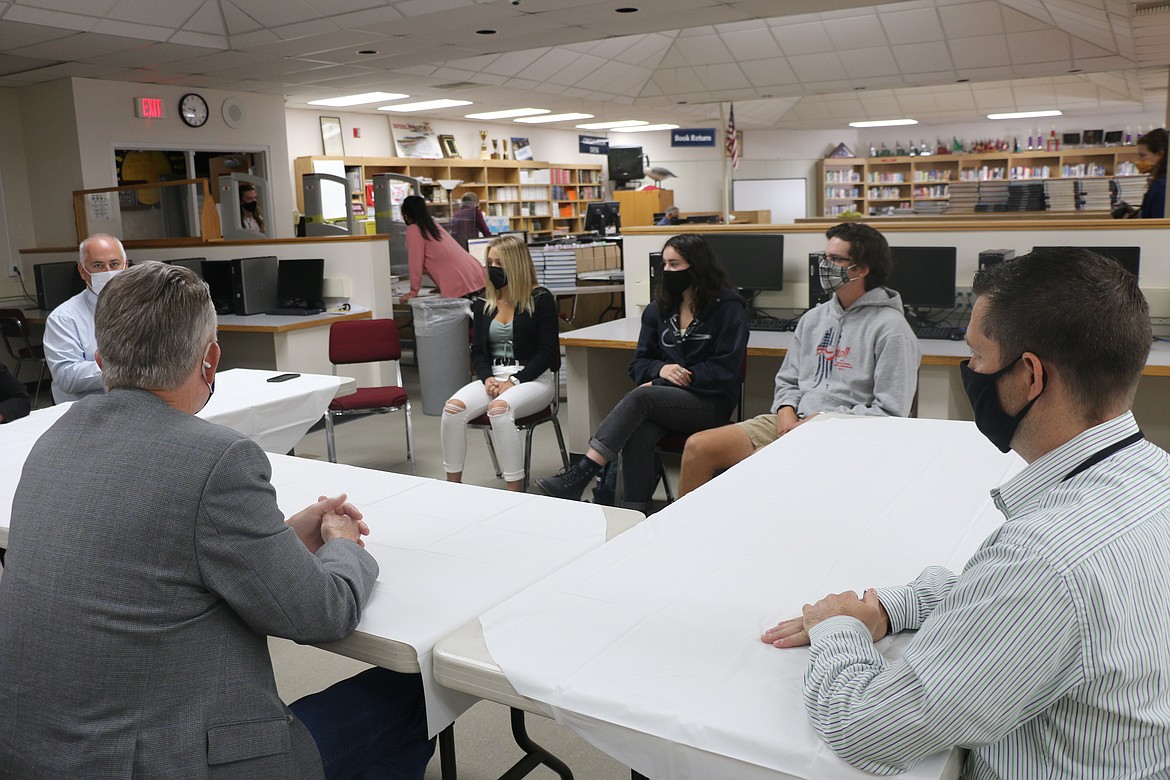 Sandpoint High School seniors Autumn Morgan, Baxter Pollard and Connor Bird talk to Idaho Governor Brad Little, center, about what it's been like going to school in the age of the novel coronavirus pandemic as Lake Pend Oreille School District Superintendent Tom Albertson, left, and Sandpoint High School principal David Miles, right, listen.
(Photo by CAROLINE LOBSINGER)
by
CAROLINE LOBSINGER
Staff Writer
|
September 10, 2020 1:00 AM
SANDPOINT — If there is one thing the state can do to help school districts it would be to somehow factor in the pandemic into the mix when it comes to attendance and funding.
"If I could ask one thing from the state, is how do you help us through potential funding issues this year," Lake Pend Oreille School District Superintendent Tom Albertson told Gov. Brad Little during the Idaho leader's visit to Sandpoint High School Wednesday. "Because what I don't want to do is cut Career Technical Education programs and cut staffing just to meet a budget thing just because we're down 300 students that we know will be back.
"So to me, how do we stay whole if you can, with what student opportunities are. After all we're in the business of student opportunities."
"Message received and delivered," Little responded.
Little made the trip to Sandpoint to speak to LPOSD educators and students about how the school year is looking and to find out how the district has been impacted by the novel coronavirus pandemic. The Idaho governor will be holding a press conference Friday regarding education funding and supporting the state's parents.
Asked by Little how the state could keep potential funding from keeping districts from creating incentives for students not to go to school, Albertson said it was up to the districts in a competitive education market to provide the best opportunities for students.
"Our track record speaks for itself on the education our students are getting," Albertson said. "I think our job is to compete out there and never would we ever just sit back and [do nothing.]"
If the funding issue isn't addressed, Albertson told Little it could be a $600,000 hit to the district, forcing cuts to Career Technical Education and other key programs as well as potential staffing cuts.
Former Idaho Sen. Shawn Keough, now serving on the Idaho Board of Education, said several options are being considered, including giving districts more than a 3% variance in enrollment before funding is impacted.
LPOSD officials and Sandpoint High School staff and students updated the governor on the district's reopening plan. They told Little that the plan — crafted in coordination with local health officials and its teachers association — has a straightforward premise.
"Our plan is designed literally to keep schools open," Albertson said. As a result all the safety measures and schedule changes were made with the goal that the students are better off in school than not.
At the elementary level, there is a strong cohort component — with students being kept in their classroom. Under the blended learning model, the students attend class from 8 a.m. to 1 p.m. with the ability to access Google Classroom as part of a school learning management system as appropriate.
At the secondary level, the school switched from its A/B schedule to a four-block schedule to minimize the number of students each student had contact with to limit potential exposure.
Albertson said roughly 255 elementary and 72 secondary students made the decision not to enroll in LPOSD schools this year. Some enrolled in alternative online programs, others are being homeschooled and some may not be doing anything. The students represent roughly 9% of the district's enrollment from last year.
Some may be waiting to see how things shake out in a few weeks, added Lake Pend Oreille School Board member Geraldine Lewis.
"It's early yet," she added. "I think our enrollment is going to fluctuate all year just given the situation we're in."
While access to the internet can be a problem, a lot of that has to be with the size of the school district and the country's geography which keeps some families from getting the service even if they can afford it.
"That's why it was so important for us to get the schools open and why our plan is all centered around getting kids to school," Albertson said. "Even if we were to go to a red plan, our red … is going to look a lot different than what happened in the spring."
LPOSD officials told the governor that the hardship of the distance learning wasn't just about child care, it was parents recognizing they didn't have the knowledge to teach or motivate their children.
SHS seniors Connor Bird, Baxter Pollard and Autumn Morgan told the governor that the biggest change is the shortened school day and not seeing as many people as they are used to seeing.
"Yesterday it seemed like it was gone in the blink of an eye, when usually the first day of school seems to drag on," Bird said. "It was gone fast and I just hope that I'm able to still learn during that time but I think we'll be able to."
Not being around the same number of people or switching classes every other day might take some getting used to, Pollard said.
"Obviously going to be an adjustment and it's for the safety of everyone but it's just weird," she added.
While the going is early, Albertson said he has faith in the staff to handle any challenges that come up, that there was no need to hit the panic button.
"Our teachers are great at what they do," he said in response to a question by Little on what they district would do if it became apparent a concept had been missed due to the pandemic. "If they see the holes, they can do a mini-lesson as they're going to try and backfill any of those gaps that they start to see. I have a lot of confidence in them."
---