Sandpoint volleyball falls in three sets to Vikings
by
DYLAN GREENE
Sports Editor
|
September 10, 2020 10:41 PM
SANDPOINT — From the opening serve, it was all Coeur d'Alene on Thursday night at Les Rogers Court.
The Vikings sailed to a three set win over Sandpoint volleyball, 25-10, 25-15, 25-11.
It's the Bulldogs fifth straight loss to start the season and the team has yet to win a set this fall.
The Vikings height, power and accuracy gave the Bulldogs trouble all match. Whenever it seemed like Sandpoint was building momentum, Coeur d'Alene had an answer.
"The biggest thing that I see is our inability to stop hitters," head coach Karen Alsager said. "We work on it in practice, we try to slow it down, we try to talk it through, but we don't have a gun to hit at us ... It is a little discouraging because you feel a little bit helpless there but nothing you can do about it, except keep working on it."
Alsager said the Bulldogs went down to Coeur d'Alene and scouted the Vikings so they knew they were athletic, they just didn't execute their game plan.
The Vikings hitters were able to get the ball over Sandpoint's blockers most of the night and that puts a lot of pressure on the players in the back row, Alsager said.
"It's hard because without that block, for the defense there's just too much court for them to defend," she said, "so I think that's when you see the hits going down without being touched. There's four hands that are supposed to be up there ... we're just going to have to keep banging away at it."
Coeur d'Alene stormed ahead 10-3 in the first set forcing Alsager to use an early timeout to try and get her team back on track. But the Bulldogs were never able to rebound from the early deficit.
Senior Gabby Hicks opened the second set with a kill and three straight aces to give the Sandpoint faithful life. However, Coeur d'Alene fought back and grabbed a second set win.
The third set went much like the first for the Bulldogs as they were never able to find their footing.
Hicks finished with 12 digs, four kills and one block to go along with her three aces. Junior Lauren Breuner had nine assists and senior Bella Phillips added a block.
Alsager said the message in the locker room after the match was don't give up and start holding each other accountable.
"It's hard to talk to your team after losing match after match," she said. "We can't stop fighting and ... let's start getting frustrated with each other in the right way, let's start demanding more of one another."
Sandpoint (0-5, 0-3 Inland Empire League) hosts rival Lakeland 7 p.m. next Thursday at Les Rogers Court.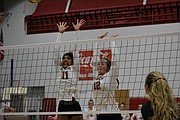 ---