Blanchard fire contained, Bayview fire climbs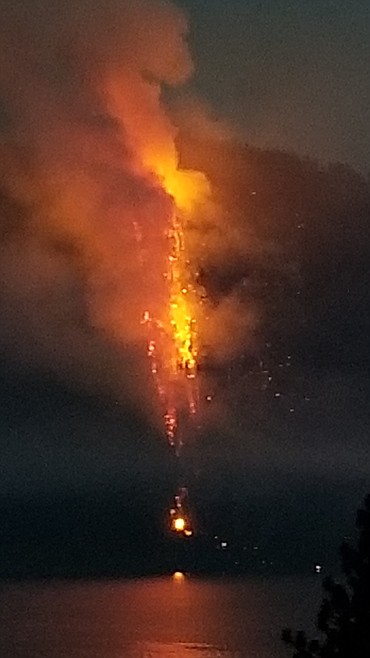 The view from an anonymous Bayview resident's lens, where the hills along Lake Pend Oreille continue to burn at 8 p.m. Thursday night. The Bernard Fire has now consumed 255 acres.
by
CRAIG NORTHRUP
Hagadone News Network
|
September 11, 2020 1:00 AM
Firefighters have contained the Hunter Fire near Blanchard and are encircling what's left of it.
The fire, which ignited during sharp winds on Labor Day, burned 740 acres and destroyed one home. Since then, firefighters have solidified and reinforced its perimeter and fought toward its center. While the immediate danger to Blanchard has passed — evacuation and restriction orders were lifted Wednesday — the fire is still burning, leading officials to limit travel in the area to residents only while urging people to remain aware of their surroundings.
"For your own safety, please don't walk around in burned-over areas," Karen Robinson of the Idaho Department of Lands said in a statement Thursday.
The IDL is also urging people driving in the area to slow down and keep their headlights on, as visibility is limited while firefighters and heavy equipment continue to work in the area.
Meanwhile, Forest Service and local fire district crews are working to prevent the Bernard Fire south of Bayview from spreading over the ridgeline. The fire grew another 67 acres to 255 acres Thursday night after it summited Bernard Peak earlier in the day. Crews were holding Forest Service Road 2707 as of press time while aircraft continued suppression runs to minimize spread down the mountain's western slope. Most of the fire retardant runs are attacking the western edge of the fire.
Crews are also picking up any hot spots below the Forest Service road while keeping the eastern edge — where the fire originally grew from its source Monday by the Lake Pend Oreille shoreline — from spreading.
Dry, warm weather and light winds are predicted through the weekend.
---