SHS searches for identity, first win of season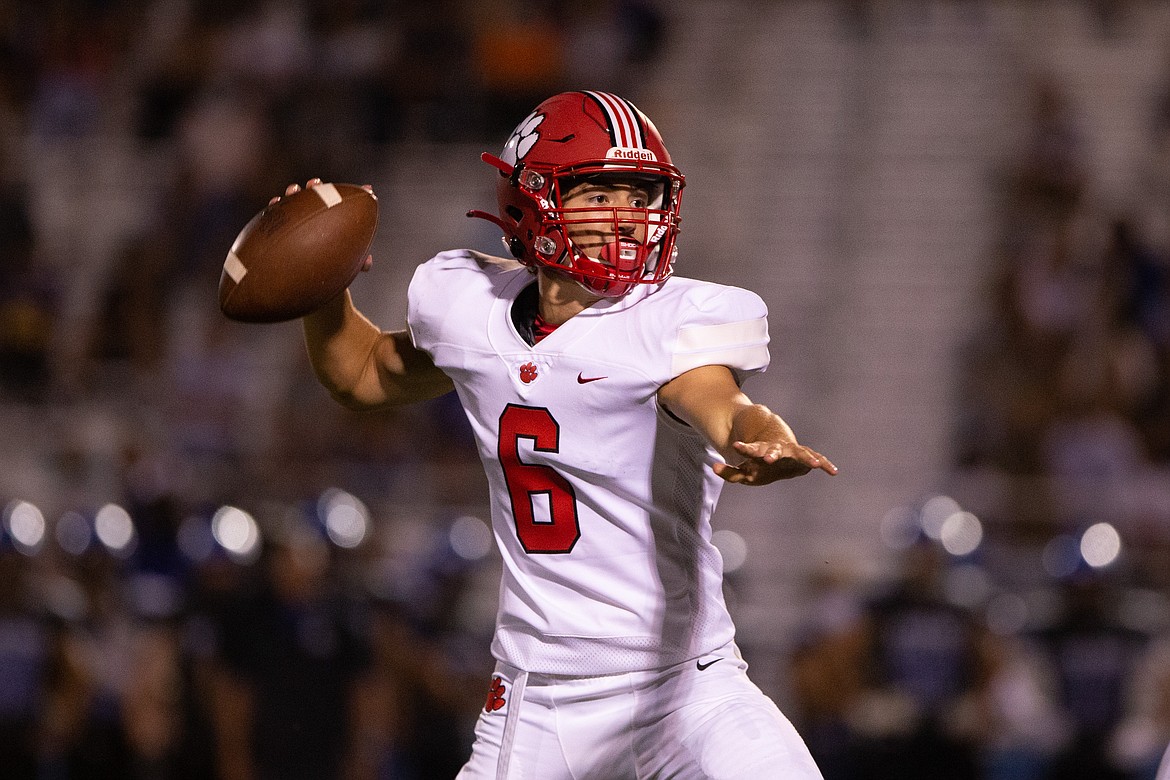 Junior quarterback Auggie Lehman drops back for a pass during last Friday's game at Coeur d'Alene.
(Photo courtesy of JASON DUCHOW PHOTOGRAPHY)
by
DYLAN GREENE
Sports Editor
|
September 11, 2020 1:00 AM
SANDPOINT — For the third straight week, Sandpoint football will face a 5A school when Lake City visits War Memorial Field tonight.
The story so far this season for the Bulldogs has been their inability to put points on the board. Through two games this season, Sandpoint has scored just seven points on offense.
Part of those struggles are a result of the opponents Sandpoint has faced — Post Falls and Coeur d'Alene. Facing two tough defenses right off the bat after an offseason of uncertainty and lack of contact has made breaking in four new starters on the offensive line an uphill battle.
"It's a total work in progress," head coach Ryan Knowles said about the offensive line. "We knew it was going to be and with not getting live reps until the season starts and opening up with the best teams in 5A in the area, it's tough to get traction, so I think we're putting the puzzle together here and I think we're going to figure it out here real quick. Things are already starting to sort themselves out."
Last week, Coeur d'Alene, the No. 1 team in 5A, handed the Bulldogs a crushing 55-0 loss. The Vikings had 407 total yards on offense while Sandpoint managed just 149.
"For some reason we let the reputation of a very good Coeur d'Alene program affect our movements, our actions and our execution," Knowles said.
Sophomore Parker Pettit and junior Auggie Lehman split time at quarterback for the Bulldogs against Coeur d'Alene while junior Gerrit Cox moved back to his natural spot in the backfield after starting at quarterback in the season opener.
There were flashes on offense, but nothing sustainable and Knowles admitted the team is still trying to find an identity on offense.

"I said after the game, 'I'm not sure who we are right now,'" he said.
Knowles took ownership of last Friday's loss. He said he's been looking at what he can do better to prepare his team and he added that everyone took a step back as they continue to look for solutions.
"There's been a lot of searching this week," he said.
This week doesn't get any easier for the Bulldogs. Lake City is 1-1 this season and is fresh off a wild shootout with Lewiston. The Timberwolves lost 58-50 to the Bengals but star quarterback Chris Irvin completed 29 of 48 passes for 489 yards and six touchdowns.
Lake City lives and dies by the air attack and the Bulldogs will need to cog the passing lanes if they want to have any chance of slowing down the Timberwolves.
Knowles said Irvin will be difficult to stop and they need to keep him in the pocket and prevent him from rolling out on the perimeter.
"He's their dude," Knowles said. "He's got a rocket arm. He can probably throw the ball 70, 80 yards is my guess. On film, he throws it 50 on the run, so we got to be able to cover some deep balls and he doesn't mind taking a hit … The reality of it is, they're probably going to go as he goes."
Last season, Sandpoint took down Lake City 39-14 at War Memorial Field. This will be the first of two matchups between these teams this fall after COVID-19 shook up both schools schedules. The Bulldogs will head to Lake City on Oct. 2.
Knowles said his team is focusing on one week at a time and putting together a complete game against the Timberwolves.
"What we need now is just a good game of execution," he said, "and make another team beat us. Like I always say, 'If you make the other team beat you, there's a good chance they won't.'"
Kickoff is set for 7 p.m. tonight. You can listen to the game on AM 1400 KSPT or ROCK 103. The game will also be livestreamed on Sportscope. The cost to watch is $5 per game.
---