Boston Marathon gets a Bonner County flair
by
DYLAN GREENE
Sports Editor
|
September 12, 2020 1:00 AM
SANDPOINT — It's the first time in the 123-year history of the Boston Marathon that runners won't be racing through the city's famed streets.
However, not even a pandemic could stop event organizers from coming up with a way for runners to participate in the marathon.
So now, about 30,000 runners around the world are participating in the Boston Marathon virtually from Sept. 5 until Monday. And this weekend two runners will be competing in the 26.2-mile race locally.
The first is 78-year-old Carol Wright, who has lived in the area for more than 30 years. She's run in the Boston Marathon every year since 2016.
The second is 54-year-old Robyn Godfrey, who lives in Wilmington, North Carolina, but landed in Spokane on Thursday morning to prepare to run her virtual Boston Marathon through Sandpoint.
The pair took different journeys to participate in this year's marathon, but they will be connected this weekend when they bring Boston to Bonner County.
"I just want to keep going to Boston for as long as I can," Wright said.
A late start that inspires all
Wright got a bit of a late start to running in races, not starting until she was 70.
She has been active her whole life and run a mile here or there, but nothing competitive. It wasn't until her younger daughter, Ami Griffin, asked her to run in a half-marathon that Wright discovered a newfound love.
"I started to support [my daughter] and she doesn't run anymore, but I got the bug," Wright said.
She began training with running coach, Mike Ehredt, and she has now ran in 12 marathons since turning 73 years old.
Ehredt, who ran in the Boston Marathon himself several times, got Wright interested in participating in one of the most storied marathons out there.
She tried qualifying for the event in 2014 but just missed out. A year later, she broke through and she ran in the 2016 Boston Marathon on a team put together by Hyland's Homeopathic.
"They treat us like professional athletes," Wright said about Hyland's. "It's really wonderful."
When Wright learned this year's marathon was being canceled and replaced with a virtual format, she was disappointed because there's nothing that compares to the excitement around the Boston Marathon.
However, she decided she was not going to let her Boston Marathon streak be ended by a pandemic.
"Their theory is you can't come to us, so we're going to come to you and we want Boston all over the U.S. and countries around the world," she said.
Wright will compete in her virtual race starting at 6 a.m. Sunday morning. Wright will run back and forth on a 4.5-mile stretch of Denton Road in Hope.
Wright said they've tried to make the course as much like Boston as they can. There will be mile markers, aid stations and an authentic Boston Marathon finish line at the end. The surroundings will be much different, but in many ways it will feel the same.
"My friends have done the work, now I just got to get out and run it," Wright said.
Wright expects 20-25 people to be on hand to cheer her on during the marathon and she said the support she's received from the running community in Sandpoint has been amazing.
"I don't think I could get out and run 26 miles by myself and just keep it up," she said. "Even when I'm out training and running on the streets, somebody passes that knows you and they honk and wave and it just picks your spirits up. If you're tired, then the tiredness doesn't feel the same anymore. Having people out there is fabulous."
Wright's story is an inspiration to all and she doesn't plan on stopping anytime soon.
"I'm a little bit slower now then I was six years ago," she joked.
Pandemic or not, Godfrey's pursuit carries on
Godfrey also got a late start on running in marathons.
"I really started from scratch like everybody does," she said.
Godfrey grew up in Kansas City, Missouri, and is an outdoorsy person at heart, but she hadn't run much until a friend asked her to take part in a 10K in Charleston, South Carolina.
In her mid-40s at the time, Godfrey decided she wasn't just going to wing it. Instead, she wanted to train and give it her all.
It just took that one race and she was hooked. Godfrey joined a running club in Wilmington and got into running half-marathons. She even competed in five races in one year.
Then, in 2016 when Godfrey turned 50, she decided she wanted a challenge, so she ran in her first marathon — the London Marathon.
"I wanted to do something really outside my comfort zone and … it was great," she said. "I had the time of my life."
While she was preparing for her first marathon, a friend of Godfrey's told her about the Six Star Finisher Medal, one of the most exclusive prizes in the running world. The medal is awarded to anyone who runs all six of the World Marathon Majors in Berlin, Boston, Chicago, London, Tokyo and New York.
Since, Godfrey has been on a mission to compete in all six. In 2017, she ran in the Chicago Marathon and the following year she traveled to Berlin.
"I never thought in a million years I'd be a runner," she said. "It's become really therapeutic for me."
With half the races off the list, Godfrey was offered an opportunity last fall to compete in this year's Boston Marathon while running for charity. Godfrey will be running to support the 26.2 Foundation, a non-profit in Hopkinton, Massachusetts, that promotes education, fitness and health. The organization is also working to build an international marathon center that details the history of the Boston Marathon.
When the Boston Athletic Association announced the race was switching to a virtual format, Godfrey was rightfully upset. She has been training since January for a race that was originally scheduled for April that was then rescheduled to September and ultimately canceled. She paid for a coach to train her and put in the effort to raise over $8,500 for her charity to compete.
Plus, it is her chance to race in her first-ever Boston Marathon. But Godfrey decided she wasn't going to let all that time training go to waste and she felt she owed the people who donated to her a race.
It may be virtual but Godfrey plans on making the most of it.
"I'm trained to run a marathon, I might as well just do it," she said. "You just need an endgame. You need to wrap it up and put a bow on this and be done with it. I just feel like I need to do it. It's not ideal, but nothing is."
Originally, Godfrey was hoping to run the marathon virtually somewhere in Boston, but those plans fell through due to quarantine restrictions. Then two weeks ago, Barb Perusee, a Sandpoint resident for over 20 years and lifelong friend of Godfrey's, came to visit her in Wilmington.
Perusse threw out the idea that Godfrey could run the race in Sandpoint. After taking a look at the temperatures and low humidity North Idaho has to offer compared to the south, Godfrey said why not.
So now Godfrey is going to run a course in and around Sandpoint that she hadn't even seen as of Thursday afternoon.
"I don't mind having the unknown," she said. " It's almost like having a destination race, it makes it interesting."
Perusse and Alin Moss, who ran in the Boston Marathon 23 years ago, planned out the course that starts in Dover, goes down Lakeshore Drive, crosses the Long Bridge and ends at City Beach.
The B.A.A. sent out virtual toolkits to every runner and Godfrey will be wearing an official bib and the Boston Marathon finish line tape will greet her at the end.
This is only Godfrey's second time in Sandpoint. Last fall, she visited Perusse and another one of her former sorority sisters, Debbie Heiser.
"I didn't even know this place existed until they moved here," she said.
Godfrey begins her race at 6 a.m. today and she expects to cross the finish line around 10:30 a.m. She welcomes anyone that wants to come out and support her.
"If there's people out there cheering me on then that's great," she said, "and I appreciate it and it will help believe me, even if it's only like five people."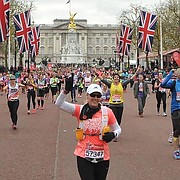 ---