Despite pandemic, libraries continue to serve the public
|
September 12, 2020 1:00 AM
In the midst of a global pandemic, with budget cuts, closures, and lay-offs, it's nice to know that libraries are still serving the public.
It's true, the physical branch locations of the East Bonner County Library District and many others around the world have been temporarily closed at times for public safety. To the extent possible, however, libraries have come up with alternative services to meet the needs of patrons.
For the remainder of September — National Library Card Sign-up Month — let's look at a few ways that libraries have impacted the lives of local community members. Today, we will talk about educational support. The next two articles in this column will demonstrate how the library has supported the citizenship and professional endeavors of patrons.
There has never been a more important time for libraries to support students. The educational landscape is uncertain. Fulfilling the educational needs of each student while limiting exposure to COVID-19 is a tall order for school officials. Every family situation is different. Some families opt for a homeschool program while others are grateful for the provisions made by the local school district.

The library has always been a source of educational support for local students and parents. Physical and digital library materials abound to augment formal and informal lessons. Librarians are still here to help students conduct research and navigate educational resources.
For families who never developed a custom of visiting the library, such opportunities for support may not come to mind. A library staff member once told me that some kids are reluctant to come to the library because they see it as work; as an extension of school. But, families who develop a relationship with their library are exposed to opportunities for discovery, connection, and lifelong learning. One patron shared her experience with us via social media recently.
"Library day at the old library was always a special day for my daughters and I. Starting when my youngest was a baby in the backpack, while my oldest would get on the little step stool in the children's room, and pick a special book — or 10 — to take to the magical little reading area. We'd bring them home and the reading would go on the rest of the day!
"Before long I found myself trying to put a limit on the number of books as there was just so much knowledge and wonder to soak up. The new library was a big change for us but we soon realized what a wonderful library it was with endless resources. Books open up a whole world of wonder and you helped me encourage my children to partake of this wonderful, yet free, lifelong love for reading and being well-educated." – Shelley O.
She went on to mention the helpful staff and positive example they set for her children. She and at least one of her children went on to serve as library volunteers.
There are countless more stories of patrons who overcame educational disadvantages with help from library staff, services, and resources. Many people have earned their online degrees using library materials, computers, WiFi, and test proctoring. Many of these ones have told us that the library made their achievements possible.
This National Library Card Sign-up Month, make a point of using your library card and encouraging someone else to do so. You can still thrive during a global pandemic when you take advantage of your opportunities for discovery, connection, and lifelong learning from the library.
UPDATES:
All branches of the East Bonner County Library District are now open at their regular hours of operation. Some services are limited and some are even better. Visit www.ebonnerlibrary.org for details and the latest updates.
National Library Card Sign-up Month - Enter to win prizes by getting or renewing a card or referring us to a friend. Learn more from our friendly staff or read our post in The Library Blog on our website for details.
EVENTS:
Homework Club — Monday through Friday, 1-4 p.m. in the Community Room at the Sandpoint branch. Dedicated time, space, staff, and high-speed internet for students to do school work in a socially distanced environment. Info: kimber@ebonnerlibrary.org or 208-263-6930, ext. 1211.
Hoopla Book Club LIVE! — Tuesday, Sept. 15 at 4 p.m. via Facebook Live at www.facebook.com/hoopladigital. Borrow the Book Club Spotlight, "The Bear" in eBook or audiobook format from Hoopla in The Digital Library at ebonnerlibrary.org. Then, join us for the digital discussion featuring the author, Andrew Krivak!
Check our website Events Calendar for our schedule of digital events at ebonnerlibrary.org.
StoryWalk — At Dover City Park enjoy "Someday We Will" by Pam Webb, and "Dinosaur Roar!"" by Paul and Henrietta Stickland at McNearney Park in Ponderay. Titles are updated monthly and posted at facebook.com/BonnerStoryWalk.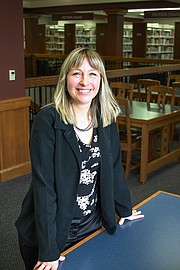 ---