Sandpoint defense rises up in closing seconds to lift Bulldogs to 20-15 win over Lake City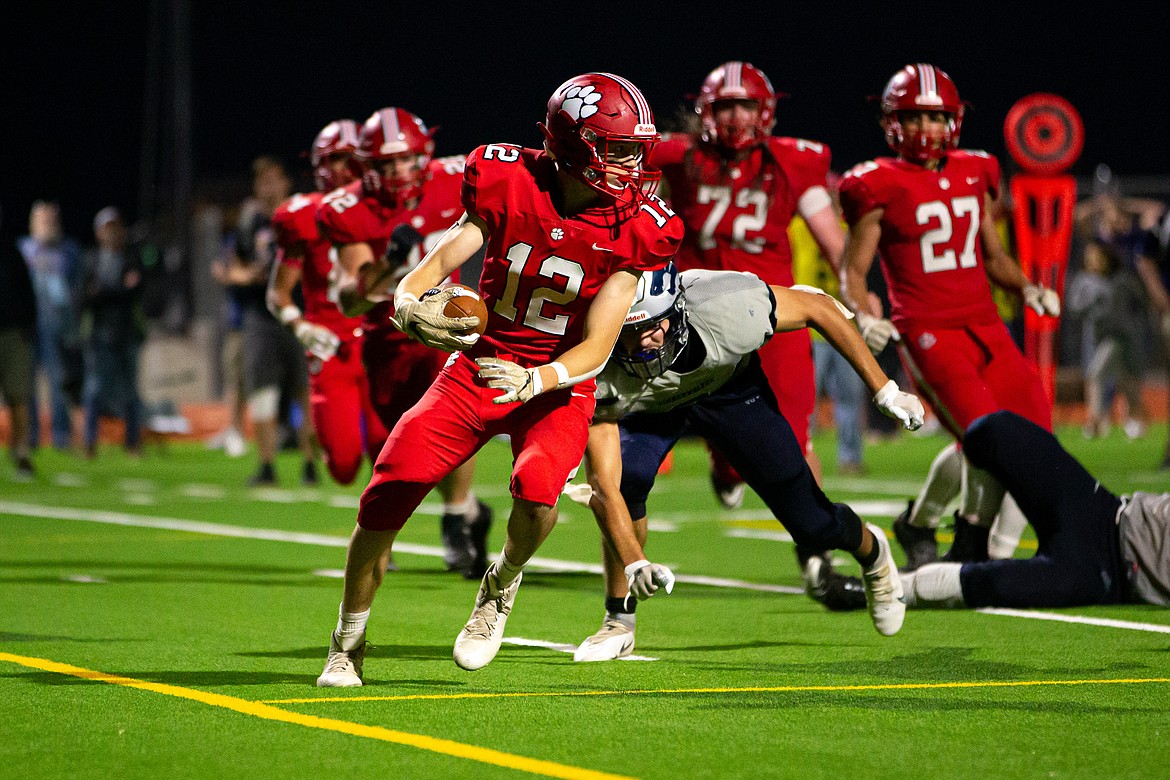 Senior Trevan Adam comes down with an interception with 15 seconds left to seal the 20-15 win over Lake City on Friday at War Memorial Field.
(Photo courtesy of JASON DUCHOW PHOTOGRAPHY)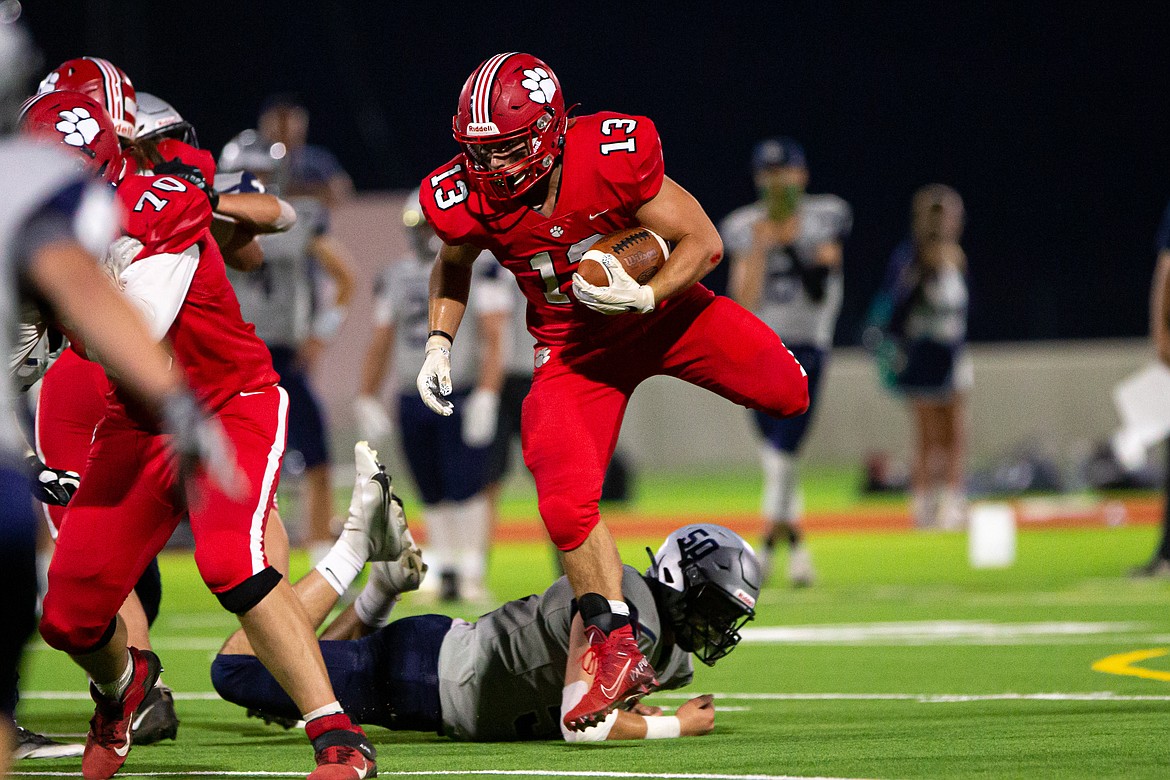 Junior running back Gerrit Cox leaps over a Lake City defender during Friday night's game.
(Photo courtesy of JASON DUCHOW PHOTOGRAPHY)
Previous
Next
by
DYLAN GREENE
Sports Editor
|
September 12, 2020 12:06 AM
SANDPOINT — With 20 seconds left and Lake City at the SHS 4-yard line, the Bulldogs needed a hero to prevent the Timberwolves from crossing the goal line and stealing the win. Luckily, senior defensive back Trevan Adam rose to the occasion.
Lake City quarterback Chris Irvin scrambled to his right, threw a ball into the end zone while under pressure and Adam went up with one hand and snatched the ball out of the air to seal a 20-15 victory over the Timberwolves with 15 seconds left on Friday night at War Memorial Field.
Adam said he lost his voice from celebrating after making that interception and it felt amazing to secure the win for his team.
"We called that timeout and we came to the sideline and we knew we had to make something happen," he said, "and sure enough the quarterback was getting hit and he tried to throw the ball on that out and we just made the play. I'm just glad I had the teammates out there to help me out and make it happen because we needed that big win."
The Sandpoint defense came up huge all night and forced Lake City to throw four interceptions, including two in the end zone.
"Our boys stepped up and just fought tooth and nail until the last little bit," head coach Ryan Knowles said, "and we talked about turnovers. It had to happen and those four interceptions are obviously the difference."
The Bulldogs held Lake City scoreless in the second half and stopped them twice in the red zone. Sandpoint shut down the Timberwolves rushing attack, allowing just 24 yards on 22 carries. Irvin, who threw for six touchdowns and nearly 500 yards in Lake City's last game, was held to 293 yards through the air and just one touchdown.
"We talk a lot about toughness and the red zone is the ultimate display of toughness," Knowles said. "To stand tall at the goal line and finish, that's the ultimate sign of toughness on the football field. I'm proud of the defense."
Sophomore Parker Pettit started at quarterback for the Bulldogs and made his presence known early. On a 3rd and 26 from the SHS 34-yard-line, Pettit dropped back and threw a dime to senior Elijah Larson in the end zone to give Sandpoint a 7-0 lead with 3:33 left in the first quarter.
Lake City came right back and drove down the field to the SHS 5-yard line. Three plays later, running back Uriah Chavez pounded the ball in from a yard out. The Timberwolves then faked the extra point and converted the two-point conversion to go up 8-7.
On the ensuing drive with seconds left in the opening quarter, the Bulldogs fumbled on a handoff and Lake City recovered at the SHS 24. But five players later, Sandpoint forced its first turnover of the season when junior Cody Steiger picked off a pass by Irvin in the end zone to give the ball back to the offense.
The Bulldogs capitalized on the turnover and put together an 11-play, 83-yard drive that ended with a Pettit 14-yard touchdown pass to senior Max Thielbahr. Sandpoint took a 14-8 lead.
But with 11 seconds left to go in the half, Lake City scored to take a 15-14 advantage into halftime.
The teams traded three and outs to open the second half. Then on a 2nd and 10 from the Lake City 43 for the Timberwolves, Steiger got his second interception of the night with 7:45 left in the third quarter. Three plays later on a third and long from the SHS 33, Pettit launched a ball down the right sideline and found sophomore Cody Newhart for a 57-yard touchdown. The score proved to be the game winner.
Pettit completed 11 of his 20 passes for 167 yards and three touchdowns. Junior Gerrit Cox had 106 rushing yards and Newhart caught three balls for 67 yards. Sophomore linebacker Wes Benefield had the other interception for the Bulldogs.
Knowles said he saw some great things from the offense, but they need to clean up the penalties.
"There were times where you could feel them, you could feel the offensive explosion, you could feel the line pushing, you could feel Gerrit Cox churning out yards and falling forward," he said.
Knowles said this win will give his team some much needed confidence.
"We'll celebrate for a minute here and then it's back to work because this ride is not going to get any easier for what we want to do," he said. "We needed it. It's been a rough road so far."
Adam is excited the Bulldogs got a win under their belt, but he's not satisfied with one.
"It's going to be our momentum breaker," he said. "Now we're just going to keep rolling through team after team."
The Victory Bell rang for the first time this season and John Denver's "Take Me Home, Country Roads," was on full volume after the game. Knowles loved the sound of it all.
"I'm not going to lie, I get a little emotional about it," Knowles said about hearing the Victory Bell ring. "It's so much work and that's the ultimate reward as a team to celebrate and sing country roads."
Sandpoint (1-2) hosts Minico 7 p.m. next Friday at War Memorial Field.
Q1 Q2 Q3 Q4 Game
SHS 7 7 6 0 20
LC 8 7 0 0 15
First quarter
SHS: Elijah Larson 34 yd pass from Parker Pettit (Elek Christoferson kick)
LC: Uriah Chavez 2 yd run (Jason Weaver run)
Second quarter
SHS: Max Theilbahr 14 yd pass from Parker Pettit (Elek Christoferson kick)
LC: Matthew Whitcomb 16 yd pass from Chris IrvIn (kick good)
Third quarter
SHS: Cody Newhart 57 yd pass from Parker Pettit (kick fail)
Individual stats:
SHS passing: Pettit 11-20, 167, 3-0.
SHS rushing: Gerrit Cox 22-106, Parker Pettit 9-1, Tag Benefield 2-6
SHS receiving: Gerrit Cox 2-13, Cody Newhart 3-67, Braden Kappen 1-10, Elijah Larson 2-35, Max Thielbahr 3-42
SHS PR: Conner Gallaher 1-6
SHS KOR: Braden Kappen 2-47, Peyton Ennis 1-14, Conner Gallaher 1-15
LC passing: Irvin 25-42, 293, 1-4.
LC rushing: Chris Irvin 6-(-7), Uriah Chavez 13-15, Steven Christman 1-4, Xander Webb 2-13
LC receiving: Josiah Weaver 1-11, Steven Christman 5-41, Xander Webb 1-(-1), Matthew Whitcomb 13-181, Daniel DeBoer 4-55, Shawn Moore 1-6
LC KOR: Steven Christman 1-23, Matthew Whitcomb 1-15, Bridger Stevens 1-21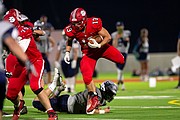 ---