No more smoke breaks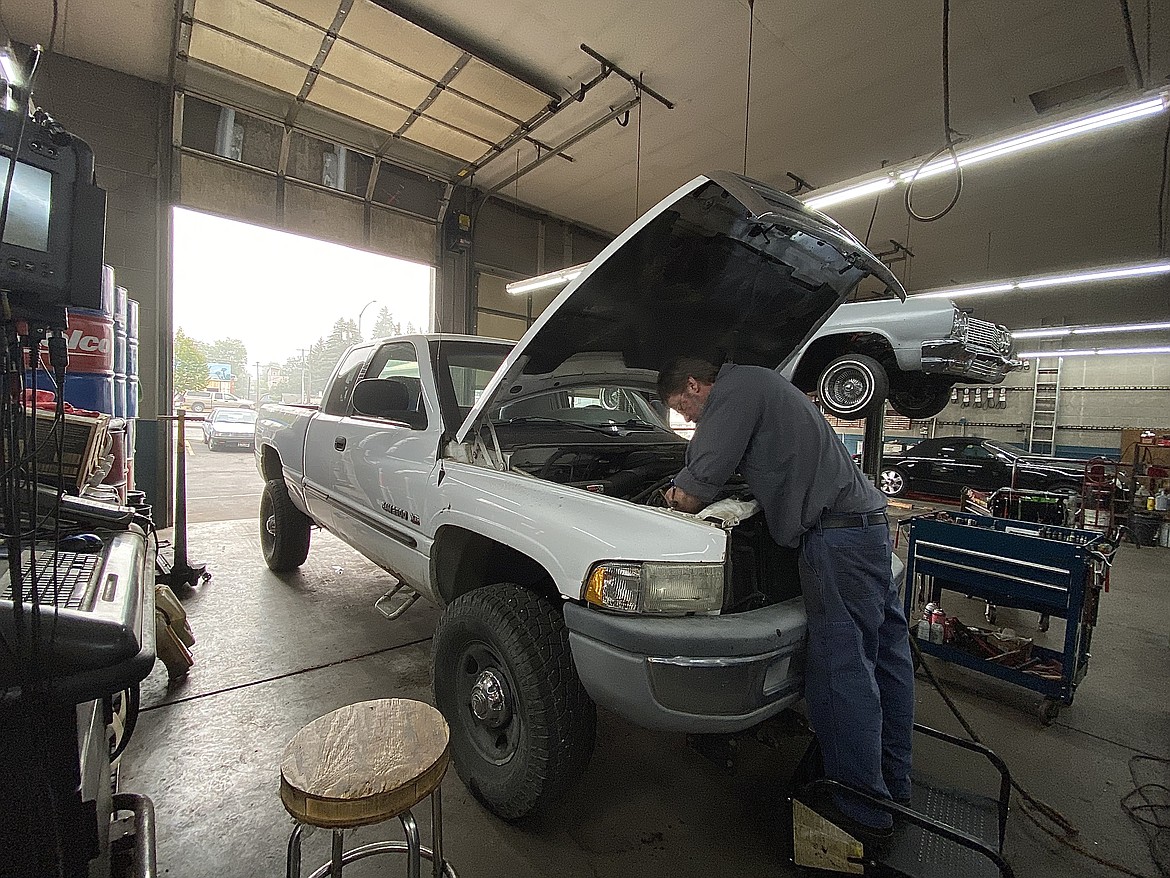 Dale Banks, owner of Alert Automotive in Coeur d'Alene, is doing his best to keep his business open and employees safe despite smoke pollution. (MADISON HARDY/Press)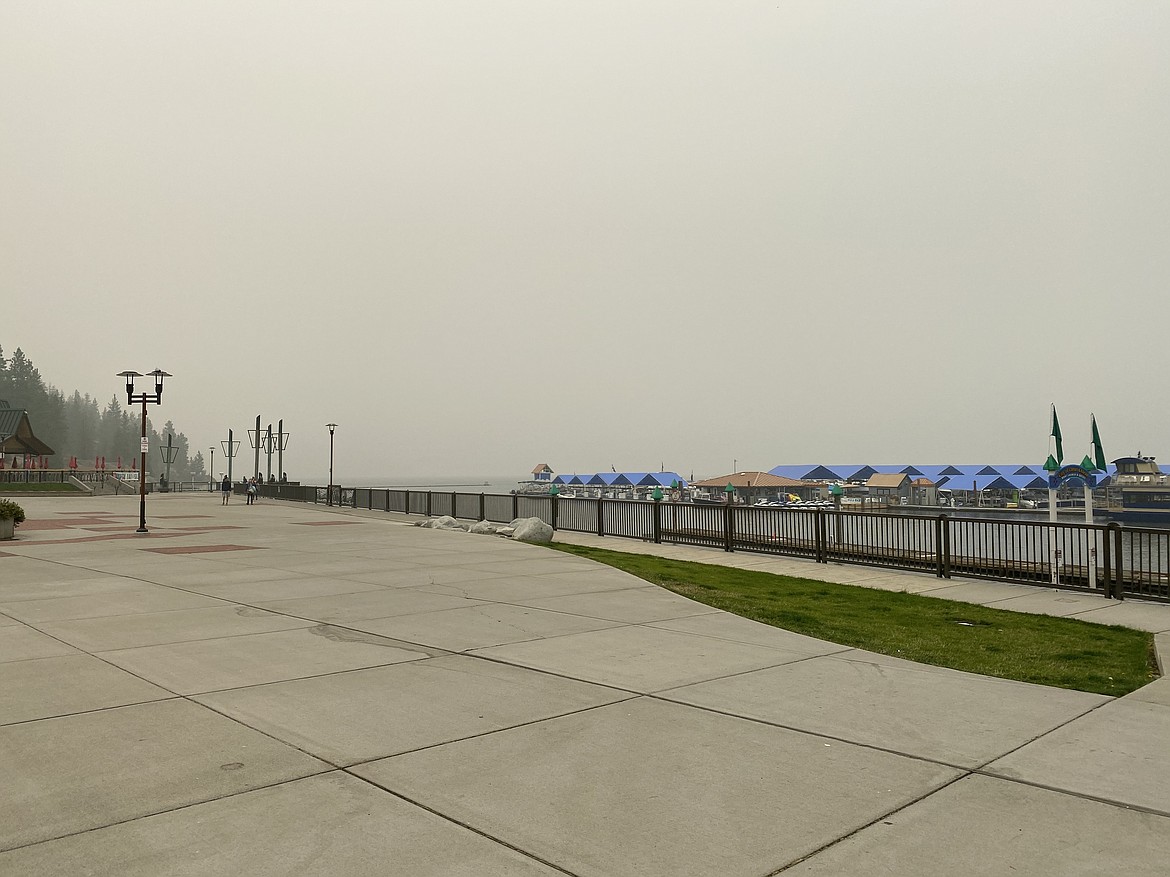 Pedestrians walk by the nearly invisible Lake Coeur d'Alene landscape Monday afternoon. (MADISON HARDY/Press)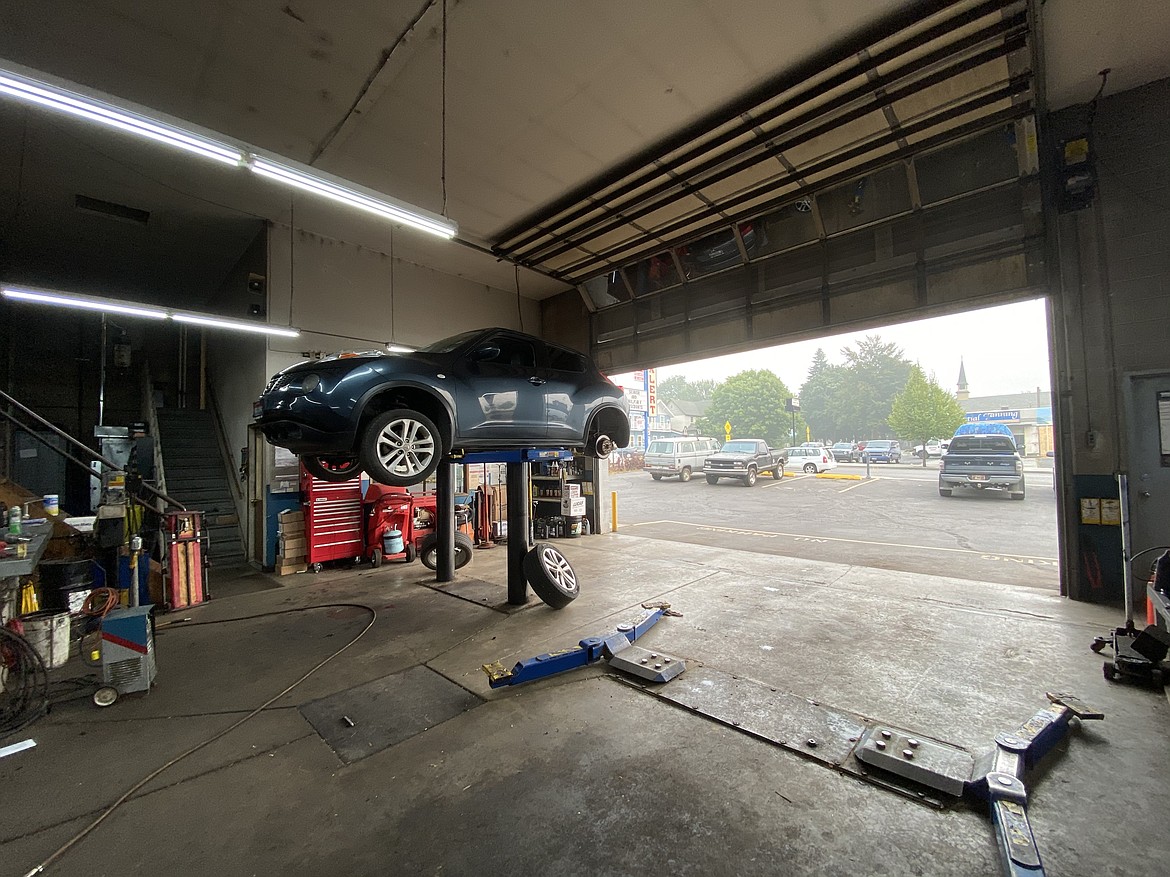 Visible smoke pollution is seen from the garage of Auto Automotive Monday afternoon. (MADISON HARDY/Press)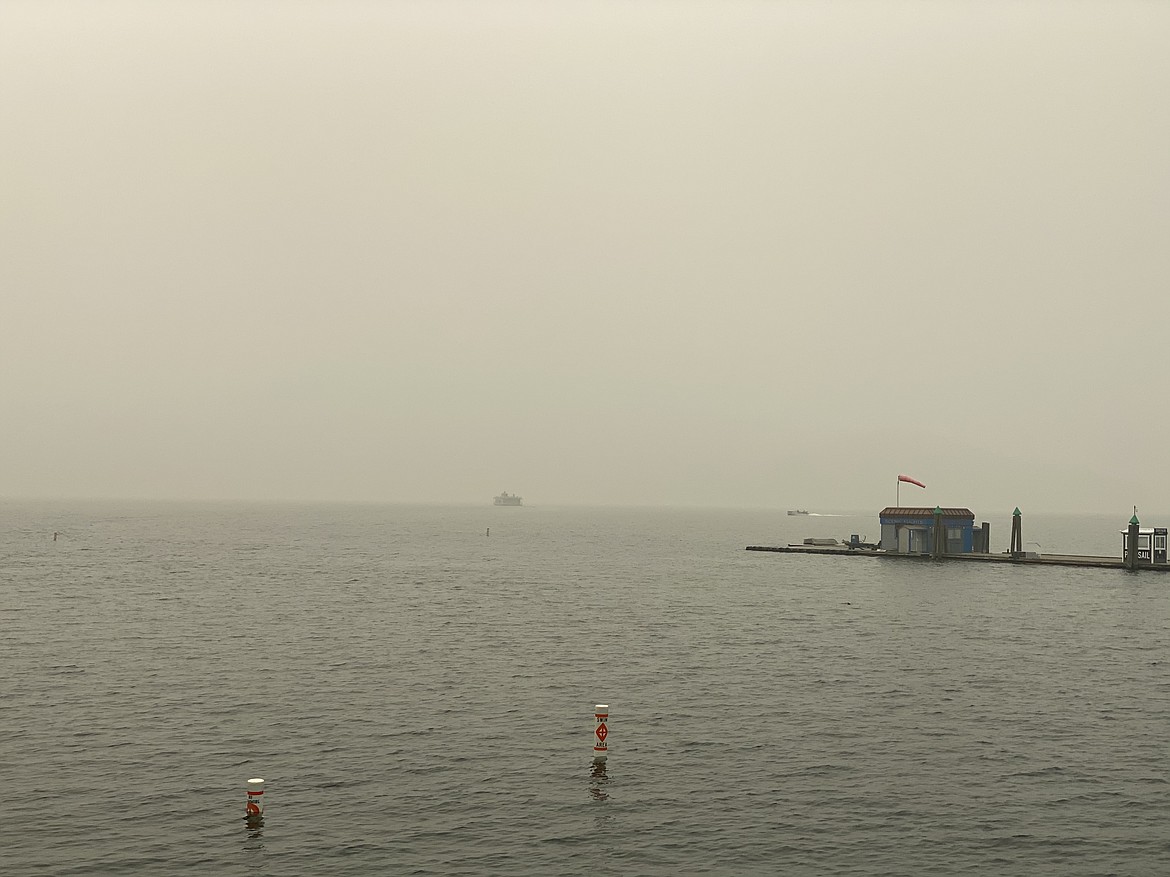 A cruise ship sets sail into the smoky cover on Lake Coeur d'Alene on Monday. (MADISON HARDY/Press)
Previous
Next
by
MADISON HARDY
Hagadone News Network
|
September 15, 2020 1:00 AM
SANDPOINT — An air pollution forecast and caution alert has been extended through Friday by the Idaho Department of Environmental Quality. However, the people of North Idaho still have to get through the work week.
As a wave of smoke from wildfires crosses the West Coast, North Idahoans should expect to battle the unhealthy air through Friday, IDEQ said. With air quality ranging up to hazardous, many residents are just trying to get through it.
Dale Banks, the owner of Alert Automotive of Fourth Street, said there isn't much he can do. The auto shop, which features garage-like doors across the building, was half-closed on Monday, with large industrial fans attempting to circulate the smoky air away from Banks and the other employees.
"We're trying to make it work. We've got all our fans going as well," Banks said. "We've just been trying to stay inside and not work in the parking lot, and for the most part keeping our doors shut."
Banks has lived in Idaho his whole life and moved to Coeur d'Alene from Sandpoint in 1986. He's used to North Idaho's share of wildfires customary toward the end of the summer.
"We've dealt with smoke like this before. This is worse than normal, but it's that time of the year," Banks said. "I'm concerned a little bit, but you know I don't have too many options."
Last year fires scorched 267,576 acres in Idaho, according to data by the National Interagency Fire Center. This year's big burn is active. As of Monday afternoon, the Idaho Bureau of Land Management Wildfire Information said 12 active fires had been burning within the last 24 hours.
Despite the risks, Banks said he and his team would have to wait for the smoke to blow over.
"There's nothing we can really do to combat the air quality. Just wait for it to blow over pretty much. We could close, but I've got a parking lot full of cars waiting to be worked on," Banks said. "We took four days last weekend, and if we took another four, I'd be a month behind."
Wildfires are ravaging the entire West Coast, affecting millions of people, burning thousands of acres, and creating hazardous air quality across most of Idaho, Washington, Montana, Oregon, and California.
Smoke from wildfires can lead to many health impacts for the day-to-day worker or outdoor venturer. According to the National Weather Service, pollutants in the smoke can cause burning eyes, aggravated heart and lung diseases, and irritate breathing passages.
Todd Crossley, who works construction with Greenridge Tile in Coeur d'Alene, said he and his wife tried to avoid the pollution over the weekend but returning to work Monday had him feeling the effects.
"The burning of the eyes is what has been hard on me," Crossley said. "I wear safety glasses when I'm working, and readers regularly, but those can't keep the smoke out."
Crossley and his wife live downtown off Lakeside Avenue. While they did their best to steer clear of the smoke, he said they could still smell it inside. Along with several other contractors, Crossley is working on finishing up a house on Mullan Avenue. He said some of the other workers wear masks, protective glasses, and other equipment, but most of them aren't too concerned about the air quality.
"I think we were all hoping that the smoke would be gone by Tuesday, but today we heard it would probably be here all week," Crossley said. "I'm worried about the effects of the smoke, but I have to work. If it isn't COVID, it's the smoke, but I have a job to do."
As of Monday at 1 p.m., Coeur d'Alene's Air Quality Index (AQI) was at a very unhealthy level of 266, according to IDEQ. Tuesday is expected to hit an AQI of 250. Saturday's AQI hit 300.
Dylan Ogle, a local carrier for the United States Postal Service, said he's planning to brave the smoke as well as he can.
"The only thing I can do about it is to take breaks and try to go inside," Ogle said. "That's not going to be much help in my USPS vehicle, but I've been trying to drink lots of water."
USPS usually reports safety concerns to its workers about what they can do in a time of crisis. Ogle said he hasn't received one yet but is expecting one soon.
"I'm sure all this smoke isn't good for everyone in the long term," Ogle said.
He's correct. The U.S. Environmental Protection Agency's website says wildfire smoke is a "mix of gases and fine particles from burning vegetation, building materials, and other materials." According to EPA and the Centers for Disease Control, smoke from these fires can make healthy and vulnerable persons ill. Some immediate health effects from breathing in smoke pollutants are coughing, trouble breathing, irritated eyes, scratchy throat, chest pain, headaches, asthma attacks, and fatigue.
Most national health organizations recommend people limit outdoor activities. According to the EPA, older adults, pregnant women, children, and people with pre-existing respiratory and heart conditions may be more likely to get sick.
A Hazardous Weather Outlook by the National Weather Service said the wildfire smoke would likely continue to create reduced air quality through most of the work week. It also said there could be a possible improvement as chances of rain this weekend increase.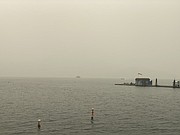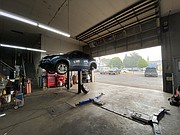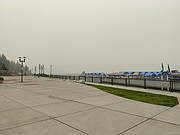 ---