Senior Spotlight: Aspen Larson has loved soccer from the start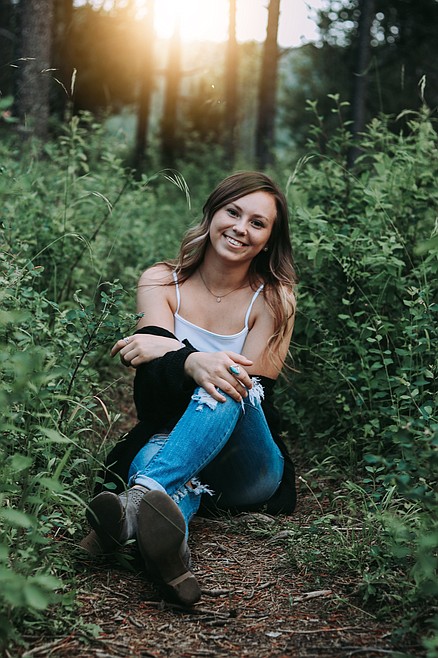 Aspen Larson has played soccer since fourth grade and currently starts at outside wing for the Bulldogs. "It's been the focus of her life and our lives ever since she started," her mom, Pam, said.
(Photo courtesy of SAMANTHA SHUTTS PHOTOGRAPHY)
by
DYLAN GREENE
Sports Editor
|
September 15, 2020 1:00 AM
Editor's note: This is a weekly series dedicated to highlighting local senior athletes.
SANDPOINT — In fourth grade, Aspen Larson decided to switch things up.
One of her friends told her about a spot opening up on the Sandpoint Strikers, so she took up soccer and left volleyball in the rear view.
It wasn't an easy choice and her mom, Pam Larson, was hesitant about the decision at first because of all the time Aspen had put into volleyball. But it didn't take long for Pam to see soccer and her daughter were meant to be.
"She just fell in love with soccer as soon as she started playing," she said. "It's pretty much been her passion ever since she started, so I'm glad she went with her gut on that."
Aspen has spent the past two seasons on the varsity team. As a freshman and sophomore Aspen floated between JV and varsity and now she's the Bulldogs' starter at outside wing.

But Aspen hasn't always been on offense. When she first picked up the sport, Aspen admitted she didn't know anything about soccer and they stuck her at defender. She stuck with the position until freshman year when they moved her to outside wing.
"I had never played there so I didn't really know what to do, but then I started to get the hang of it," she said.
Aspen believes part of the reason the coaches gave her shot on offense had to do with her ability to score goals as a defender.
"With soccer you're constantly doing something new," she said. "There's so many different positions you can play out there and … the adrenaline you get from just switching anywhere on the field is just amazing and I love that about soccer."
Aspen said she instantly became better when she joined the varsity team full-time as a junior and she saw her speed on the field take off.

Pam said Aspen's life revolves around soccer and it's kept her pretty occupied over the years.
"It's been the focus of her life," she said, "and our lives ever since she started because of all the dedication it takes."
Pam said soccer has helped her daughter build tighter bonds with her friends, stay motivated and become goal-oriented.
After graduating from SHS in the spring, Aspen is looking at attending North Idaho College and becoming a real estate agent. In fact, Aspen plans on teaming up with her mom to start a real estate business.
Pam is currently the art director for Sandpoint Magazine but she's worked with people in the real estate industry for over 15 years and knows all the ins and outs.
Pam said it became clear when she started talking to her daughter about a career path that Aspen wanted a job that was flexible and allowed her to succeed wherever she ends up. Becoming a real estate agent falls right in line with those goals and Pam plans on showing her the hopes and eventually taking a step back.
"There's a lot of mother-daughter teams that can be really successful if they know what they're doing and with my background in design marketing we could really excel there," Pam said.
Aspen also hasn't ruled out playing collegiate soccer if the right opportunity presents itself.
With only about a month left in her senior season, Aspen plans on taking in every moment she possibly can.
Pam has recorded almost all of Aspen's games on her phone over the years and has them on a Google Drive with unlimited storage.
This summer, when Aspen was stuck at home in quarantine she watched some of those videos and realized how much she'll miss soccer once her senior season comes to a close.
"She'll miss it so bad she'll find some way to play," Pam said about Aspen's love for soccer. "She probably won't stop."
Watching her daughter this season has been a mixed bag of emotions, Pam said.
"It's a little bittersweet," she said. "It's really enjoyable and I love how far she has come, but it's really sad because I know it's the last time."
Aspen said her mom is her role model. "She has been there for me for everything," she said. "She's just the person I always depend on."
Pam said her daughter's drive will take her far.
"If she puts her mind to something, she'll do it," she said.
---