SHS cross country battles through smoky conditions, Lucas captures first again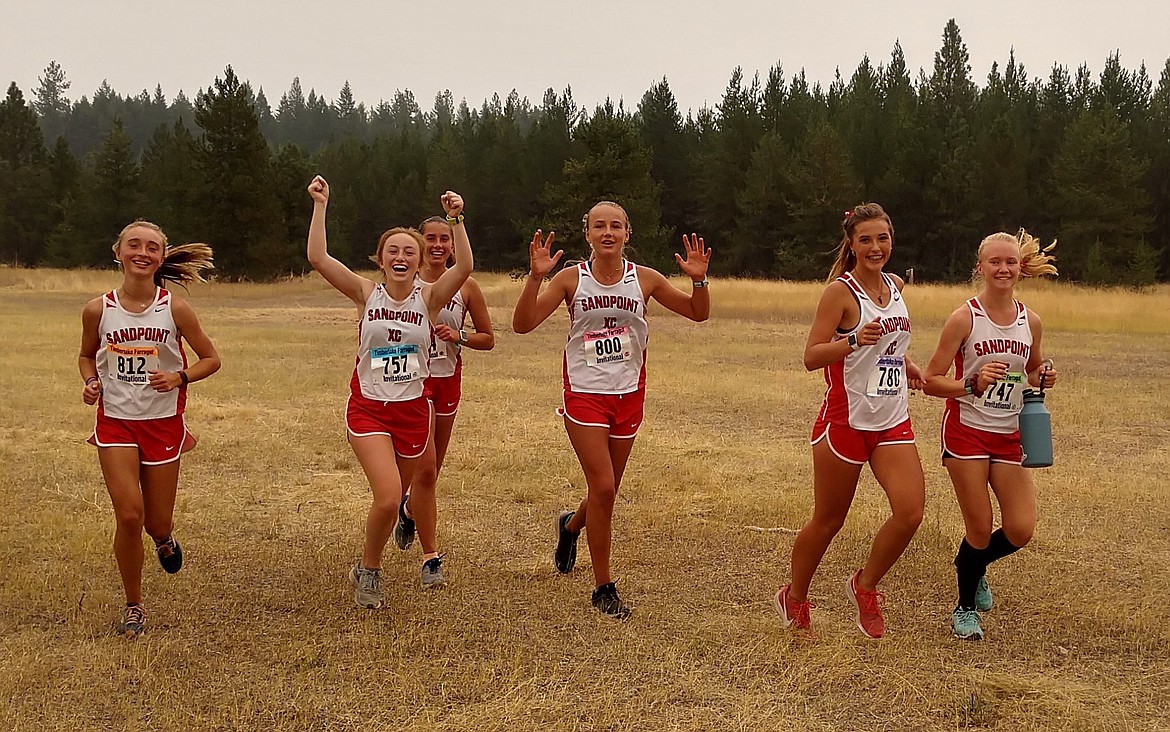 The girls top six varsity runners; Grace Rookey (left), Camille Neuder, Payton Betz, Ara Clark, Megan Oulman and Mackenzie Suhy-Gregoire; enjoy some time together during Saturday's Timberlake Farragut Invitational.
(Photo courtesy of CARLEEN SANDELL)
by
DYLAN GREENE
Sports Editor
|
September 15, 2020 1:00 AM
ATHOL — Despite smoky conditions, the Sandpoint cross country and the rest of the 13 teams that competed in Saturday morning's Timberlake Farragut Invitational were able to complete the meet without a hitch.
Sandpoint boys cross country coach Matt Brass said he could see and feel the smoke getting thicker toward the end of the meet, but he doesn't believe the smoke impacted the results.
For the third straight event, senior Jett Lucas took home first to lead the Sandpoint boys to a team title while the girls captured third.
To ensure social distancing was taking place, the race was ran in seven separate heats or waves on the girls and boys sides.
Sandpoint won six of the seven heats on the boys side while four girls finished in the top four of their respective waves.
Cross country is all about pack running and this format took that away, but girls cross country coach Angie Brass said the team adjusted to the change quite well.
"It's definitely a different setup," Angie said. "Everyone did a really good job having disciplined but fast starts."
Matt believes racing in a format like this could help the boys down the road.
"The preference is to run together," he said, "but I think it's always nice to have a meet like this because the guys have to see what they would do at a big race like state if they somehow got separated from their teammates."
Lucas finished with a 16:24 to win the event and his heat by just over nine seconds. Senior Nikolai Braedt won his heat and placed fourth overall with a 16:40, senior Keegan Nelson claimed his heat and took seventh overall with a 17:16 and sophomore Slate Fragoso dominated his heat to capture first and place 12th overall with a 17:41.
Junior Trey Clark took second in his heat (15th overall), while sophomore Ben Ricks (16th overall) and freshman Nathan Roche (18th overall) won their heats.
Sandpoint finished 13 points ahead of second place Post Falls and Matt expects the Trojans to continue to be the boys toughest competition in North Idaho.
On the girls side, sophomore Ara Clark, the Bulldogs No. 3 runner coming into the meet, led the way placing third in her heat and 12th overall with a time of 21:27.
Angie said Clark showed a lot of maturity on Saturday and the course played to all her strengths.
"She is a very smart racer," Angie said. "She is so strong and has such great endurance. It's the perfect course for her to be able to put that all together."
Junior Mackenzie Suhy-Gregoire took fifth in her heat and 15th overall with a time of 21:44, junior Megan Oulman secured eighth in her heat and 17th overall with a 22:04 and senior Camille Neuder placed fourth in her wave and 21st overall with a 22:23.
Freshman Grace Rookey took third in her wave (25th overall) and sophomore Payton Betz (29th overall) was able to complete her first race of the season after being hampered by a back injury early on. She took second in her heat.
"I was really proud of Grace Rookey," Angie said. "She doesn't have a lot racing experience yet but she did a really good job of pacing herself early on."
Sandpoint finished with 90 points, 23 behind second place Coeur d'Alene and 66 behind first place Post Falls, who won all the heats.
The Bulldogs captured the boys and girls JV team titles at the meet as well.
Angie and Matt said the Bulldogs would have performed even better if the meet was held in a normal format, but they were just thankful they were able to get the invitational in.
"Friday night, we weren't really sure it was going to happen so I think everyone was just happy to be there," Angie said.
The Bulldogs head to the Lake City IEL meet at 9 a.m. Saturday.
SANDPOINT RESULTS
BOYS
TEAM SCORES — 1, Sandpoint, 39. 2, Post Falls, 52. 3, Coeur d'Alene, 86. 4, Lewiston, 107. 5, Logos, 135. 6, Timberlake, 169. 7, Lake City, 172. 8, McCall-Donnelly, 189. 9, Bonners Ferry, 251. 10, Kellogg, 255.
VARSITY 1 — 1, Jett Lucas, Sandpoint, 16:24.1.
VARSITY 2 — 1, Nikolai Braedt, Sandpoint, 16:40.9.
VARSITY 3 — 1, Keegan Nelson, Sandpoint, 17:16.9.
VARSITY 4 — 2, Trey Clark, Sandpoint, 17:52.1.
VARSITY 5 — 1, Nate Roche, Sandpoint, 17:55.7.
VARSITY 6 — 1, Slate Fragoso, Sandpoint, 17:41.4.
VARSITY 7 — 1, Ben Ricks, Sandpoint, 17:54.3.
GIRLS
TEAM SCORES — 1, Post Falls, 24. 2, Coeur d'Alene, 67. 3, Sandpoint, 90. 4, Logos, 107. 5, Lake City, 115. 6, McCall-Donnelly, 131. 7, Lewiston, 171. 8, Lakeland, 204.
VARSITY 1 — 5, Mackenzie Suhy-Gregoire, Sandpoint, 21:44.1
VARSITY 2 — 8, Megan Oulman, Sandpoint, 22:04.8
VARSITY 3 — 3, Ara Clark, Sandpoint, 21:27.2.
VARSITY 4 — 4, Camille Neuder, Sandpoint, 22:23.5
VARSITY 5 — 3, Grace Rookey, Sandpoint, 22:47.3.
VARSITY 6 — 2, Payton Betz, Sandpoint, 22:13.6.
---