Lord runs personal best at Timberlake Farragut Invitational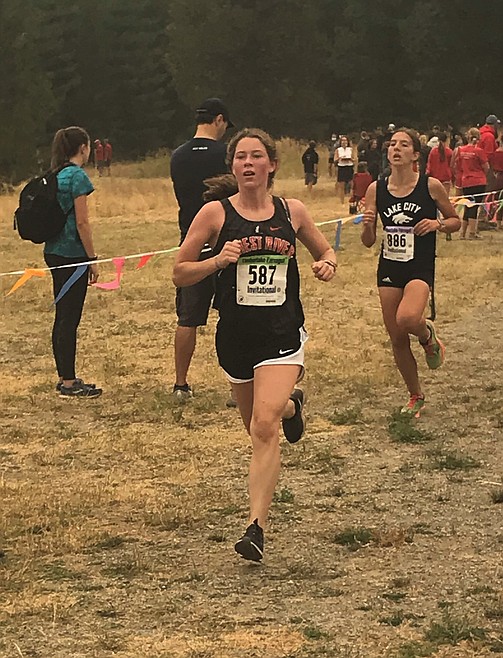 Senior Annika Rantala nears the finish line during Saturday's Timberlake Farragut Invitational.
(Photo courtesy of MARY MALONE)
by
DYLAN GREENE
Sports Editor
|
September 16, 2020 1:00 AM
ATHOL — Priest River cross country competed in its first 5K of the season Saturday at Farragut State Park and sophomore Dylan Lord led the way for the Spartans.
"I'm proud of the squad," head coach Lance Clark said. "They had an impressive 5K to start the season."
To meet social distancing requirements, the race was split into heats.
Lord ran in the first JV heat and captured second in the race with a 19:19, besting his previous personal best by nearly 20 seconds. The only JV racer that was faster than Lord was Sandpoint's Caleb Roche who finished with a time of 18:48.
Sophomore Ethan Korff took part in the second JV heat and placed fifth in the heat and 28th overall with a 21:03 and sophomore Edgil Williams secured seventh in his heat and 74th overall with a 24:48.
On the girls side, senior Annika Rantala took ninth in the first varsity heat with a 22:34 to place 26th overall.
For the second straight week only four runners competed for the Spartans, but Clark is expecting those numbers to go up.
"We are looking forward to a few new recruits joining our team this week but we still need more to join," he said.
For now, the Spartans are scheduled to head to Twin Lakes Elementary at 4 p.m. Wednesday for a meet with Lakeland, Kellogg and IC Academy. But with the current air quality predictions, the meet could be postponed. The Air Quality Index in Rathdrum was 215 as of 4 p.m. Tuesday, according to AirNow.gov.
---