Mural pays tribute to history, community pride of CFHS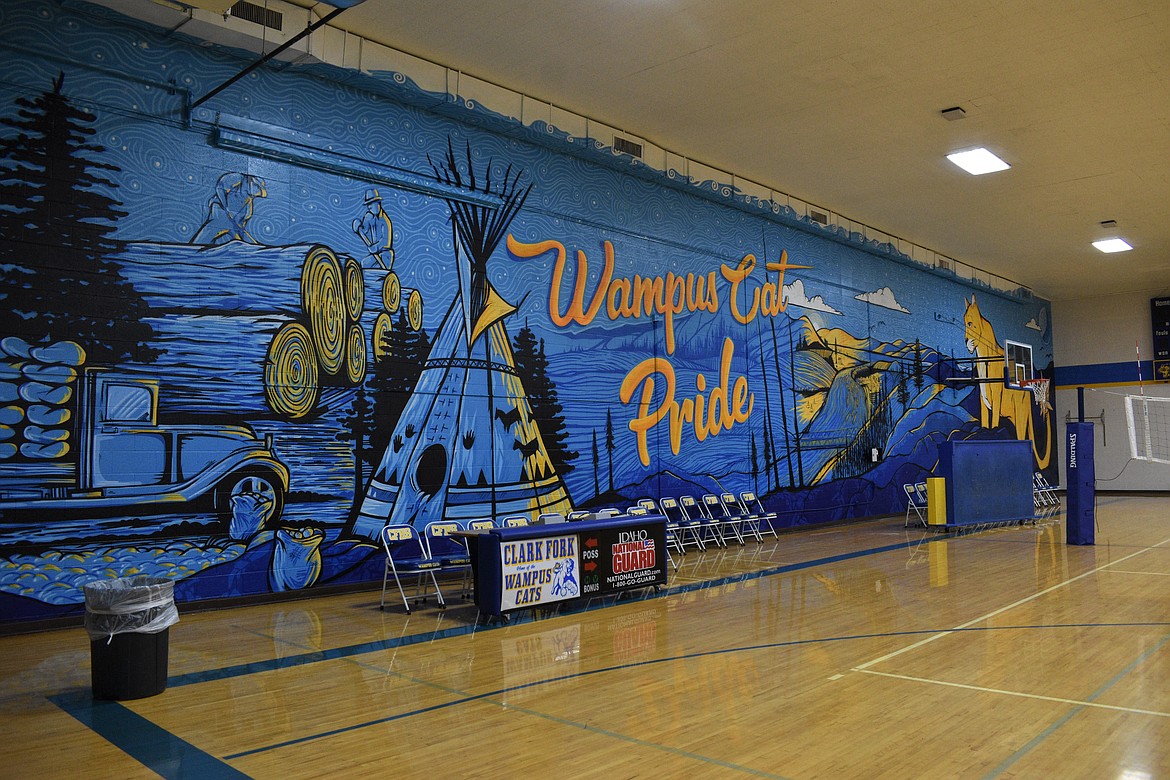 This mural, created by ArtCoLab in Coeur d'Alene, was put up in the Clark Fork High School gym this July. The mural pays tribute to the history of the community and Principal Phil Kemink said the artwork will help build student pride in the school for years to come.
(Photo by DYLAN GREENE)
by
DYLAN GREENE
Sports Editor
|
September 16, 2020 1:00 AM
CLARK FORK — There's something special about Wampus Cat pride and now that feeling is on full display for all to see when they step foot in the Clark Fork High School gym.
This summer, the wall opposite the bleachers was transformed into a stunning mural that makes the whole gym come to life.
The mural pays tribute to the history of the community and incorporates its logging, mining, ranching and farming roots. It has a Wampus Cat overlooking the rolling hills of the town and shows the Clark Fork River feeding into Lake Pend Oreille. It even touches on the presence of Native Americans in the valley with a tepee and it glows in the dark.
"We're just ushering in the new representation of our school and our community," said Phil Kemink, CFHS principal. "We talk about our school being a home and the family atmosphere here, it really helps solidify that."
The mural was created by ArtCoLab, a creative design and marketing company based in Coeur d'Alene. The roughly $8,000 needed to pay for the project was donated by the 2010-11 and 2014-20 CFHS graduating classes.
The idea for the mural started last fall when Emily Myers, a freshman at the time, and her teammates were playing a volleyball match at Wallace High School. Myers and her teammates noticed the new mural the Miners had in their gym and talked on the bench about how cool it would be to have one at Clark Fork.
But nothing came of it until the next semester when Myers took KC MacDonald's leadership class at CFHS and the teacher tasked students with developing legacy projects. Basically, students have to pitch ideas about how they can leave CFHS better than they found it.
Myers realized it was the perfect opportunity to pitch the mural so she did some research and found ArtCoLab on Facebook. She told MacDonald about the company and he gave them a call. In the middle of July, the mural was completed in the matter of days.
ArtCoLab has designed murals for schools across North Idaho including Timberlake and Coeur d'Alene. Kemink said once word got out about what this business was capable of doing, everyone wanted a piece.
"Their creative genius is what came up with that final product," Kemink said about ArtCoLab.
For years, CFHS graduating classes have been saving up money to get a logo put on the gym floor, Kemink said. But installing a logo is expensive and requires a lot of work so when this project came about, teachers and students reached out to CFHS alumni to see if they would support this effort with their leftover funds. The overwhelming answer was yes.
This best part is everyone in the community got an opportunity to give their two cents on the design of the mural. Kemink spoke to residents and showed them the first few mockups and MacDonald and students in his leadership class reached out to alumni to get their thoughts.
It was truly community-driven and that's what Clark Fork is all about, Kemink said.
"It was great because some of the community said, 'You know this is the kids' school, let the kids kind of have some say in this, too, because we've graduated and let the new blood kind of put their stamp on this,'" Kemink said. "It was kind of nice to hear that and to give as many people as we could reach out to a say in it."
MacDonald said they went through about 10-15 different designs before settling on the final product.
Myers said MacDonald kept them in the loop throughout the process, but it got a little more difficult when the novel coronavirus shut down in-person school in mid-March.
Myers said she wanted to improve the look of the gym and the mural certainly did that.
"It's nice to see everything from the past and what the present could be with the mural," she said.
Kemink admitted that the gym needed an upgrade and this mural will help build student pride in their school for years to come.
MacDonald has taught the school's leadership class for over 10 years. He said when he came up with legacy projects a handful of years ago, he didn't want his students to consider costs when pitching ideas because Wampus Cats always seem to find a way to get things done.
"If I would have told them you can't go over $100 or $1,000, then this would have never happened," MacDonald said about the mural.
The final product is everything MacDonald imagined and more.
"You can send pictures all day, but when you walk in it fills you with pride," he said.
MacDonald said a plaque with all the classes who donated to the project will be put next to the mural in the future.
MacDonald said kids who attend CFHS will remember this mural for a long time because everyone had a voice. He added that this project shows students what they are capable of.
"They don't know how powerful they are when they start putting their minds together and work together for things like this for the greater good," he said, "and that class … they know they've left something special behind for future kids that go through our school."
---